There have been 394 new cases of Covid-19 notified to the Department of Health. No further deaths were reported.
The number of people with coronavirus in ICU is 50, three fewer than yesterday. This is the lowest number of patients receiving intensive care with the disease since 1 January.
There are 227 Covid-19 patients in hospital in total - a rise of 19 since 10 April. There were 22 additional hospitalisations in the past 24 hours.
There has been a total of 4,785 Covid-19 related deaths in Ireland. The cumulative total number of cases is 241,330.
Of the cases notified today 179 are men and 214 are women with 75% being under 45 years of age.
There were 175 cases in Dublin, 34 in Kildare, 21 in Galway, 21 in Mayo, 20 in Limerick and the remaining 123 cases were spread across 18 other counties.
The national 14-day incidence rate per 100,000 population as of 11 April was 131.9. This is a reduction of 27.4 across the past month - it was 159.3 on 11 March.
Counties with the highest infection rates are Offaly (278.3), Kildare (213) and 207.2 (Dublin).
Counties with the least Covid cases include Kilkenny (15.1), Sligo (21.4) and Carlow (33.4).
As of 10 April, 1,058,394 doses of Covid-19 vaccines have been administered in Ireland with 745,363 people having received their first dose and 313,031 their second dose.
A recommendation that the AstraZeneca Covid-19 vaccine be restricted for use for people over 60 years of age is expected this evening from the National Immunisation Advisory Committee (NIAC), RTÉ News has learned.
NIAC will convey its position to Deputy Chief Medical Officer Dr Ronan Glynn who will report the advice to the Government and then to the Health Service Executive.
Today saw the easing of certain Level 5 restrictions across the country, with the 5km travel limit lifted, residential construction work restarting and all children returning to school.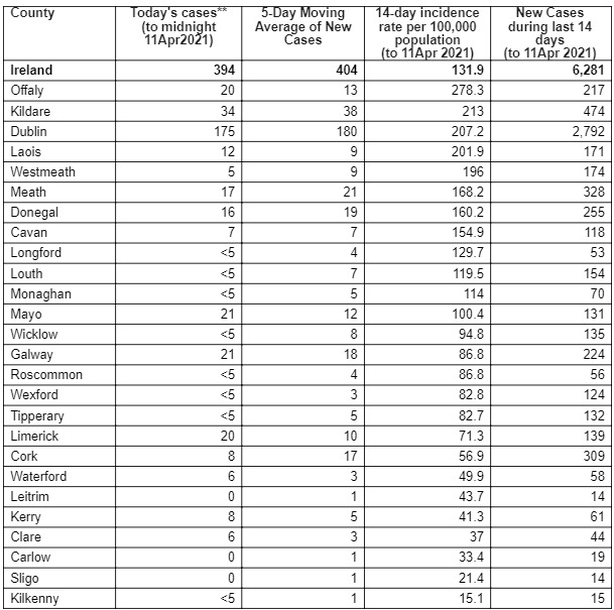 ---
---
The Department of Health in Northern Ireland today reported another 97 cases of Covid-19 and no further fatalities.
The death toll remains at 2,129 while the cumulative total number of positive cases there is 118,364.
There are 84 hospital inpatients with coronavirus, eight of whom are in ICU.
It comes as the next phase of easing coronavirus restrictions in Northern Ireland began.
In England, British Prime Minister Boris Johnson urged people to "behave responsibly" as pub gardens reopened and restaurants resumed outdoor dining.
Also today, Leinster Rugby submitted plans to Government to use rapid antigen testing to allow the return of spectators to matches at the RDS Arena.