There has been a steady increase in the number of people meeting others outside their household, the latest Social Activity Measure survey by the ESRI suggests.
SAM is a behavioural study that records the public response to the risk of Covid-19 infection, interviewing 1,000 respondents every two weeks.
People met significantly more people from outside their household in late March compared with late February, according to its findings published today.
The increase appears to be driven by a minority - 12% of people had met more than seven others in the past 48 hours in late March, compared to 8% in late February.
Almost half of people (47%) had met no one outside their household in the previous two days. Approximately 20% of people are accounting for over three quarters of all interactions.
---
Read more: Latest coronavirus stories
---
One in 10 people report hosting visitors or visiting another household the previous day. Over 80% of social visits involve time spent indoors, up from 68% in early February.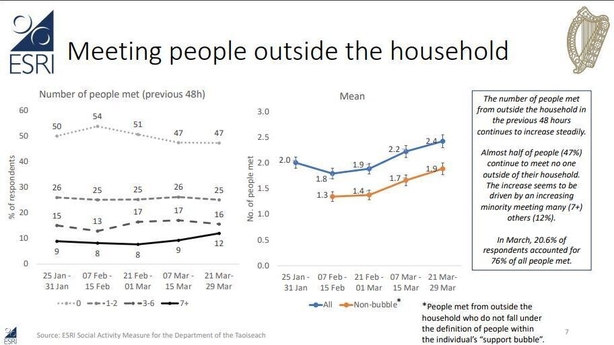 While indoors, most people report not wearing masks nor ensuring the room is well ventilated. Those who report not maintaining social distance has increased from 36% in early February to 67%.
A majority of social visits last longer than one hour and typically involve two to three people from another household.
These increased risks mean that the proportion of people having close contact interactions during social visits in households has doubled since early February, from 3.1% of the population to 6.7% in late March.
There was a small but significant increase in workplace attendance in March compared with February - 33% of all respondents had visited their workplace the previous week, up from 30%.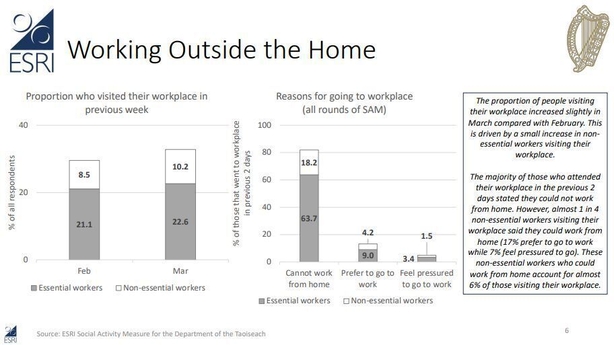 Almost 1 in 5 (13%) of employees reported that they can work from home but prefer to go to work while 5% feel pressured to attend their workplace.
The data suggests that there may be tens of thousands of non-essential workers visiting their workplace in a given week when they could work from home.
The proportion of the population yet to be vaccinated who stated that they will get the vaccination if offered remains stable at 79.2%.