The mass vaccination centre in Sterling, Virginia used to be a department store.
Outside, long queues of people and a packed car park resembled the first day of a big sale that had attracted shoppers eager to bag a bargain.
They had not come to buy shoes or electrical appliances, but they were there for this season's must-have item.
Inside, Covid-19 vaccines were being administered in what used to be the make-up and fragrance section of the store. Patients and staff sat in front of cosmetic counters panelled with mirrors.
Those waiting their turn, lined up alongside disused dressing rooms and bare shelves that once displayed the latest fashions.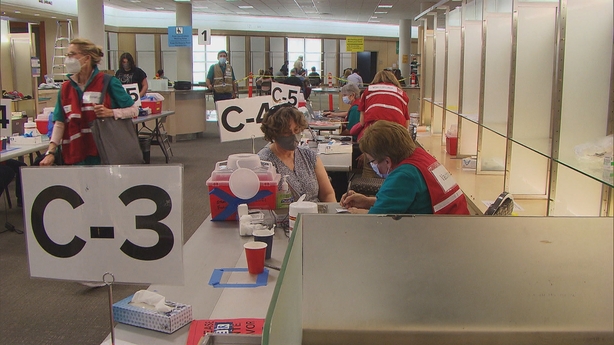 Dr David Goodfriend is the health director with Loudon County, Virginia.
"We're very fortunate to have this old department store as a vaccination centre. As you look around, we're surrounded by empty shelves, but this is a great location that allows us to see up to 7,000 people a day," Dr Goodfriend said.
Bruce Lipton was at the centre to get his second dose of the Moderna vaccine.
"I feel like now I'm free and I can get out to do what I need to do without fear of being exposed to the virus. I had two family members who recently got very ill with Covid-19. I had received my first dose and I didn't get sick, so it appears to be effective," Bruce said.
Vaccinating thousands of people a day at this centre requires a lot of staff.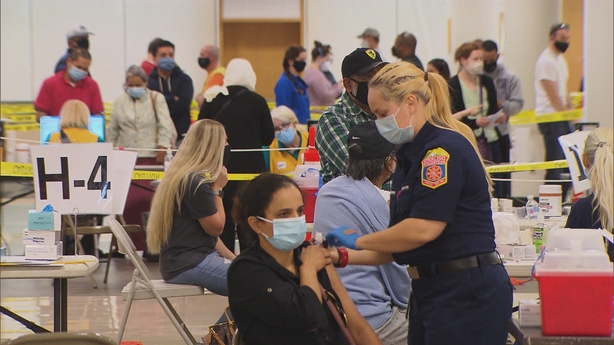 There were off-duty firefighters and paramedics, as well as dentists and doctors who had given up their spare time.
Many of the vaccinators were volunteers, like Barbara McCarthy.
"I was a labour and delivery nurse for 40 years and I retired just over a year ago.
"Becoming a volunteer vaccinator was a way for me to avoid sitting back and becoming a victim of the pandemic, but instead doing something to help people through this, hopefully to the end," Barbara said.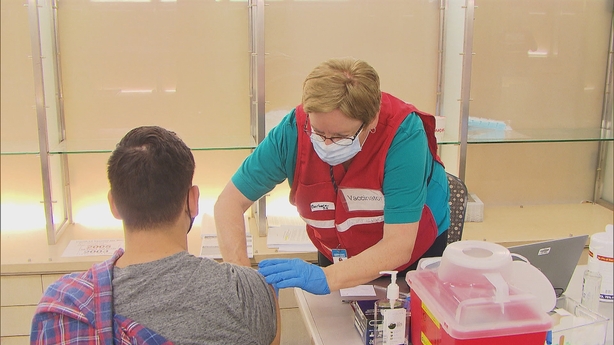 US President Joe Biden announced this week that all adults in America will be eligible for Covid-19 vaccines by 19 April, two weeks ahead of his original target.
Up to four million shots a day are being administered in the US and nearly a third of the country's population has received at least one dose.
So why is the United States so far ahead of European Union in its vaccine rollout?
Under the previous Trump administration, the US invested billions of dollars early in the pandemic on vaccine development, testing and production.
Red tape was cut and approvals fast-tracked, guaranteeing quick access to supplies once the vaccines were ready.
As the New York Times recently put it, while the US went into business with the drug makers, the European Union shopped for vaccines like a customer.
Back at the disused department store in Virginia, vaccinator Barbara McCarthy was getting ready for her next customer as she sat by her converted make-up counter.
"I've had tears of joy and people laughing. This is a place that is giving out shots and we're all very happy about it," she said.