US President Joe Biden has unveiled measures aimed at curbing rampant US gun violence, describing American gun violence as an "epidemic".
Speaking at a White House ceremony, Mr Biden said none of his gun control actions impinge on the Second Amendment.
"This is an epidemic, for God's sake, and it has to stop," he said, also calling shootings "a public health crisis."
He said he will reign in, what he called, self-assembled or homemade "ghost-guns", which are untraceable, and that he will target "stabilizing braces", which effectively turn pistols into rifles.
Mr Biden has come under pressure from his Democratic party to tackle the bloodshed, most recently highlighted by mass killings as far apart as Colorado, Georgia and California.
He said he would also ask the Bureau of Alcohol, Tobacco,Firearms and Explosives to release an annual report on firearms trafficking in the United States, and make it easier for states to adopt "Red Flag" laws that flag at-risk individuals who own guns.

"Today we're taking steps to confront not just the gun crisis, but what is actually a public health crisis," Mr Biden said, speaking in the Rose Garden to an audience filled with family members of victims of gun violence.
He said there had been enough prayers and that it was now time for action.
He said assault weapons and high capacity magazines should be banned and said gun manufacturers should not have immunity.
Other measures include boosting support for agencies involved in tackling community violence and ordering the first comprehensive report on firearms trafficking in the United States since 2000.
Nearly 40,000 Americans die each year from shootings.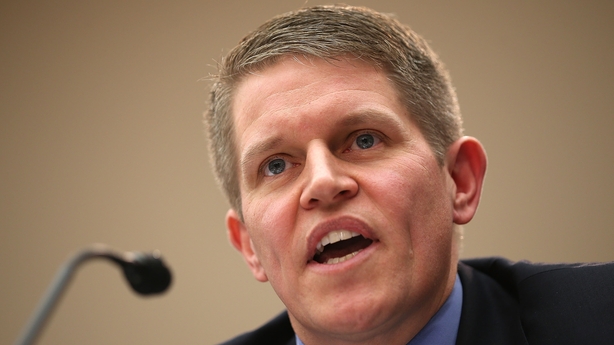 "Gun violence takes lives and leaves a lasting legacy of trauma in communities every single day in this country, even when it is not on the nightly news," a White House statement said.
"In fact, cities across the country are in the midst of a historic spike in homicides, violence that disproportionately impacts Black and brown Americans. The president is committed to taking action to reduce all forms of gun violence."
Absent, however, will be any big measures on seeking to tighten overall gun laws, such as more background checks or ending the sale of powerful rifles often used in mass killings.
The official stressed that today's measures - where Mr Biden will be accompanied at the Rose Garden announcement by Attorney General Merrick Garland - are only "initial" steps.
Mr Biden has long promised to get tough on a US gun culture that he says fuels an epidemic of mass shootings, as well as the even more deadly, yet less reported, daily stream of gun crimes and suicides.
The Democrat says he supports tighter background checks for firearms buyers and a ban on military-style rifles, like the AR-15. Both ideas face strong resistance in Congress.
A semi-automatic resembling the US military M16 rifle, the AR-15 has become reviled by many as the weapon of choice in a string of mass murders. At the same time, the rifle is enormously popular with sports shooters and legal gun enthusiasts, symbolizing the country's ideological divide.
Mr Biden successfully backed an assault weapons ban in 1994 when he was a senator.
The law expired a decade later, however, and has never been renewed, with Republicans increasingly rigid in opposing what they depict as an attack on the more than two centuries-old constitutional right to bear arms.