A film featuring a geographically-distanced duet between two dancers, produced during Covid-19 restrictions, is being shown at Wicklow Screendance Laboratory Festival.
The film, entitled 'Between Us There Is', features dance artist Jess Rowell and Brian McSweeney, a dancer with Down syndrome.
Zoom was used to bring together the two dancers, who had to remain apart due to Covid-19 restrictions.
Jess Rowell is the artist in residence at Draíocht Arts Centre, at Blanchardstown, Dublin. Brian McSweeney also performs with Traces Dance Ensemble in his native Waterford.
Jess and Brian have danced together for over 13 years and it is for this reason, Ms Rowell believes, that the film was possible.
"'Between Us There Is', we began working towards this as being a live theatre performance. The idea or the theme behind the piece, right from the get-go, was a representation of myself and Brian's connection, our relationship," explained Jess.
"We wanted to celebrate our movement connection. Our connection was that strong, that even though we were in two completely different spaces, miles apart, we still managed to create a sense of connection. The reason that's there is because it's real," she added.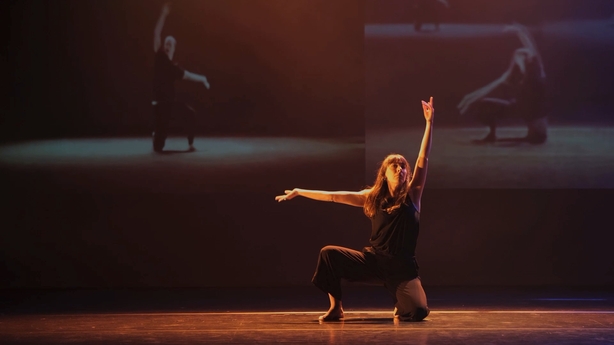 The film was produced as part of Ms Rowell's residency with Draíocht and is funded by The Arts Council and Fingal County Council.
For Brian, the experience of making the film during the pandemic was "like magic".
"She is fantastic and she is a very good teacher. I just love Jess, just keep on dancing and having fun. It's like magic," explained Brian.
Jess and Brian are working together on a new project as part of Ms Rowell's second year as artist in residence at Draíocht.
Brian will join Jess as a teacher on Draíocht's special needs dance programme.
"So, dance is a universal language. No words are needed, so that's why it's so accessible and so important as well that we give dancers of all walks of life this opportunity to really shine, to showcase, to explore, to express," said Jess.
Brian is "proud and excited" to become a teacher with Draíocht.
"Obviously, I'd like to be a teacher, to make my own class and to help out with Draíocht up in Dublin. I'll get up there when the Covid-19 be gone. Get up there quick," said Brian.
Jess added: "Even though we've been through Covid, it hasn't stopped us. We are still going and we will continue to keep going. Brian has a driving force, a dancer's spirit. He can't be stopped."