Gardaí have issued more than 16,500 fines worth a total of more than €2.2m for breaches of Covid-19 regulations.
By the end of yesterday, there have been 554 fines of €500 for organising a house party, totaling €277,000.
A further 58 fines of €500 were for organising an event that was not classified as a house party, worth a total of €29,000.
A total of €323,850 could be made from the 2,159 fines of €150 issued for attending house parties.
Gardaí have issued €100 fines for non-essential travel on 12,336 occasions, totaling €1,233,600.
These journeys were to airports and ports on 370 occasions.
In addition, there were 721 fines of €500 for non-essential journeys to airports or ports - €360,500
There were 313 fines of €100 for non-essential travel by persons not ordinarily resident in the State, adding up to €31,300.
There have been 293 fines of €80 for not wearing face coverings, for a total of €23,440.
These 16,434 fines add up to a potential €2,278,690, while a further 400 fines are currently being processed.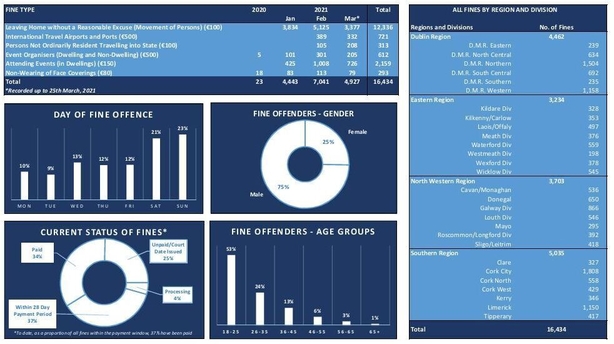 Deputy Commissioner, Policing and Security, Anne Marie McMahon said gardaí are still seeing attendance at house parties and other large social gatherings despite public health advice.
"Going to such gatherings puts yourself, your loved ones, and everyone else you come into contact with after of getting Covid-19," she said.
"Everyone has a role to play in this. The best way of keeping safe this weekend is to stay home. If you are going out, please stay within your 5km, limit your contacts with others, maintain social distancing, and regularly wash your hands," she added.
Recipients of fines have 28 days to pay or they can request an appeal.
More than one third of fines have been paid (34%), 4% are processing, 37% are within the 28-day payment period, while court orders have been issued for non-payment of 25% of fines.
Three quarters of the fine recipients are male. More than half (53%) of recipients are aged between 18-25, while a 24% are aged between 26-35.
Gardaí issued 44% of fines on Saturdays and Sundays.
They said they will be continuing nationwide checkpoints and high visibility patrols at public amenities, parks and beauty spots across the country this weekend in support of public health regulations.
Garda checkpoints apply to all roads users including cyclists.
"The public should also be aware that if a driver is found to be in breach of the non-essential travel regulations that not only can the driver be fined, but their adult passengers as well," it said.
Those who fail to pay within the time will receive a court notice, which may result in conviction, imprisonment or a €1,000 fine.
Travel restrictions do not apply in domestic violence situations or for someone escaping a risk of harm.
Gardaí continue to make appeals to any person who may have been a victim of an incident of sexual or domestic crime irrespective of whether you may have been on breach of any public health regulations.