The pandemic was just a month old when the 50th anniversary of a folk anthem passed by almost unnoticed.
"Big Yellow Taxi" was released in April 1970.
And whether you like Joni Mitchell's song or not, her words "that you don't know what you got 'til it's gone" will have struck a chord with many of us over the past year.
That's because Covid-19 has robbed us of so many things we once took for granted.
Top of the list for many people are hugs, kisses, and human touch.
When Co Cavan sculptor Marie Smith was asked to respond in one word to the question, "what does lockdown mean to you?", her reply was "contact".
Marie was one of eight artists tasked with creating a work of art for last year's Cootehill Arts Festival.
Her sculpture, "The Hug", was the result.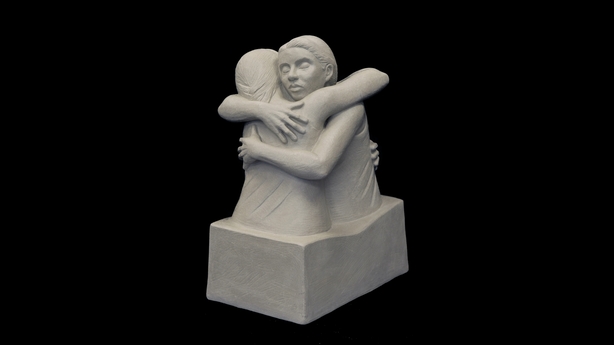 She said: "Whether it's a kiss, a handshake, a fist bump or a hug, people and cultures around the world each have their own way to express the happiness of sharing close space with another person. It's something we take for granted. Or at least we did.
"In the most worrying of times, contact has been restricted. When some of us needed a hug the most, we could not get it. We have been deprived of the most natural of actions. So, this sculpture is about the precious privilege of human contact."
The sculpture, cast in jesmonite, was released in a limited edition of five.
It inspired a series of framed wall art versions which are now being sent to people around the world.
Marie said: "Usually, it's a mother, or a sister, or a friend. It's especially poignant when people are living abroad.
"The message might be to a grandparent from a grandchild they have never met. Or it could just be telling someone they are looking forward to having a hug for real. When the day comes that we can hug each other again, it will be the most heartfelt of hugs."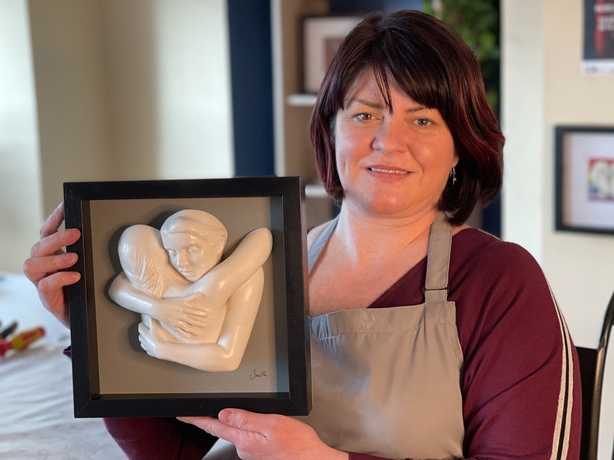 This afternoon, a special RTÉ News programme will be broadcast on our Twitter and Facebook channels discussing the impact of the pandemic on our well-being.
Presenter Samantha Libreri will be joined by Professor Paul D'Alton, from the School of Psychology at UCD, and by Professor Niamh Hourigan from Mary Immaculate College in Limerick.
'Hugs on Hold: A Year of Pandemic Living' will be broadcast live from 2.45pm and will also be available to view afterwards on the RTÉ News YouTube channel.