Today marks exactly five years since the European Union struck a deal with Turkey aimed at reducing the flow of migrants from the Middle East and Africa to European shores.
The number of migrants and refugees arriving in Greece has plummeted since then, from a high of 856,000 crossings over the Aegean Sea in 2015, to just 10,000 in 2020, with the most dramatic fall off last year, being largely attributed to the coronavirus pandemic.
However, aid agencies warn that the result of the deal has been to effectively trap many more of those genuinely seeking asylum in Europe in a number of "hot spots" on the Greek islands where their lives have been put on hold.
More than 300 Irish healthcare professionals have signed an open letter to the Irish Government, published today, calling on them to do more to help those stranded in these conditions.
"Once you've seen them it is impossible to accept or forget what is happening to people who are in these camps."
"People are living for many months, if not years in severely sub-standard living conditions where their physical and psychological health is being profoundly impacted," said Dr Claire Dunne, an Irish GP from Co Laois and one of the medics behind the letter.
She worked with the charity Médecins Sans Frontièires/ Doctors Without Borders (MSF) on the island of Lesbos for over 18 months, before returning to Ireland in December last year.
Dr Dunne said: "Speaking from my point of view and speaking to many of the Irish doctors and nurses who have worked in the camps over the past five years, you know we're really haunted in a way by what we have seen in the camps and the human impact of these policies.
"Once you've seen them it is impossible to accept or forget what is happening to people who are in these camps."
Eight charities and NGOs, including Oxfam, Amnesty International, Human Rights Watch, the International Rescue Committee and the Greek Council for Refugees have also called today for policymakers in the European Union to review the way the EU-Turkey deal works.
They say no one should be detained simply for seeking asylum and warn that plans for new reception centres on the Greek islands, for processing applications "are akin to a detention-like" facilities.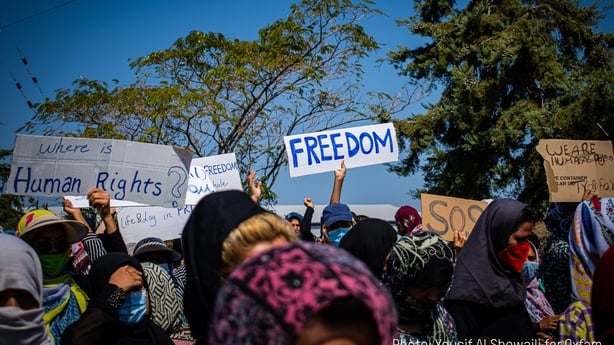 They have also accused the EU of circumventing its own human rights obligations by allowing asylum seekers who are fleeing conflicts, such as the war in Syria, to live in appalling conditions in increasingly closed off camps, where it isn't easy to access to legal assistance to navigate the complex process of seeking asylum.
"In the five years since the announcement of the EU-Turkey deal, news from the Greek islands has gone from bad to worse," says Raphael Shilhav, Oxfam's EU migration expert.
"The EU's sustained push to block refugees on their path to safety has resulted in a humanitarian crisis with people forced to live in dehumanising conditions, sleeping in unheated tents or containers with limited access to running water and electricity."
Dr Dunne was working in Moria refugee camp, before a fire in September 2020 led to 13,000 people being forced to live and sleep on the streets there.
After that she worked in a new replacement camp called Kara Tepe. Once an overflow camp for Moria and designed to accommodate the most vulnerable, it has now been dubbed by many as Moria 2.0 due to the increasingly overcrowded conditions there.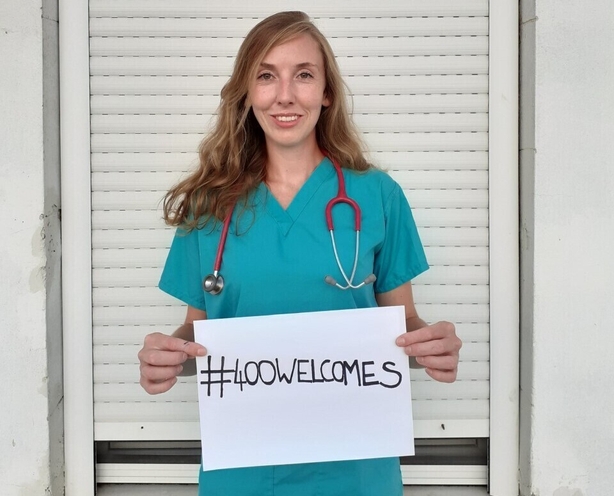 "It's extremely exposed to the elements and prone to flooding," says Dr Dunne.
"People are living in tents that are frequently flooded and they're just depending on the weather as to whether they have dry clothes to wear on any given day. I've had contact in the camp with people who say their children cannot sleep because of the cold."
She says some children have been so traumatised since the fire that they are sleepwalking, and in some cases, parents are sleeping with their children tethered to their wrists at night, for fear that they might wander out of the tents alone.
Following the fire, Minister for Justice Helen McEntee posted a video message on Twitter in October 2020 in which she announced that 50 asylum seekers had been approved to come to be brought to Ireland "within family units", where she said they could: "hopefully begin to start a new life in a much safer environment".
However, the letter says this commitment has yet to be fully met, and as part of the ongoing #400Welcomes campaign, the group of medics is calling for Ireland to take close to 400 refugees from the Greek islands, beginning with "the urgent evacuation of the 50 they previously committed to from the camp."
Dr Suzanne Carter joins over 300 healthcare professionals in Ireland supporting our call for the urgent evacuation of 400 refugees-women, men & children- from Greece.

?? Read their open letter & take action to support it: https://t.co/UFiVRBUN2l#WeSayWelcome #400Welcomes pic.twitter.com/0mAEgMjr7m

— 400WELCOMES (@400welcomes) March 18, 2021
"We're calling for the Irish Government to show leadership on this issue. We're looking for them to urgently relocate the 50 people that they did agree to after the fire and then we're calling for them to expand their response and relocate as close to 400 people as possible from these camps on the Greek islands, and specifically the camp on Lesbos," says Dr Dunne.
"We're asking the Irish Government to show solidarity and not look away from what is happening,"
She is back in Ireland for now, working as a GP in Dublin, but says she finds it hard to forget what she witnessed in the Greek camps.
She believes that despite the pandemic, it should be possible for the Irish Government to continue to resettle refugees from the Greek camps here.
"As Irish healthcare professionals we're acutely aware people have suffered immensely over the past year, with the pandemic and we're aware that marginalised and vulnerable populations are disproportionately affected as well, and this has been to a profound effect on the Greek islands, for the people living in these camps.
"We believe it is eminently possible for public health experts to transfer these people safely to Ireland. We know there are protocols and structures in place.
"I would hope that if anything the pandemic has given us an understanding of how much we rely on each other as human beings."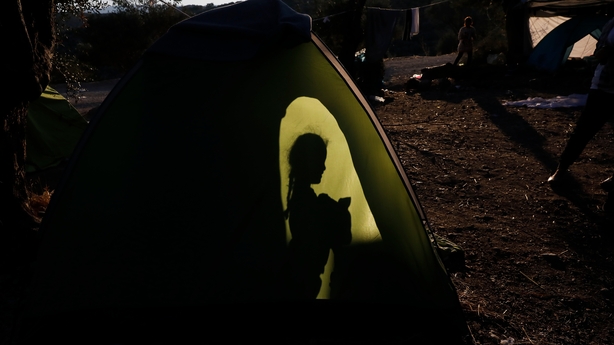 What is the EU-Turkey deal and why was it implemented?
Signed on the 18 March 2016, the EU Turkey accord was struck following the 2015 migration crisis, in which Europe feared its capacity to absorb arrivals would be overwhelmed by 1.2 million people, many of whom were fleeing the war in Syria. Many attempted dangerous crossings on board inflatable rafts and makeshift camps in Greece began to fill to bursting point.
To prevent people starting out on these perilous sea crossings, the EU undertook to resettle Syrians who remained in refugee camps in Turkey and to make two pay-outs of €3bn to help Turkey deal with roughly 4 million migrants and asylum seekers on its soil, including 3.7 million people displaced by the conflict in neighbouring Syria. The EU also promised to work with Turkey on paving its eventual way into the bloc and to speed up negotiations on visa-free travel for Turkish citizens.
Since 2016 Ankara has allowed back 2,140 migrants who tried to cross to Greece and EU countries have resettled 28,621 Syrian refugees from camps in Turkey.
What does Turkey say about the deal?
Turkey wants the 2016 deal to be renewed and expanded. To date, the European Union says it has paid out €4.1bn under the deal, with the remaining €2bn contracted to projects that support refugees. An additional €535m was assigned last year.
However, Turkey disputes these figures and says only €3.6bn has been spent.
Turkey's Deputy Foreign Minister Faruk Kaymakci has now called for the deal to be "revisited in its entirety" and said Brussels had failed to fulfil its commitments to Ankara on improving the humanitarian situation on its border with Syria. Turkey is also seeking co-operation from Brussels inside northern Syria, to prepare the way for refugees to eventually return there.
What is the EU's view?
Earlier this week, the EU's foreign policy chief Josep Borrell acknowledged that the EU-Turkey deal had been "very much criticised." However, he said it had produced some "tangible results", including a "significant decrease of loss of human lives, irregular crossings and improved the situation of refugees and migrants in Turkey."
Brussels has however accused Turkey of not doing enough to facilitate the return of migrants from Greece.
"When Covid came, both sides stopped. But the EU resumed the resettlement in August last year," EU home affairs commissioner Ylva Johansson said recently.
"So, we have resettled 2,500 or 3,000 refugees (in Europe) from Turkey under the EU-Turkey statement since last year. But Turkey has not resumed the returns from the Greek islands."
Good cooperation and good results.
I am looking forward to visiting Lesvos ???? on 29 March, to see progress on managing migration, and identification of new reception centre site.
Spring is the time to prepare for winter. @EEAthina @EUinDE https://t.co/NGt7lSmz3X

— Ylva Johansson (@YlvaJohansson) March 17, 2021
Yesterday she announced that she would be visiting the Greek island of Lesbos at the end of this month to "see progress on managing migration," there, as well as the identification of a new site for a reception centre to manage arrivals there.
What is Ireland's response?
Additional reporting AFP/ Reuters