A decade after the war began in Syria, many of those who have found themselves displaced by the conflict are now living in dreadful conditions in refugee camps in neighbouring countries and across southern Europe.
Mahmoud is a father-of-three, originally from central Syria, who has now made Enniscorthy, Co Wexford his home. He worked picking fruit for a time and is now studying online to improve his English. He wished to be identified by his first name only, in order to protect his family, some of whom are still in Syria.
Mahmoud came to Ireland from Lebanon in March 2017, as part of a UNHCR resettlement programme. He said his older brother Ahmad, a father-of-six who has already lost three children as a result of the conflict, remains at a refugee camp near Tripoli in Lebanon, without access to work or adequate food and healthcare.
"Unfortunately, my brother was left behind in Lebanon with his wife, and what remains of his family. He lost three of his children as a result of an Assad regime barrel bomb in Syria."
Mahmoud said two of the children - one a baby of six months, the other aged three-and-a-half - were killed instantly in the bomb attack.
"The third child was left disabled and died in Lebanon last year, as my brother could not afford medical care for him. He was just 10-and-a-half-years-old."
Mahmoud said he finds it hard to be in Ireland, whilst knowing that his brother is living in such desperate conditions in a tent, close to Lebanon's poorest city, Tripoli. He said the rain and flooding in the area in recent weeks mean the family is now fearful for the health of their last remaining son, a three-year-old.
We need your consent to load this rte-player contentWe use rte-player to manage extra content that can set cookies on your device and collect data about your activity. Please review their details and accept them to load the content.Manage Preferences
"He has been very ill due to the terrible conditions in the tent," said Mahmoud. "The tent has been flooded, so they have to sleep only in their clothes and it's freezing cold. The conditions in Lebanon are very bad, and Syrian refugees are not safe there."
He said his brother has taken their young son to see a doctor on multiple occasions but could not afford to pay for hospital care for him there.
Ahmad and his wife also have two daughters in their late teens. Mahmoud said they have no life there, with no access to an education or the usual things that teenage girls look forward to.
The families have an added connection to each other, as Mahmoud's wife's sister is married to his older brother. They haven't seen each other for over 13 years but live in hope that both families can be reunited one day.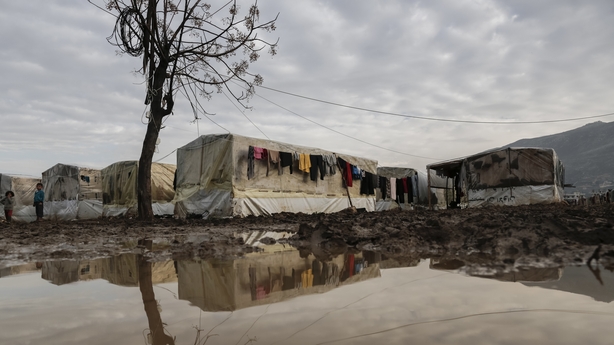 Mahmoud is now appealing to the Irish Government to bring his brother and his family to Ireland, whenever the refugee resettlement programmes can begin again here.
"We are very happy here, and have many friends in Dungarvan, Enniscorthy and Cork who welcomed us," he said.
"But we are so worried about my brother and his family. Sometimes, I am sad. [I] nearly cry for him because he lost three children and he has a bad life there. So, when I look at my life and at his life, I'm feeling very bad.
"I would like to ask Irish people and the Irish Government to please help me save my brother and his family. They have suffered so much. I don't know how much more my brother can bear."
Mahmoud also worries that it is increasingly dangerous for Syrian refugees in Lebanon who in some cases have been targeted as resources become increasingly scarce. He worries that his brother and the family could be forced to return to Syria and fears they would not make it alive past the first checkpoint, if this was to happen.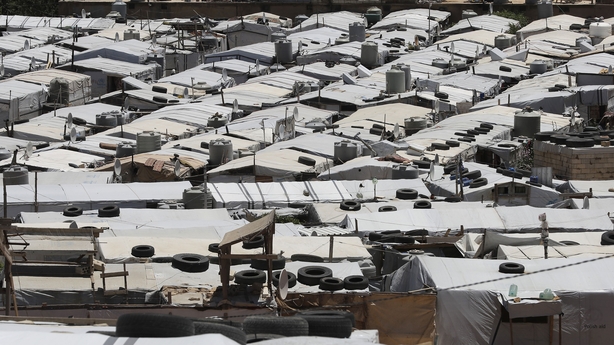 It's exactly a year ago this month that a team from the Irish Refugee Protection Programme (IRPP) last travelled to Lebanon to begin interviews with refugees who were being considered for resettlement in Ireland. They were escorted by a team from An Garda Síochána, which was charged with security and background checks.
However, during the mission Covid-19 became a serious concern and the team was required to return to Dublin. Of 368 potential arrivals, only 222 could be interviewed.
Eventually in November last year, 195 Syrian refugees arrived in Ireland from Lebanon. All were pre-cleared for Covid-19 before departure and they underwent quarantine here, before being taken to Emergency Reception and Orientation centres.
The Department of Children, Equality, Disability, Integration and Youth, which now oversees refugee resettlement, has said these families will eventually be housed in communities around Ireland, with support from the IRPP.
Of November's arrivals, 165 of the refugees came here as part of the 2019 Global Pact on Refugees. Overall, the Government pledged to welcome 2,900 refugees from Lebanon, Jordan and Ethiopia between 2020 and 2023, but those plans have also been hampered and delayed by the ongoing Covid-19 pandemic.
A spokesman for the department said: "Arrangements are ongoing to plan missions and arrivals in 2021, but these are currently on hold due to public health advice."
"Even before the pandemic, the effort to repatriate Syrian refugees was very 'shy'," said Fadi Hallisso, founder and CEO of the charity Basmeh & Zeitooneh, which partners with Christian Aid and runs a number of programmes for Syrian refugees in Tripoli and across Lebanon.
"It had gotten multiple blows, especially when the US stopped its refugees programme. So many countries were encouraged to do the same, or review the number they are taking. This is a very sad reality. So, the Covid-19 pandemic just provided another excuse for many countries to slow down this operation."
Fadi Hallisso believes there is now a need for countries to reaccelerate these efforts: "This might be the only solution for many families who are in a difficult situation, where they cannot go back to Syria for security reasons, [and] they cannot stay in Lebanon because they really can't survive anymore."
He said that at the end of last year, there were reports of families trying to leave Tripoli on boats bound for Europe.
"It is very dangerous and [a] long distance to do. So many of them were either caught by the Cypriot coastguard or lost their way in the seas, and we've seen many deaths. Even kids who died with their parents, trying to reach a better future."
He believes that once the weather improves heading into the spring this year, many may again try to make this journey. Even though the mission is perilous, he said that for many families, this is the only hope they have of starting a new life.
Lebanon was already in financial meltdown before the pandemic struck, with national debt spiralling, unemployment high and a tumbling currency stoking inflation.
For residents of Tripoli, on Lebanon's northern coast, curfews imposed from January to control the spread of Covid-19 pushed many people who were struggling over the edge, as they were prevented from working, with little to no government support on offer.
"If any one of the Syrian refugees was able to secure a job on minimum wages, or a daily wage, they lost it with the thousands of lay-offs happening around the country," said Fadi Hallisso.
The devaluation of the Lebanese pound, he said, has made not only food, but also basic medicines very expensive.
"Medicine was already very expensive for Syrians in Lebanon and for years it was subsidised by efforts from international organisations and even Syrian organisations who were opening clinics, supporting hospitals. Now the hospitals, with the devaluation of the Lebanese pound, are raising their prices and the support by international organisations is decreasing so medicine is becoming inaccessible for many refugees."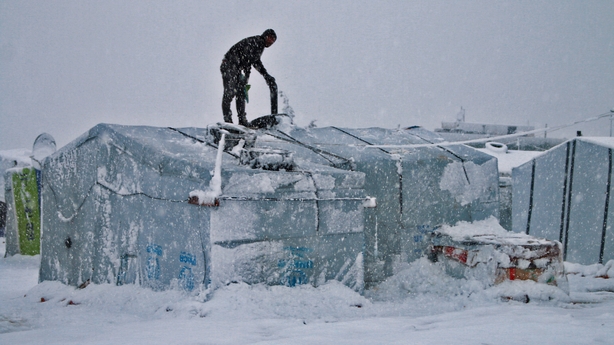 Coupled with harsh winter weather, this has made it very difficult for people living in tents there to survive.
"Every year we lose people living in tents because of the weather," said Mr Hallisso. "I don't know how people can survive. Sometimes when you are inside your home with the heaters on, you feel like you can't handle this cold, so I can't imagine the situation in a tent that is made of fabric. How this can give any kind of protection to people?"
Hallisso explained that the weather in Lebanon has changed in recent years, with higher levels of rainfall that can cause flooding across camps.
"Unfortunately, every year we find ourselves in the same situation that there is no money available to prepare before the storms come and then people wonder why the NGOs didn't do anything to prevent this from happening.
"It seems like the world is forgetting about Syrian refugees and this is becoming another dormant crisis, with attention and funding decreasing."
The Irish-Syria Solidarity Movement (ISSM) said that, unfortunately, Mahmoud's case is not unique and it is aware of many other Syrians living in Ireland who are calling for help for family members who are desperately in need of urgent medical treatment that they cannot afford to pay for.
The group has written an open letter to the Minister for Foreign Affairs Simon Coveney, highlighting the ongoing crisis in Syria, as the tenth anniversary of the conflict approaches.
Eileen Boyle, from County Westmeath, raised funds for the ISSM to help Syrian refugees and last travelled to Lebanon in October 2019, where she said she witnessed a lot of poverty and hunger.
"The women I met would usher me into the kitchen to show they had nothing there. And you can't get medical treatment there unless you have the money to pay for it," she said, adding that all these problems have only been intensified as a result of rising inflation in Lebanon and the knock-on economic effects of the Covid-19 pandemic.
Next week, the Joint Committee on Foreign Affairs and Defence, chaired by former Justice Minister Charlie Flanagan will hear from SAWA for Development and Aid, a group which supports Syrian refugees in Lebanon.
A number of Irish-based NGOs including Trocaire, Oxfam, Goal, Concern and World Vision Ireland will also address the committee hearing on Tuesday.