As the European Union frets over the pace of vaccine supply and attempts to ramp up the manufacture of key vaccines within the bloc, the United Nations has warned that more than 100 countries around the world have yet to administer a single dose.
Many others only began administering their first doses this week and 80% of doses to date are concentrated in just ten countries.
There has been a rapid and well publicised roll-out of vaccines in countries including Israel and the UK.
Data from Our World in Data, based at Oxford University shows other states including the United Arab Emirates, the USA and Chile in South America, all performing more strongly than the EU in terms of single doses, administered per 100 people in the population.
However, earlier this week, the European Commission President Ursula von der Leyen gave her support to French President Emmanuel Macron's call to donate vaccines to health care workers in other countries, including Africa, stating: "Vaccines must reach all corners of the planet as soon as possible."
The EU this month doubled its contribution to the global vaccine-sharing scheme COVAX, in a bid to ensure that lower- and middle-income countries get their fair share of safe and effective vaccines.
It's all part of what Dr Mike Ryan, the Irishman who has helped lead the global response to Covid-19, calls a "moral hazard for Ireland and Europe."
We need your consent to load this rte-player contentWe use rte-player to manage extra content that can set cookies on your device and collect data about your activity. Please review their details and accept them to load the content.Manage Preferences
"This is a moment for the world", Dr Ryan, Executive Director of the WHO's Health Emergencies Programme, told RTÉ's News at One this week.
Whilst he urged Ireland to vaccinate all vulnerable adults, healthcare and frontline workers first, he added: "We have a chance to really do something special beyond the scientific victory we've had in developing vaccines in the fastest time ever.
"Wouldn't it be great to add to that, to distribute those vaccines in the most equitable manner possible?"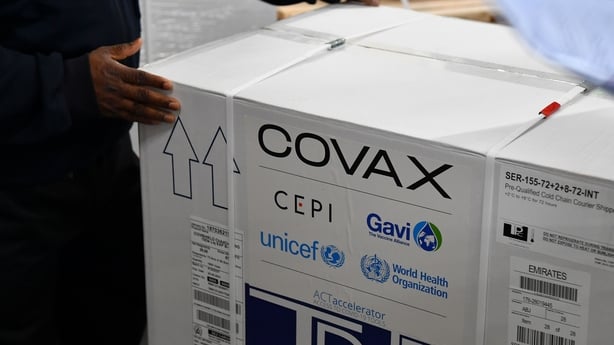 COVAX, part-led by the World Health Organization, reached an important milestone on Wednesday, when the very first shots delivered under the scheme began arriving in Ghana.
A flight carrying 600,000 doses of the Oxford/AstraZeneca vaccine landed in the capital Accra, marking the first successful delivery for the COVAX initiative, which was launched last June.
It is a global collaboration co-led by Gavi, the Vaccine Alliance, the Coalition for Epidemic Preparedness Innovations (CEPI) and the WHO.
It aims at pooling funds from wealthier countries and not-for-profit organisations, to develop vaccines and make sure they're distributed fairly around the world.
In total, it aims to deliver a total of 2.3 billion doses of vaccine by the end of this year, including 1.8 billion to poorer countries, at no cost to their governments.
These doses could cover up to 20% of a given country's population, but, on their own, this will do little to contain the virus and reach the goal of herd immunity.
The 55-member African Union has been using its political weight in a push to immunise 60% of the continent's 1.3 billion people, over the next three years.
South Africa, which has been battling a new variant of Covid-19, is steadily rolling out the Johnson & Johnson vaccine to 500,000 healthcare workers, after the AstraZeneca jab proved less effective against the new strain there.
The country's President, Cyril Ramaphosa, who is also chair of the African Union said last week that "rich countries should donate 5% of their vaccines to needy countries, particularly on our continent, Africa."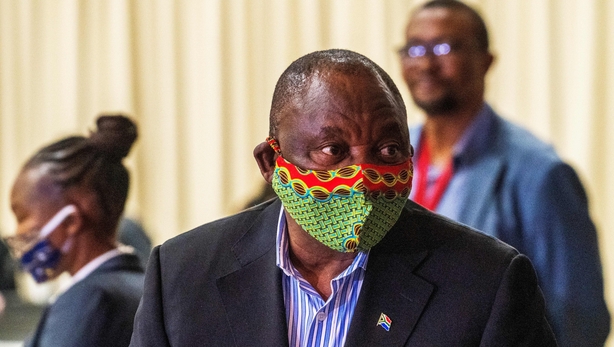 He added: "To fight the pandemic, we need to pool all our resources, our capabilities, our knowledges and intellectual property."
Russia has offered to supply 300 million doses of its Sputnik V vaccine to the African Union scheme, along with a financing package.
It seems old political and colonial ties are likely to play a part in vaccine distribution in some parts of Africa too, with Portugal announcing that is will send 5% of its Covid-19 vaccine shots to a group of Portuguese-speaking countries and to the tiny nation of East Timor in the second half of this year.
Angola, Mozambique, Cape Verde, Guinea Bissau, Equatorial Guinea, and Sao Tome and Principe are among the countries that will receive vaccines from Portugal, equivalent to 1.75 million doses.
With a population of just over 10 million people, Portugal is entitled to 35 million vaccine doses this year under the EU-co-ordinated purchasing scheme, mostly for double-dose inoculation, leaving it with millions of extra shots.
The West African country of Senegal, also became one of the first in the region this week to start vaccinating its population against Covid-19, with 200,000 doses purchased from China's Sinopharm.
Zimbabwe and Equatorial Guinea will also receive small batches of the Sinopharm vaccine, donated by China.
On Friday, the Ivory Coast became the second country in the world to receive a shipment of Covid-19 vaccines from the global COVAX initiative, with 504,000 doses of the AstraZeneca vaccine made by the Serum Institute of India.
This marks the second batch that has been shipped and delivered to Africa by the COVAX Facility
Eastern Europe and the Balkans - battling the big EU bloc for supply
Vaccine supply isn't just an issue in Africa, but also in some of the EU's nearest neighbours. Earlier this week the tiny country of North Macedonia complained that it had become the "collateral damage" of the EU's more aggressive procurement policy.
The country's Foreign Minister Bujar Osmani said Brussels was sending out "the wrong message" by leaving the Balkans region without a secure vaccine supply.
He said North Macedonia had last year ordered and paid for 800,000 AstraZeneca doses through the World Health Organization and a further 800,000 from Pfizer, but that none of these had yet reached the landlocked country, which has to date received only a few thousand donations from neighbouring Serbia.
Serbia has been able to start a widespread vaccination campaign, thanks to direct procurement deals that its government did with pharmaceutical companies, including China's Sinopharm.
Ukraine, a country of 40 million people has also experienced vaccine delays. Facing criticism, the country's President Volodymyr Zelensky blamed Western countries for reserving the Pfizer and Moderna vaccines in bulk and he urged the EU to help eastern European countries to source them more quickly.
Finally, this week a plane carrying 500,000 doses of the AstraZeneca jab, produced at the Serum Institute of India landed in Kiev with President Zelensky tweeting that vaccinations would start being deployed 'ASAP'.
First 500K of #vaccine against #COVID19 arrived in #Ukraine. We are grateful to Indian partners for the #support. We will start vaccination ASAP. We need to fight COVID together. Oxford/AstraZeneca (#Covishield) pic.twitter.com/V99wCNYPQ0

— ????????? ?????????? (@ZelenskyyUa) February 23, 2021
Whilst it awaits further deliveries, including eight million doses of the Pfizer vaccine from COVAX, Ukraine has banned vaccines developed by what it calls "aggressor states", a term it has applied to Russia since 2015.
Breakaway regions in the east, controlled by Kremlin-backed separatists began a vaccination drive in early February with Russia's Sputnik V jab, but Ukraine's pro-Western leadership has denounced the vaccine as a geopolitical tool.
Sputnik V was registered last August, before clinical trials were under way, although leading medical journal the Lancet, has since published results showing it to be safe and 91.6% effective. Russia says it has been adopted by 31 countries.
Although it is in the EU, Hungary has also been critical of the bloc's supply issues and has gone it alone by giving emergency approval to the Chinese produced vaccine Sinopharm. It has also become the first country in the EU to approve Russia's Sputnik V, even though it has yet to be approved by the European Medicines Agency.
Prime Minister Viktor Orban said last month that the EU roll-out of vaccines was too slow and costing lives. Both jabs have been given a six-month emergency approval.
Asia - India the world's biggest vaccine manufacturer
India has one of the biggest and most ambitious vaccination programmes in the world - to inoculate 300 million people from its 1.3 billion population by July.
It is the biggest vaccine manufacturer in the world too with its pharmaceutical giant, The Serum Institute of India, churning out doses of the AstraZeneca jab for distribution around the world.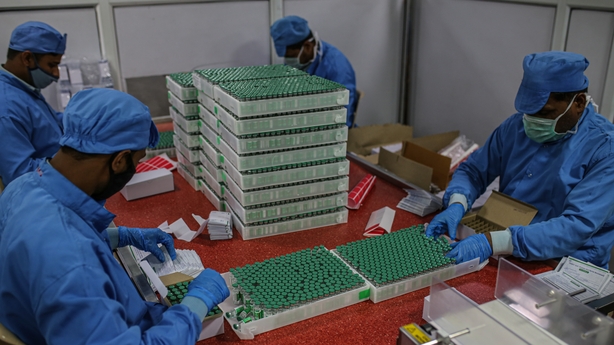 That jab is cheaper and easier to store than other vaccines such as Pfizer/BioNTech and Moderna.
The Serum Institute will also soon start producing the Novavax vaccine, which is aimed mainly at poor and middle-income countries.
India has already shipped over 17 million vaccine doses to more than two dozen countries - including around six million as gifts to partners such as Bangladesh and Nepal.
For its own campaign, New Delhi has so far only ordered 31 million doses and the country's health ministry says 12.2 million shots have been administered so far, mainly to healthcare workers and other frontline staff.
However, from next week roll-out will begin for the over 60s and those aged over 45 who have multiple medical conditions.
Despite this progress, it could in reality take years rather than months for its 300 million target to be met. It is being hampered in part by reluctance, particularly among healthcare workers, to taking a home produced Covid-19 vaccine called COVAXIN, developed by Bharat Biotech.
It was controversially approved by the government there without late-stage efficacy data, but only makes up about 11% of the country's vaccine roll-out, with the majority of people being given the AstraZeneca jab.
Indonesia's vaccination drive hit the headlines earlier this year, when social media influencers, YouTube and Instagram stars were allowed skip to the front of the Covid-19 vaccination queue, in order to boost its popularity.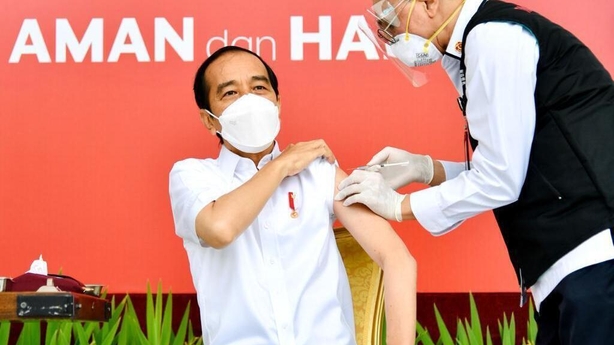 On Thursday, the world's biggest Muslim-majority nation began the mass vaccination of religious figures with monks, priests, imams and nuns queuing to receive their first doses of vaccine.
Healthcare workers and public servants have also been prioritised with CoronaVac, a vaccine developed by Chinese pharmaceutical company Sinovac outside mainland China.
This week, UNICEF announced that it had sent 100,000 syringes and 1,000 safety boxes for Covid-19 vaccinations to the Maldives by air freight from its humanitarian warehouse in Dubai.
Even before Covid-19, UNICEF was already the largest single vaccine buyer in the world, procuring over two billion vaccines annually in order to reach almost half of the world's children aged under five.
Over the next few weeks, the UN agency will ship more than 14.5 million auto-disable syringes to more than 30 countries as part of the COVAX programme.
"It is critical to have adequate supplies of syringes already in place in every country before the vaccine arrives so that the vaccine can be administered safely. This would allow immunisation to start immediately and help turn the tide on this terrible virus," said UNICEF Executive Director Henrietta Fore.
In all, UNICEF will be supplying up to one billion syringes and 10 million safety boxes to countries in 2021 to ensure they are ready for Covid-19 vaccinations and is aiming to make two billion Covid-19 doses available for delivery this year.
The Middle East - Israel in world's swiftest vaccine campaign
Israel has administered at least one Pfizer dose to almost 50% of its nine million population so far, in one of the world's swiftest campaigns.
It has imported Pfizer/BioNTech and Moderna vaccines in an aggressive drive to reopen its economy by April, when it plans to have inoculated all of its eligible population.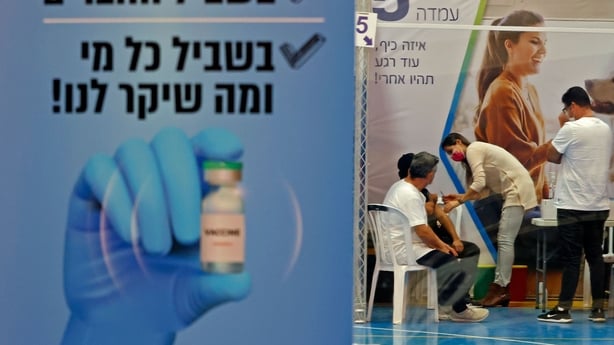 In contrast, Palestinians in the West Bank and Gaza have seen very few of their population vaccinated, although some doses have been allowed by Israel into the territories, despite blockades.
In Gaza, close to 20,000 doses of Russia's Sputnik V vaccine arrived from the United Arab Emirates this week.
Earlier this month, the Palestinians received 10,000 doses of the same vaccine to help jump start their inoculation campaign. More vaccines from China and the COVAX scheme are expected later this month.
In Lebanon, anger was sparked at the start of their vaccination campaign this week, after politicians received their first doses in parliament on Tuesday, leaving medical workers and the elderly waiting.
The row prompted the World Bank to threaten to halt its finance of the vaccination drive there.
The country's caretaker health minister Hamad Hassan later said that it was "not that big a deal" and said the shots had been given to politicians to thank them for passing an emergency law, that had helped obtain the Pfizer-BioNtech vaccine.
The Syrian government has also authorised the use of Russia's Sputnik V.
However, in the rebel-held northwest, the World Health Organization is working to deliver the first supplies of the AstraZeneca vaccine by the end of this month through COVAX, amid fears that a Covid-19 outbreak could quickly tear through crowded displacement camps there.
Afghanistan also began its vaccine campaign this week, administering doses initially to security force members, health workers and journalists, in a campaign that may face challenges from a sharp rise in violence. The war-damaged country received half a million doses of AstraZeneca's vaccine from India.
South America - squabbles and resignations
Chile has been streaking ahead of the rest of Latin America in its campaign to vaccinate its population against Covid-19, by relying on links with vaccine-producing trade partners who normally snap up its copper and fresh fruit.
It was the first in South America to start inoculations - on Christmas Eve - giving healthcare workers the Pfizer-BioNTech vaccine. The Sinovac vaccine has since arrived and is being given out at some 1,400 mobile clinics spread across the long, thin country.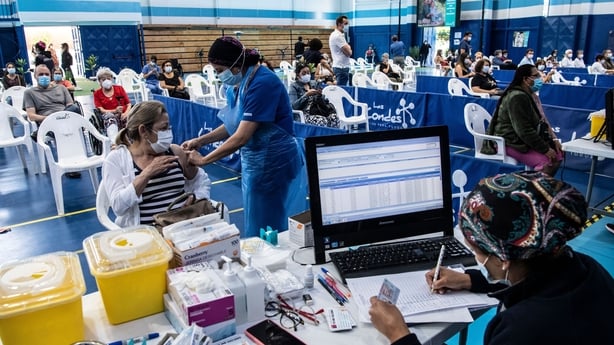 In Brazil, the right-wing government of President Jair Bolsonaro's is under pressure for its slow response in rolling out vaccines, despite his country facing the world's second deadliest coronavirus outbreak. A majority of the country's Supreme Court justices this week voted for an injunction, allowing local state and city authorities to bypass the federal government and buy and distribute their own supplies.
Last Friday, Argentina's health minister was forced to resign following reports that people had been able to use connections to get access to Covid-19 vaccines, before they were entitled to. It follows a similar scandal in Peru in which both the health and foreign ministers quit.
The country's former president was placed under criminal investigation over reports of hundreds of Peruvian officials and others receiving vaccine doses outside of clinical trials, and before the national immunisation programme had begun.
Since December, Argentina has been largely using Russia's Sputnik V vaccine to inoculate frontline health workers, although deliveries have lagged far behind what it had initially hoped for.
Argentina and Mexico have also teamed up their production capabilities to make millions of doses of the AstraZeneca jab at their own production facilities.
AstraZeneca has long had operations in Argentina and the British pharmaceutical company has signed a deal with biotechnology company mAbxience, which includes the transfer of technology to initially produce 150 million doses of the vaccine to supply all of Latin America, with the exception of Brazil.
A global music campaign for May
Global Citizen, which hosted a 'One World at Home' benefit concert in April last year, is now launching a new campaign to support the equitable distribution of vaccines worldwide.
Leading artists are to take part in a broadcast special in May, which was launched this week by the Grammy-winning American singer-songwriter, Billie Eilish.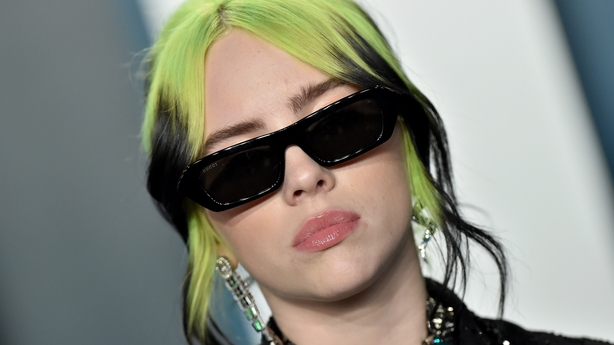 The 19-year-old said she was three shows into a world tour a year ago, when she had to cancel the rest as the pandemic struck.
"I want to ask all of my fans to join me and take action as part of this campaign. We need to call on the government leaders, corporations and philanthropists to make commitments, so the world can recover from the devastating impacts of the Covid-19 pandemic.
"The sooner we take action together, the sooner we will be able to get back to life and seeing live music. I can't wait to see all of you again as soon as it's safe," she said.
Speaking at the same virtual launch this week, WHO chief Tedros Adhanom Ghebreyesus said that to date over 210 million doses of Covid-19 vaccinations have been administered, but 80% of them were in just ten countries, meaning world vaccination against Covid-19 is still a long way off.
Additional reporting Reuters and AFP