Special classes reopened their doors to students this morning, in the second step of what is being seen as the gradual return of primary and secondary education to the classrooms.
On 11 February, special schools across the country welcomed pupils back and today it was the return of special classes in mainstream schools.
This represents more than 1,200 classes at primary level and more than 7,500 pupils, along with 515 special classes in secondary school, comprising more than 2,800 students.
More than 5,500 teachers and Special Needs Assistants provide education and support to these students.
St Canice's National School in Kilkenny city was one of the schools that saw teachers and assistants delighted to see their young charges back in the classrooms today, following weeks of Zoom and Google Meets activity.
School principal Maria Comerford paid tribute to the parents and children, who have been engaged every day in online learning since early January, when the schools would normally have expected to return following the Christmas holidays.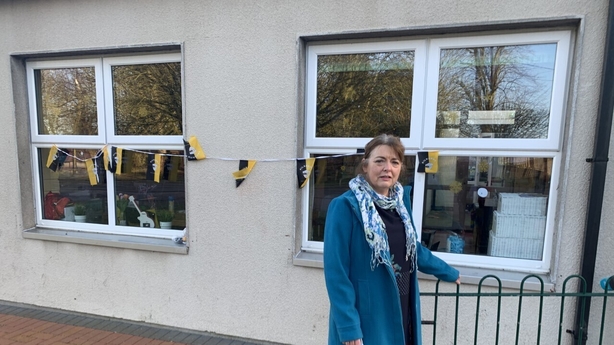 "There's just no replacement for the buzz of a classroom and the interaction that children get with their teachers and with their peers in class," she told RTÉ News.
Ms Comerford hoped that today's activities will be followed before too long by the return of the rest of the school community.
"There would usually be over 600 children here and today we have 18."
Children arriving at St Canice's this morning were greeted by their enthusiastic teachers and assistants, before the school day got under way in earnest.
"There's great excitement, we're all thrilled to be back and the children," teacher Aisling Heuston said this morning.
"It's great to see their faces, they're delighted to see us and to see each other and just to be back to a bit of routine and normality."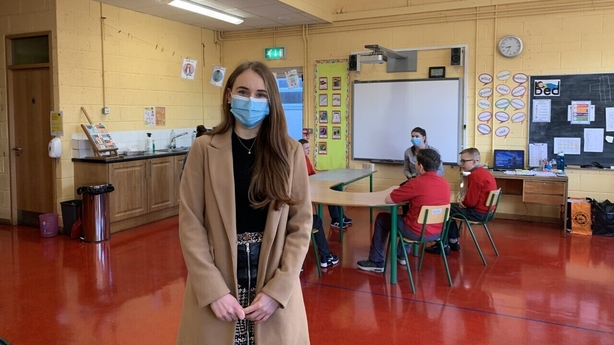 Parent Emma Downey said her daughter Sarah "never slept last night with the excitement," such was the sense of anticipation in their home about getting back into the school building.
"She can't wait to get started back up. Then we have a sister at home and she can't wait to come in, so hopefully everything will be up and running again soon."
Sarah herself said she was looking forward to seeing her friends and playing in the yard. "It's fun learning and we get to have breaks and stuff, and playing with your friends."
Tadhg Holland said he was also looking forward to "going in the yard" and "mostly playing in the playground", as well as meeting his teachers and classmates.
His mother Ciara said the Zoom classes had been brilliant, "but nothing compares to the face to face, hands-on learning that he needs".