"How far are you away from me now?"
Seán Killeen, 85, is on a video call from his home in southeast London to his grandchildren Philip and Layla Killeen at their home in Kiltullagh, Co Galway.
Philip Killeen, 16, explains to his grandfather he is "somewhere in the Irish Sea now".
They are talking about a charity cycling challenge Philip is undertaking to give hope to his grandfather after the loss of his wife.
Mary Killeen died of cancer seven weeks ago at King's College Hospital in London.
Philip is fundraising for Cancer Care West by cycling 775km within lockdown limits. The distance is a symbolic one.
It is the distance from Philip's family home in Galway to his grandparents home in the UK; a journey Philip's family could not make for Mary's funeral because of the Covid-19 pandemic.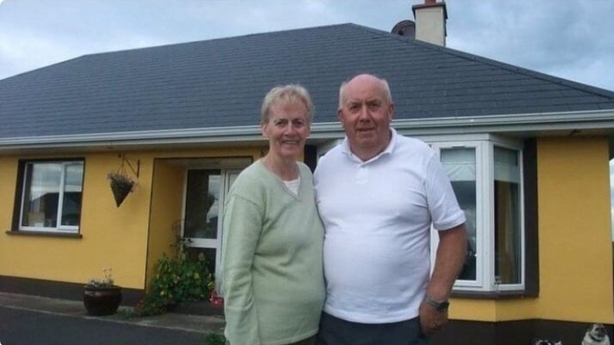 Philip explained: "At Christmas, when we were told nanny was going into hospital, grandad seemed so scared.
"Grandad was really struggling. We knew he would really struggle. So I was like, I want to do something to give everyone some hope but mostly him."
Seán Killeen met Mary 63 years ago in their native Co Galway before emigrating to London where they raised their family of four - Tom, Jackie, Maria and John.
As Maria lives in Spain and John lives in Ireland, they could not attend the funeral.
"I would have liked if my son and my other daughter was there standing at the graveside. It didn't happen like that, you know. It's unreal. It's not right," explained Seán.
"I had a fairly long life. I'm coming up to 85 years old. But I had one great bit of luck in my life, the woman I was with, Mary.
"My Mary was a very beautiful woman. I'm trying to do my best. I'm too old to cry at 85 but I have to," said Seán.
The Covid-19 pandemic has changed the traditional ways of grieving and offering comfort to those experiencing loss.
Unfortunately, for the Killeen family there was no livestream available for Mary's funeral mass and burial. Layla Killeen, 18, says "it doesn't feel like it even happened".
"Our uncle Tom in London took photos of grandad carrying her coffin. It's tough. We did a memorial kind of thing over here with my aunt Maria that lives in Spain. We lit a candle but other than that there wasn't much we could do," explained Layla.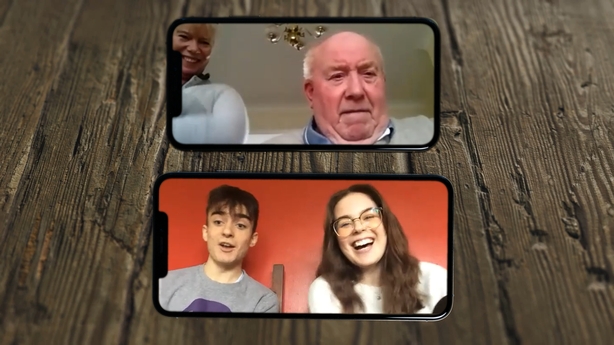 Back on the video call, Seán explains to Philip and Layla that himself and Mary, "did plenty of cycling when we first met in Ireland. There was no other way of getting around".
Philip is keeping track of his progress for his 'My Cycle for Nanny' challenge on @mycyclefornanny on Instagram.
He is fundraising through a dedicated GoFundMe page for the next few weeks and during family video calls he is planning for the day when they can see his grandfather again.
"I'd like to get over to Kiltullagh," said Seán who has received the first dose of the Covid-19 vaccine.
"Just get over here and we'll go for a nice walk with you grandad," added Philip.