It is fair to say that the idea of a white-water rafting centre in Dublin's IFSC district has gone down badly with many.
A lot of the concern is with the estimated €25m cost for a project, which was proposed during a housing crisis and is going out for construction tender estimates during a health emergency.
A "grotesque vanity project", according to Senator Michael McDowell. A "really, really stupid idea", according to one website headline, while other commentators have asked how many social homes could be built with the money.
Even the then taoiseach Leo Varadkar and Minister for Finance Pascal Donohoe were quoted as saying the money could be better spent elsewhere.
However, the white-water centre has joined a long list of controversial projects in Dublin that have provoked a backlash. Many have gone on to be a success, while others remain controversial.
What is noteworthy is how the common mood seemed to unite against them at the time.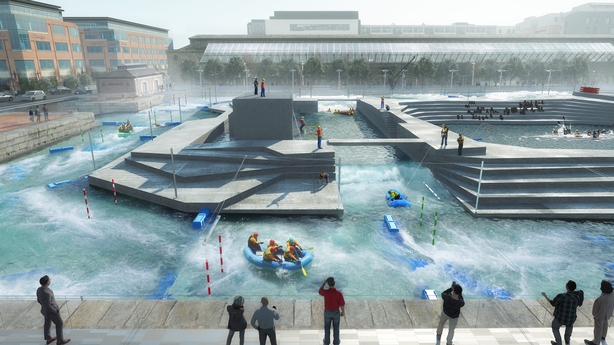 It was the politicians themselves who were the subject of huge controversy back in 1990 when there was a project to restore and upgrade an Edwardian building beside Leinster House for use as Government Buildings.
Planned by a Fine Gael government, the project was implemented by a Fianna Fáil government under then taoiseach Charles Haughey and the final bill came to €37m in today's money.
It was derisively referred to as "Chas Mahal" and in a country still recovering from the deep recession of the 1980s it became synonymous with vanity and excess.
However, the buildings later won architectural awards and came to be admired. It is where the Taoiseach made his address to the nation on the Covid pandemic.
Here, you will also find reception areas for visiting heads of state and a basement area for official press conferences. It is generally considered to be a valuable asset for government.
Then there was Farmleigh in the Phoenix Park, bought from the Guinness family by the State and then renovated in 2003 at a total cost of €62m. Its main purpose was to accommodate foreign dignitaries.
Again, there was universal outrage at the time. Writing in the Irish Times, Robert O'Byrne described the project as "grotesque", "government nonsense" and said it "resembles one of the late Nicolae Ceausescu's grandiose architectural follies in Romania".
However, Farmleigh proved very popular with Dubliners, attracting hundreds of thousands visitors a year with gardens open to the public, outdoor markets, art gallery and guided tours of the building available.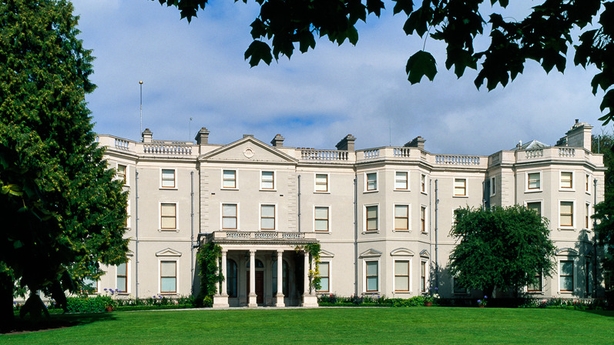 The house itself is rented out for high level events. It has also hosted some visiting dignitaries, including Britain's Queen Elizabeth and Prince Albert of Monaco. Most countries, both rich and poor, have such state showcases.
The controversy generated by the Poolbeg incinerator was probably the most epic of all and it remains a contentious issue.
Ironically, if it was built when first proposed in 1996 it would now be at the end of a 25-year contract. It could be at least argued that millions of millions of tonnes of waste would have been diverted from landfill.
Instead, because of local and national opposition, it did not get planning until 2007 and was then delayed for a further ten years costing nearly €100m before any construction work started.
It is now up and running since 2017 on a 45-year contract.
However, fears that it would become a 'white elephant' with the taxpayer picking up the tab because of a 'put or pay' later revenue guarantee clause have yet to materialise.
Then there was the Luas Red Line going through the Red Cow roundabout. This sparked a lot of controversy in 2003 because the roundabout was a notorious traffic bottleneck and most people fervently believed the Luas was going to bring things to a standstill.
In the Irish Times, Kevin Myers famously predicted it would be a national catastrophe. "The Red Cow roundabout is about to put a noose around the commerce of the Republic; and it will, as inevitably as an 18th-century hangman, slowly throttle it," he wrote.
Public controversy like this does have an effect on government policy.
Fears about the Red Cow roundabout forced then transport minister Seamus Brennan to agree it was a "mess" and to propose putting the Luas on an elevated track or "stilts", which would have further delayed the new transport service and added €20m to the bill.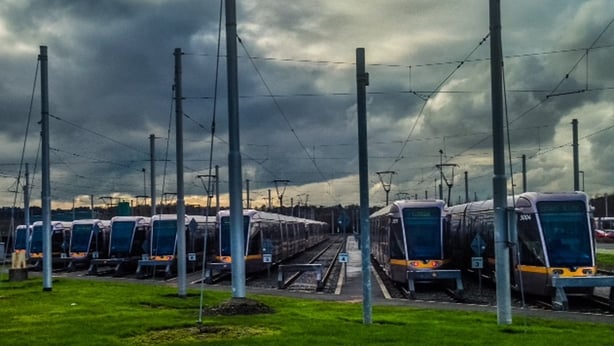 In the event, that did not happen, the Luas started running and there were no major problems at the Red Cow. Works on an upgrade of junction also carried on regardless for a number of years.
More recently, we have had arguments about the underground Metro project, set to cost up to €5bn. It has been described as a massive waste of money and something that is not needed. The project keeps being postponed.
Compared to all that, the white-water facility seems quite modest. No final decision will be made until official estimates come back, probably in June.
But Heather Boyle, spokeswoman for the Olympic Federation of Ireland, said that canoe slalom is increasingly popular with youngsters as a fast moving, exciting sport and one attractive for TV coverage.
Ireland has narrowly lost out on medals in previous games and canoeists currently have to travel abroad to train.
Owen Keegan believes the rafting centre could provide an "innovative community participation programme" in the inner city docklands as well as being a "major tourist amenity". It is something that most European cities have and the idea is that it would pay for itself over time.
He points out that 85% of the council's capital budget already goes on housing and homeless while the white-water facility would be financed by funds ring-fenced for sport and tourism.
It would also provide an open water pool for canoe polo and be situated near a 50 metre 'sea pool' in the Liffey for swimming - if plans ever come to pass.
As with the other projects, only time will tell.