CEO of the Health Service Executive Paul Reid has said there are "continuing good trends" in relation to the number of cases of Covid-19 but Ireland is still "very high risk" in relation to the level of transmission in the community.
Speaking at a weekly Covid-19 update, Mr Reid said there has been a 17% reduction in community referrals so far this week.
He said the hospital system is "beginning to see further good trends" and said that was a "relief for the healthcare system generally".
While the number of people being treated for Covid-19 in hospital has dropped below 1,000, he said, "it is not normal that almost 1,000 people are being treated for the same virus in our hospital system at the same time and it is not normal that we are in national surge mode across the country".
"We are on good trends in terms of the virus and the number of hospitalisations, but we still have a significant journey to go on before we are at a level where we can restore services to the level we want them to be at." 
Mr Reid said the number of people in hospital with Covid-19 today is "still 100 more than we had in the peak of the first wave in April, at 880". 
He said, "over 6000 bed nights and bed days have been used" as part of the agreement with private hospitals since it was activated a couple of weeks ago. 
There were 990 confirmed Covid-19 patients being treated in hospital at 8pm last night.
That is 50% below the peak on 18 January, and it is the first time the number has been below 1,000 since early January.
Of those 167 were in intensive care, 24% fewer than the peak two-and-a-half weeks ago.
Chief Clinical Officer of the HSE, Dr Colm Henry said there has been sustained suppression of transmission of the virus.
Dr Henry said that the 14-day incidence rate of the virus here is 312, down from 766 the week before.
He said this represents "the greatest most rapid fall" in 14-day incidence rates in Europe, albeit from a high level.
He said the five day average is 848, which is still four times higher than at the beginning of December, and 100 times higher than at the end of July last year.
The average number of close contacts a person has is now at 3.
Mr Reid said this is "holding strong" and is evidence of the public's actions taking effect.
Last week, 121,000 tests were completed. Mr Reid said while this figure is improving it is still very high for any benchmarks throughout the year.
---
Read more:
Live: Updates as they happen
Latest coronavirus stories 
---
In relation to vaccine rollout, Paul Reid said 12,000 people aged over 85 are expected to receive their first dose of Covid-19 vaccine.
He said that next week is a "very exciting week" and that we are now "truly moving into a new phase".
Mr Reid said that the first 12,000 people from this age group will be vaccinated in 84 GP practices across 20 counties.
He said the roll out to this cohort does "accelerate very significantly in the week following".
He said that so far 243,353 vaccine doses have been administered, among them 154,900 first doses and 88,453 second doses.
Mr Reid said this puts us third in Europe in terms of doses per 100 of the population, behind Malta and Denmark but "well above the EU average".
HSE CEO Paul Reid says Ireland is third in the EU for doses of Covid-19 vaccinations "per 100 of the population". | Read more: https://t.co/EUgZq3QCks pic.twitter.com/9ybUaWGlj8

— RTÉ News (@rtenews) February 11, 2021
He said that work is ongoing on vaccination centres and that the HSE is working with the minister to present the overall plan across the country.
He said that a registration portal for vaccinations is up and running and that 30,000 staff have registered so far.
This portal will be part of the roll out as it reaches out further into the community.
Vaccination of GPs will also continue this weekend with second doses to be administered along with some first doses using the AstraZeneca vaccine.
Mr Reid said this will be happening at four sites across Portlaoise, Galway, Dublin and Sligo.
He said the roll out demonstrated the HSE's capacity to be flexible and adaptable when needed and he thanked GPs, the ICGP and the IMO for working with it on the revised plan.
Regarding some challenging cases where people don't have transport to get to vaccination locations, Mr Reid said the HSE will work with local authorities, Civil Defence, and the Defence Forces to address these situations as they arise.
HSE Chief Operating Officer, Anne O'Connor said there are now 541 open outbreaks in hospitals and long term healthcare facilities.
Speaking at a weekly Covid-19 update Ms O'Connor said this represents 21% of all facilities.
She said 190 of them are in nursing homes which represents 33% of all nursing homes.
She said the community still remains very challenged in terms of the number of outbreaks.
New data from the Health Protection Surveillance Survey which was released yesterday shows the number of frontline healthcare workers contracting Covid-19 has fallen.
The number of new cases of Covid-19 among healthcare workers was down by close to 40% last week - almost twice the rate of decline in overall new cases.
By last weekend also, 66,000 healthcare workers had already received two doses of the Covid-19 vaccine and another 79,000 had received their first dose.
The vaccination programme was also well under way in nursing homes where the number of new clusters or outbreaks of Covid-19 halved last week.
This was in sharp contrast to the number of outbreaks in private houses or family settings, which doubled during the week.
Over-70s fully vaccinated by middle of May depending on supply - Donnelly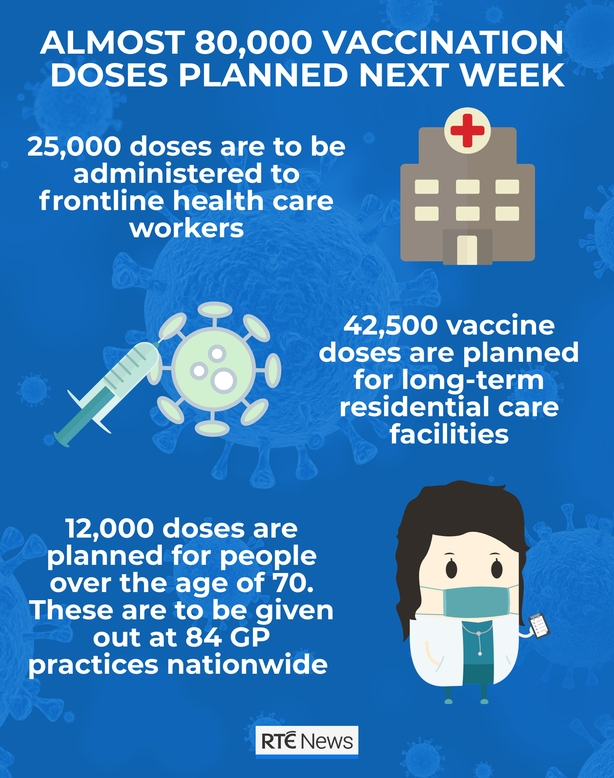 Minister for Health Stephen Donnelly has told the Dáil that all over 70s will be fully vaccinated by the middle of May if supplies arrive as expected.
He said this was only a two-week delay compared to a previous target of March as he said that date referred to a first dose rather than both doses. 
Sinn Féin health spokesperson David Cullinane said this was a long time to wait and he said it would cause concern. 
Mr Donnelly also said that vaccinations of the over 85s group will begin next Monday with 20,000 doses of the Pfizer and Moderna vaccines die to be distributed. 
This will rise to 50,000 doses the following week. 
The Minister said everyone could be vaccinated by September although he added that it was not a promise.
Several deputies raised the prioritisation of kidney dialysis patients and others with underlying medical needs in cohort seven of the vaccination list. 
Mr Donnelly said he has asked the National Immunisation Advisory Committee to examine these cases, particularly those at very high risk along with group 6, key workers. 
He said the Department of Health and the Chief Medical Officer will then examine the prioritisation and he would report back next week.
Mr Cullinane raised the case of family carers who he said were feeling very vulnerable and overlooked. 
The minister said the HSE's clinical judgement was that vaccinations must prioritise those most at risk themselves.
Additional reporting George Lee