Stormont First Minister and DUP leader Arlene Foster has said it is a dereliction of duty for the British government not to override parts of the Northern Ireland Protocol to overcome problems with supply lines.
Supermarkets and independent retailers have struggled to get some products because of additional red tape since Brexit.
Amazon has already stopped sales of alcohol to customers in Northern Ireland because of concerns that it would have to pay excise duty twice.
The online retail giant is preparing to remove some other products that must undergo specific customs checks or tests for sale to customers in Northern Ireland.
Garden centres and householders are also struggling to get supplies of some plants and seeds because of new certification processes.
Unionist politicians have been urging British Prime Minister Boris Johnson to invoke Article 16 of the protocol to remove obstacles to trade.
Those calls have intensified since the European Commission last week threatened to trigger the article to place customs checks on Covid-19 vaccines manufactured in the EU entering Northern Ireland.
That would have resulted in the kind of customs border on the island of Ireland that the protocol was designed to avoid.
Mrs Foster labelled the move "an act of hostility" and today said she does not accept claims that the threatened move, which was quickly rescinded, was the result of an error.
"This was no accident or some inadvertent mistake as some have tried to allege," she told the Stormont Assembly.
"The EU had been working on this all of last week, it was done with purpose, and it was done with intention."
Having criticised the EU for threatening to deploy Article 16, the DUP insists the UK must now use it.
She said the provision means "the United Kingdom can take action without agreement to protect disruption on our supply lines, and to protect the people of Northern Ireland".
Deputy First Minister and Sinn Féin's leader in Northern Ireland Michelle O'Neill was not in the Assembly chamber to respond, as she is self-isolating for a second time after a member of her household tested positive for Covid-19.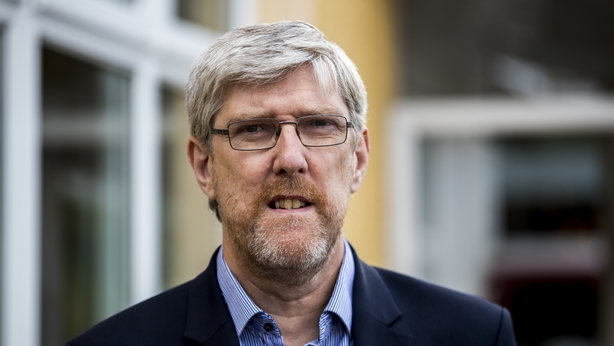 The party's MLA for Upper Bann John O'Dowd said the EU had been "clearly wrong" to threaten to invoke Article 16.
He said he was confident that any supplies could be overcome in discussions through diplomacy rather than "sabre rattling".
But he pointed the finger of blame at the DUP for backing Brexit, which then resulted in the Northern Ireland protocol.
---
Mistake to signal triggering of Article 16 - Taoiseach
NI Protocol 'unaffected' by new vaccine measures planned by EU
---
"When you drove Brexit through, did you listen to any concerns from the Nationalist and Republican community, did you listen to the concerns of the 56% of people who voted against Brexit?" he asked.
"Did you listen to the warnings you were given that the British government would sell you down the river?No you did not."
Ulster Unionist Party leader Steve Aiken said the protocol was having a negative impact on daily life in Northern Ireland.
"I don't think there's any member of this Assembly who is not aware of the impacts on our economy," he said.
SDLP leader Colum Eastwood has warned against a "knee jerk" reaction to the EU threat, and urged all political leaders in Northern Ireland to work together to resolve the dispute.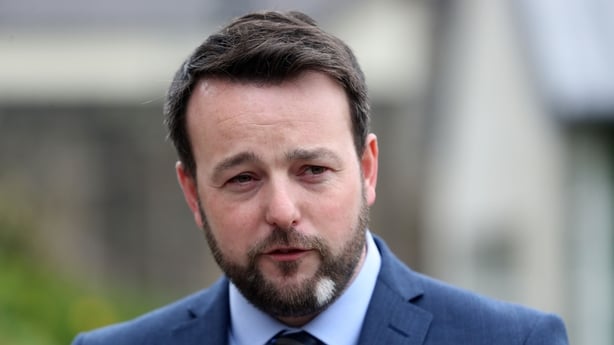 "The events of Friday show the grave sensitivity around these issues and it is now vital that political leaders in Ireland, Britain and the EU focus on the way forward," he told BBC Northern Ireland.
DUP Deputy Leader Nigel Dodds has called for the trade problems being experienced in Northern Ireland to be sorted out as quickly as possible, otherwise the British government should tell the EU that it too reserves the right to trigger Article 16.
Speaking on RTÉ's News at One, he said the British government needs "to act in line with what it said it would do to ensure there would be frictionless trade between Great Britain and Nothern Ireland and vice versa".
He said there have been very considerable difficulties in Northern Ireland during the first few weeks of Brexit.
Mr Dodds said: "If it's okay for the EU to reserve the right to use this in a situation of vaccine roll-out, surely given the situation on the ground in Northern Ireland, the UK government can take action to deal with the problems that we have."
He said if necessary, the UK government needs to say to the EU, "you're reserving the right to take action and if this isn't sorted out very quickly, then we reserve the right to do likewise".
Earlier, Minister for Foreign Affairs Simon Coveney said anything that undermines or shakes people's confidence in the Northern Ireland Protocol should not be happening without a lot of consultation with the people most affected.
Speaking on RTÉ's Today with Claire Byrne, Mr Coveney said triggering Article 16 was a mistake that should not have happened.
He said he and Taoiseach Micheál Martin acted very quickly when they found out what was going on, late on Friday afternoon.
Mr Coveney described the decision as "totally out of character in the context of the relationship between the Irish Government and European Commission, which has been so close for the last four-and-a-half years of Brexit".
He said he still has confidence in President of the EU Commission Ursula von der Leyen, who he said he rates "very, very highly", adding that she acted very quickly and corrected the problem on Friday evening.
Mr Coveney said he and others were very annoyed at what happened because they have spent years working to achieve an acceptance of controversial solutions and compromises that can guarantee the absence of a border infrastructure on the island on Ireland.
He said that he can only guess that on Friday, the commission made decisions in relation to a new vaccine authorisation, and it was an understandable response to the frustration across the EU, in particular in relation to AstraZeneca which is not fulfilling its contractual obligations.
On Friday, the European Commission clarified the situation in a statement saying: "To tackle the current lack of transparency of vaccine exports outside the EU, the Commission is putting in place a measure requiring that such exports are subject to an authorisation by Member States.
"In the process of finalisation of this measure, the commission will ensure that the Ireland/Northern Ireland Protocol is unaffected. The commission is not triggering the safeguard clause."
Mr Coveney said he did not believe Ireland's EU Commissioner Mairead McGuinness knew about the decision to trigger Article 16.
He said he suspects it was a decision made by a relatively small circle of people who thought they were providing a technical solution to a broader scheme and "clearly did not realise the political consequences".
Mr Coveney said the protocol is delicate and a carefully constructed solution to a lot of Brexit-related problems on this island and a key part of ensuring that Brexit works for the island of Ireland as a whole.