Friday evenings, 5pm, fast became the most popular time of the week for people living on a quiet residential street in a London suburb during last summer's lockdown.
Homeworkers stopped what they were doing and ventured outside for a "Gin at the Bin" with their neighbours.
With little or no opportunity to see friends or family, a friendly face and a sociable drink was a welcome distraction during the pandemic.
Like many other communities across the world, people in lockdown started reaching out to their neighbours for social interaction.
Jamie Bergin from Athlone, Co Westmeath has lived in London for many years and moved to the Southfields area near Putney a couple of years ago.
Jamie said: "In London, you never really know your neighbours, but since lockdown I've definitely got to know the neighbours really well.
"It all mainly started when one of the ladies across the road, Sam, started Gin at the Bin every Friday at 5pm."
He said: "It was a lot of fun actually, it was great. I think we were out much longer than we should have been most nights. But it was really good and it went on for about 10 or 12 weeks every Friday. So it was definitely something to look forward to."
Jamie's neighbour Sam Heavey came up with the idea while she was bored working from home.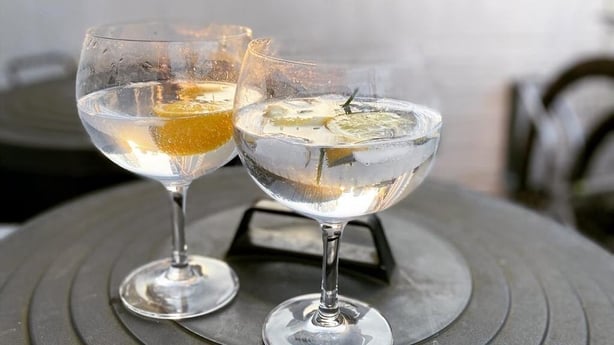 She said: "I came up with the concept, Gin at the Bin, because I love gin and also we were just really bored, missing our family and friends.
"I was looking out the window and saw everyone working from home and thought they're probably as bored as me, so I sent out a WhatsApp message to everybody and they all jumped on board. And that's how we started Gin at the Bin."
Prior to the Friday evening meet-ups on the street, Sam and Jamie really only knew each other to say hello and one time Sam shared details for a cleaner after Jamie called to the house.
Sam said: "We really got to know Jamie across the road because of Gin at the Bin, I didn't really know him before. He was always very smiley and very nice. And now actually I would say we're friends, he's been over to ours for a barbeque, we've been over to his for drinks, so how nice is that?"
Jamie also introduced his neighbours to popular Irish gins which he said were "demolished". 
"When I hosted Gin at the Bin, the Irish gin such as Gunpowder and Dingle were an instant hit. There was a run on orange and grapefruit slices," he laughed.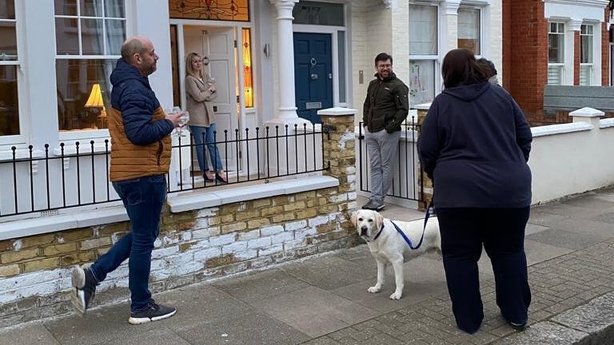 Jamie said it's a bit cold for a drink on the street at the moment, but he bumps into his neighbours in the park, walks his neighbour's dog Monty and has socially distanced chats in the park. 
He wasn't able to get home for Christmas so he said it is nice to get to know the people living on his street. 
"I'd consider them friends now at this stage, they've been very good. They knew I was on my own in the area so they were very helpful for whatever I needed and I could definitely rely on them," said Jamie. 
In Dublin, film-maker Ger Walsh captured the community spirit in Pearse House Flats last summer. 
Have a look at the film I created with @NicLiamo and @chipspeakmusic follow the link for the full film! #dublin #ireland #uptheflats https://t.co/1OjjJenwQU pic.twitter.com/xFC8boPynR

— gerard walsh (@GerTGWTC) June 29, 2020
Heart-warming images of residents playing bingo, learning dance routines and running 5km up and down the stairs in the flats to raise money for Pieta House brought a smile to the nation during the summer months.
Local resident Sara Oglesby said the bingo had still been running until recently but is on pause now while it's cold outside.
She said it's always been a tight-knit community but she's got to know everyone even better now during lockdown.
Sara said: "We're able to stand outside on our balconies, have a chat, have a cup of tea, if you need anything in the shop you can always call on your neighbour and they will go and get it. 
"The community spirit alone here is brilliant. You'll always have someone who's there to listen to you. If you ever need anything you'll never be on you own."
And now for younger residents like Sarah, homeschooling is another topic to bond over. 
She said: "Oh it's very tough at the moment, everyone is talking about it we're all calling each other asking about it. It's hard but were getting there."
---
---
Dr Jill O'Mahony, lecturer in sociology at Waterford Institute of Technology, said people thrive in face to face circumstances.
She said while our neighbours would not necessarily normally be part of our daily lives, the pandemic has created an environment where they have become more of a part of our daily routines.
Dr O'Mahony said: "Human beings are essentially social creatures. We've always needed to connect with other human beings, because in doing so, I suppose we helped develop an understanding of the world around us.
"But importantly we actually developed an understanding of ourselves and who we are as well. We can't develop an identity in a vacuum. We only understand who we are through interaction with others." 
She said: "Research coming out of Australia and the UK at the moment is showing that we're actually more likely to be in contact with our friends and family because of the easy access to communications technology. But at the same time, there's a deterioration in mental health, so that just shows you that no matter how good communications technology is, there's still no substitute for face to face contact."
But can pandemic friendships with our neighbours last? 
Dr O'Mahony said: "Sure, the pandemic has opened up the space for those relationships to kind of flourish. Absolutely. But I feel like these relationships won't just survive because we're in a pandemic and because you've had those conversations and because there's been one or two deep conversations. But rather, they will survive if you find more than that in common."
However, some people are convinced their new bonds and friendships will survive long after the pandemic is over.
Antoinette McKinney from Poleglass in Belfast believes her connection with her neighbour is destined to continue and has been busy making post-pandemic plans.
She met her neighbour through a befriending programme run by Sally Gardens Community Centre. The centre supports vulnerable people in the community and delivers food and well-being packages.
But almost a year into the pandemic they are now relying on neighbours to help out with keeping people connected as the service can't operate 24/7.
Antoinette said: "My neighbour is a funny person and very outgoing. I'd have seen this person before the pandemic out and about and more or less just said 'hello, how are you' but didn't really get to know the person until the pandemic."
"I found them very funny, very entertaining and overall a good person who would do anything for you but just fell on a bit of a hard time before Christmas."
Now, she's looking forward to when restrictions ease and they can strengthen their friendship even more. 
She said: "We've become really, really close. We're going to go out for a nice meal, maybe a glass of wine or two and just sit and have a few laughs. And just reassure each other that we're never alone."
Like Antoinette, Sam is convinced that her new friendships in London will continue to flourish as restrictions ease.
She said: "I think we will definitely continue with Gin at the Bin. In fact, everyone's messaging me saying when can we start!
"It's a bit too cold and obviously we can't mingle just yet, but yes, we're definitely going to continue with it. I think it's just really a special thing.
"I read something lovely recently, and that kind of resonated with me about community and how community is much more than belonging to something. It's about doing something together that makes belonging matter.
"So, we're going to continue to drink gin together."