Since Covid restrictions became a part of life almost a year ago, Government ministers have frequently had to brace themselves for what they feared would be public resistance to the further crackdowns on personal freedoms which they warily agreed around the Cabinet table.
But far from being worried once again that public patience for stricter rules is wearing thin, ministers are now concerned that the measures agreed at Tuesday's Cabinet will be deemed to not go nearly far enough.
The apparent clamour to "bring down the drawbridge" on the country, as the Taoiseach phrased it, took the Government by surprise. Calls for a so-called "zero-Covid" strategy grew louder as experts warned about new strains taking hold, and the public got spooked by the sight of a health system at breaking point.
The question of mandatory quarantine for people arriving into the country took up most of the discussion and, having rejected the idea since last summer, the Government finally agreed to a limited version of it.
Rather than a blanket quarantine rule, the Cabinet agreed to bring in three different varieties.
The first is quarantining at home for anyone who arrives into the country through ports or airports. Up until now people had to restrict their movements on arrival. This was on an advisory basis only.
The second type is for people who arrive in a port or airport without having a valid pre-departure test to show they do not have Covid.
Under the new rules, they will not only have to quarantine in a designated facility, they will also be subject to a fine of €2,500 and/or six months imprisonment.
The third mandatory quarantine will be for people who arrive from South Africa, Brazil and all of South America. Travel from these countries will be severely restricted because of a suspension of visa-free or short-term holiday visits.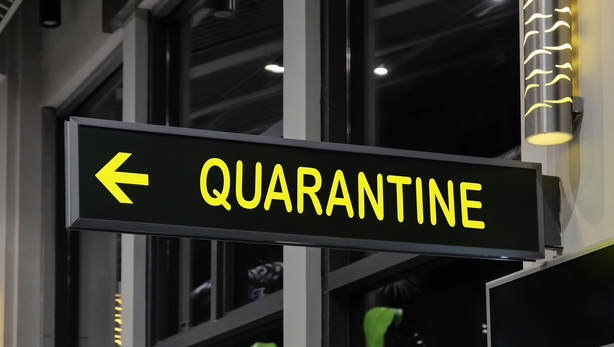 In all cases, people will have to meet the cost of quarantining themselves, although we do not know how much that will amount to.
The restrictions, as they apply to Irish and EU citizens, will need new laws to be passed. The restrictions as they apply to those from outside the EU can be done more simply, through regulations.
But there are still a lot of gaps to be filled in on how these laws will work.
Planning the logistics and passing legislation through the Oireachtas could mean it is a matter of weeks before they come in to operation.
There are questions around how they will be enforced, particularly when it comes to those who will be required to quarantine in their own homes. Will gardaí call to people's front doors?
For hotel quarantining, it is expected that City West will be used initially. It's envisaged that the numbers will be quite small, but issues such as staffing, security and costs have to be worked out.
All the while, the Government finds itself fending off louder calls for a "zero-Covid" or elimination strategy. Both the Taoiseach and the Tánaiste were on the same page in dismissing such an approach.
Micheál Martin said it was neither advisable nor sustainable and would amount to a "promise you could never fulfil".
---
---
Ireland's place in the world, both politically and geographically, makes "sealing the border" an unrealistic prospect as far as the coalition is concerned.
The Government has made clear that closing the border between North and South is not a runner. The Taoiseach said there has "always historically been interaction with the UK and the EU economic zone" which would make such a policy extremely difficult here.
Leo Varadkar added another argument of why the elimination strategy would be so difficult in an Irish context, which is that as soon as you unseal the country, the virus will come back in.
"Even if it were possible taking into account the border and our geography, the probability is that this virus is now endemic across the world and will always be present somewhere in the world.
"So, whenever you open up – unless you want to cut your country off forever – it will come back in," he said.
All opposition parties are now calling for far tighter controls. The Labour Party derided the measures as "half baked" and is calling for mandatory hotel quarantining for all those arriving in to Ireland.
The Social Democrats said the measures lacked ambition and said there is public support for going a lot further.
Mary Lou McDonald said she was "struck by the lack of sense of urgency" coming from Government who she said had opted for half measures. Sinn Féin also wants a complete universal mandatory quarantine.
This question of more general restrictions for all travellers is likely to come back on the agenda in a couple of weeks.
There is an acknowledgment that the stricter controls around travel – while presented by the Taoiseach as a "strong policy of suppression" were unlikely to be enough to satisfy public demand.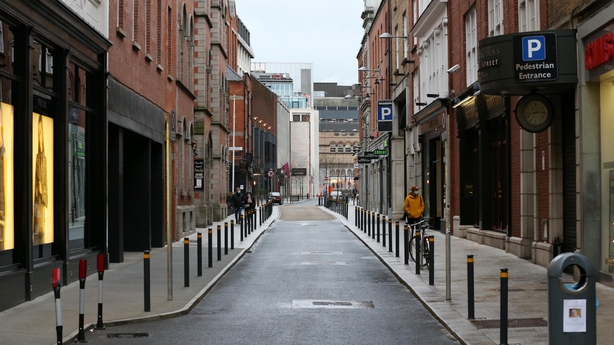 Ministers are not ruling out further discussions in this area, but a lot depends on what happens in the coming weeks.
The Government is conscious that these calls for more action will continue. But it is conscious too that the infection rates will come down and that public opinion could change quickly.
By then, what could be a bigger problem, is dealing with calls for clarity on when exactly the country might emerge from Level 5 lockdown.
What made this Cabinet meeting different to before is that ministers did not fear being caught offside by public aversion to tighter rules.
Some believe that they might have underestimated the public's ability to stomach tighter restrictions in the past, but others say the lack of a clear plan beyond the next six weeks could be storing up problems.
The announcement of the lockdown extension did not come with the sort of time limit that ministers seemed to favour in previous phases of the virus.
The "stick with it" cry for patience was far more toned down than on previous occasions. Instead, the announcement came with, as the Taoiseach put it, "no guarantees" attached.
The "conservative, cautious" approach Micheál Martin referred to publicly at his press conference in Government Buildings was privately acknowledged by ministers to mean that, while a little bit of tinkering might be expected in six weeks' time, we cannot expect any significant lifting of the lockdown come 5 March.
As Leo Varadkar reminded us at the end of the press conference: "This virus keeps surprising us, this virus keeps tearing up our plans."
But will the public be willing to go with the flow, as the Covid end game moves further out of sight?