An article of impeachment against Donald Trump will be sent to the US Senate today paving the way for his trial next month.
The former US president was impeached by the House of Representatives two weeks ago, with Democrats accusing him of inciting his supporters to storm the Capitol building.
US Senators will be sworn-in as jurors tomorrow and an impeachment trial will begin in two weeks' time.
The coming trial has aggravated a rift among Mr Trump's fellow Republicans that was on full display over the weekend.
At least one Republican, Senator Mitt Romney, said he believed the trial was a necessary response to Mr Trump's inflammatory call to his supporters to "fight" his election defeat before the 6 January attack.
The trial could lead to a vote banning Mr Trump from future office.
Ten Republicans joined the House of Representatives in voting to impeach Mr Trump on a charge of inciting insurrection.
We need your consent to load this rte-player contentWe use rte-player to manage extra content that can set cookies on your device and collect data about your activity. Please review their details and accept them to load the content.Manage Preferences
---
Politics, Power and Pandemic: The Donald Trump Legacy
Capitol rioters intended to 'capture and assassinate'
Impeachment of a US president - how it works
---
Leaders of the narrowly divided Senate agreed to start the trial in two weeks, leaving time to confirm some of President Joe Biden's cabinet nominees and possibly address his call for a fresh round of stimulus for a nation badly affected by coronavirus.
"The article of impeachment that was sent over by the House suggest(s) impeachable conduct," Mr Romney, a frequent critic of Mr Trump who voted to convict during the first impeachment trial, told Fox News yesterday.
"It's pretty clear that over the last year or so, there has been an effort to corrupt the election of the United States and it was not by President Biden, it was by President Trump."
The night after Trump's supporters stormed the Capitol - an attack that left five dead, sent politicians into hiding and delayed Congress by a few hours in its duty to certify Mr Biden's election win - multiple Republicans condemned the violence.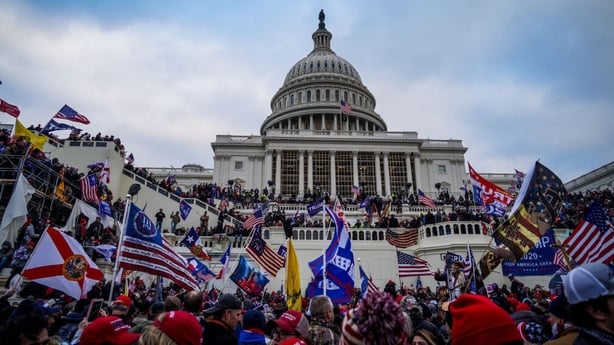 Senate Republican leader Mitch McConnell last week blamed Mr Trump for the violent attack, saying he "provoked" the mob.
But a significant number of Republicans, concerned about Mr Trump's devoted base of voters, have raised objections to the impeachment.
Mr Trump is the first US president to be impeached after leaving office.
Senator Tom Cotton, another Republican, said the Senate was acting beyond its constitutional authority by holding a trial.
"I think a lot of Americans are going to think it's strange that the Senate is spending its time trying to convict and remove from office a man who left office a week ago," he told Fox News on Sunday.
Democratic Senate Majority Leader Chuck Schumer said the trial will be fair, but move at a relatively fast pace.
He said it should not take up too much time because "we have so much else to do".
Dominion Voting Systems sues Trump lawyer Giuliani over election claims
Dominion Voting Systems has filed a lawsuit against Mr Trump's lawyer Rudy Giuliani, accusing him of defamation for making false claims of fraud about the US presidential election.
Dominion earlier filed lawsuits against the Trump campaign and former Trump campaign lawyer Sidney Powell, whom the company also accused of spreading false conspiracy theories about the election.
A group of prominent attorneys last week asked New York's judiciary to suspend Mr Giuliani's law license because he made false claims in post-election lawsuits and for urging Mr Trump's supporters to engage in "trial by combat" shortly before they stormed the US Capitol.
Additional reporting Reuters