Two weeks into Brexit, problems are mounting and recriminations are flying in all directions. The reality of Brexit is proving every bit as toxic as the four-and-a-half-year slog that got us to this point.
Scottish shellfish exporters are facing bankruptcy because paperwork is hindering the previously swift dispatch of their langoustines to the European market; other Scottish fishermen are landing their catch in Denmark, while more still are contemplating registering in Northern Ireland.
There is a hue and cry across the spectrum of British food producers, manufacturers and retailers who trade with the EU over bewildering new customs and food safety rules.
The head of the food and drink lobby told a House of Commons committee that when a large global company tried to send a consignment to the EU, the paperwork, which normally took three hours, took five days.
Even more confusing are "rules of origin", in other words, the extent to which a product can avail of tariff free trade if parts of it come from somewhere else.
EU food exporters using UK distribution hubs to sell back into the EU suddenly discovered their products lose their EU origin status the moment they are reboxed or consolidated and so face tariffs on arrival in Ireland or elsewhere.
A slide circulated by the UK customs agency HMRC describes how tomatoes grown in Spain, imported to GB by a supermarket's distribution hub, and then moved to a Northern Ireland retail outlet falls foul of tariff rules.
This is because "the [EU-UK] TCA preferential rates are not available on entry to Northern Ireland".
Thousands of British manufacturers who took sophisticated, seamless, just-in-time supply chains into the EU for granted, have discovered that those value chains are also hit by rules of origin.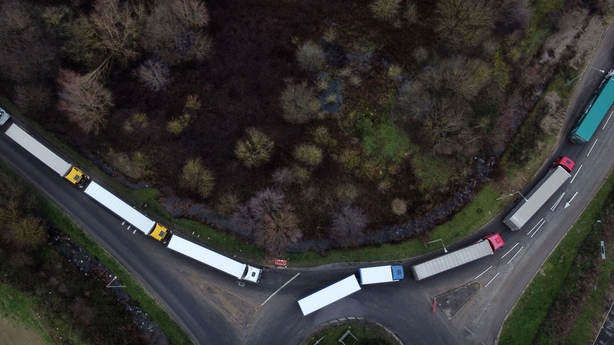 "It doesn't feel like [you're] exporting finished goods very often," Stephen Phipson of Make UK told the last sitting of the House of Commons Future Relationship with the EU Committee.
"You're exporting part of an engine, you're doing a crankshaft, you're doing the final machining on an aerospace part. So the rules of origin become very important, because substantially for those companies, that's not UK content and they cannot claim tariff free rates across the Channel."
That's across the Channel. Across the Irish Sea the economy is bracing itself for a surge in trade volumes, which could really test the post-Brexit system in what feels like a high-speed paradigm shift.
There has been pressure so far. Dozens of lorries are stranded at Dublin Port due to paperwork problems.  Industry sources say hundreds of Irish trucks could be stuck in the UK for the same reason. That in turn means that trucks are not available back in Ireland to keep exports flowing.
"The knock-on effect of that is increased cost," said Simon McKeever, of the Irish Exporters Association.
"If you have a truck parked up over there it's a couple of hundred quid a day. If you have a driver with nothing to do you're paying his salary and costs. If you have to bring back empty trailers that you're not getting paid for, you still have to fill in paperwork."
Supermarket chains in Ireland are saying that empty shelves are not a problem just yet. 
Tesco Ireland chief executive Ken Murray said: "We have seen some limited disruption into the Republic of Ireland and into the north of Ireland, but we're working very closely with government on both sides of the Irish Sea to smooth the flow of product."
Edel Clancy, director corporate affairs at Musgrave Group, which includes 11 food retail and wholesale brands such as Supervalu and Centra, told RTÉ News: "There are some teething issues, but we don't have any impact on the shelf. We have a sourcing strategy to buy 100% Irish and fresh meat produce.
"That has certainly helped, but we are monitoring the supply chain very closely as volumes ramp up towards the end of January and beginning of February".
That is key. The industry believes the Irish economy has been cushioned by the full effects of Brexit in the first two weeks of the year.
This is because firms stockpiled before Christmas, because Covid-19 has suppressed both consumption and trade, because freight volumes tend to be low in the first two weeks of January, and because paperwork is already holding up trade flows.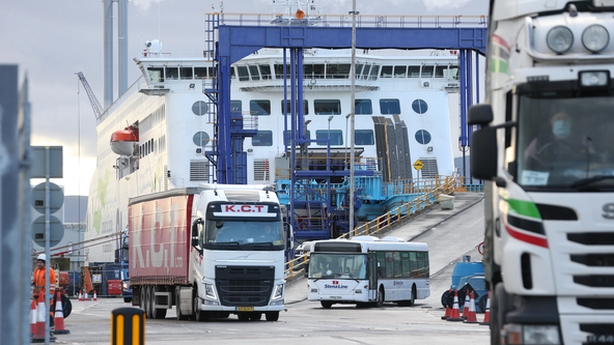 "In the first two days people said Dublin Port is very quiet," says one trade source.
"There's this misconception that because there's very little volume coming through Dublin that there's no problem. Most of the problems are happening back in the warehouse in the UK. So stuff isn't leaving the UK."
Industry figures expect pressure on Dublin Port to increase, and trucks entering Holyhead on the Welsh side with goods destined for Ireland are expected to build into traffic jams soon.
Some supermarket chains are bypassing the UK land bridge by bringing fruit and vegetables direct from the continent via Rosslare.
The port has seen a six-fold increase in business thanks to Brexit, and last week Rosslare received a new vessel from the ferry operator Stena which had been promptly reassigned from the Belfast-Birkenhead route.
But in these early days, the direct ferry route is not a panacea. 
In a stark letter to the Taoiseach Micheál Martin on Thursday, the Freight Transport Association (FTAI) wrote that the land bridge cannot be so easily sidestepped (yet) by new ferry routes to France: "Whilst we have seen expansion of services to Cherbourg and a new route to Dunkirk from Rosslare, it is not enough.
"The fact that hauliers with bookings on direct services are being bounced because of overbooking demonstrates that this theory has been challenged."
The FTAI's general manager Aidan Flynn told RTÉ News that across the board hauliers, wholesalers and retailers are struggling with the new complexities when it comes to importing goods across the land bridge or direct from the UK.
This has led to drivers being stuck at the customs and food safety inspection bays at Dublin Port for days. It is not clear whether Revenue and food safety officials are being over zealous in their application of the rules.
"It's very hard to introduce a scalability of what constitutes a simple mistake," Mr Flynn told RTÉ News. "It does look like they're being very strict. It's compounded by the fact that there are mixed messages coming from the agents to drivers. There are some loads there for three or four days."
A more politically sensitive is the role played by GB suppliers who trade a huge volume of goods, especially food, into Ireland. A significant number of Irish stakeholders have said that British companies large and small have been hopelessly unprepared.
One well-placed industry source, who was involved in a webinar involving hundreds of companies on both sides of the Irish Sea, said he was "amazed" at the kinds of questions being asked by UK executives.
"Some of the names on the list would really worry me," said the source. "Hauliers are telling me some of the names they normally deal with just don't have a clue."
But Irish importers are having problems as well.
"Irish companies, even though we're more prepared, are not as prepared as we should be, or could be," says the source.
This is despite a generally favourable view of how successive Irish governments have spent the last four-and-a-half years preparing for this moment.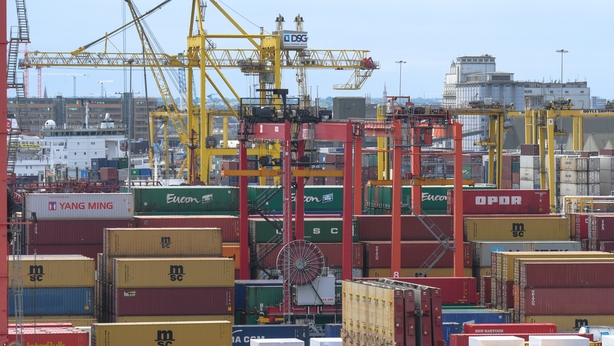 "The Irish Government, the Department of Enterprise, the Revenue Commissioners, the Health Service Executive, the Food Safety Authority of Ireland - they were all joined up, all sitting on the same forum, with the entire supply chain for the past four years," says one supermarket source.
"There was constant and regular communication, updates. That's not to say those suppliers haven't had problems. It's complex, it's very different."
These complex problems apply equally to Northern Ireland. It is, to all intents and purposes, in the same boat as the South, although it has the benefit of two separate grace periods and other facilitations agreed under the Northern Ireland Protocol.
However, the challenges there are shot through with sectarian politics. The DUP is divided between those who are trying to take a pragmatic position and those, like MPs Sammy Wilson and Ian Paisley Jr, who want to inflict maximum reputational damage on the hated Protocol.
This week, DUP Agriculture Minister Edwin Poots warned of a crisis that would soon hit schools and hospitals.
"Are we going to have a situation where our hospitals and schools are not able to feed the children at school, they're not able to feed their patients?" he asked during a BBC interview.
"That is an outrageous situation that we in Northern Ireland have been put in as a result of the protocol negotiated between the UK Government and the European Union."
By contrast, the British prime minister has been more relaxed about empty shelves in Northern supermarkets.  He told the DUP's Jeffrey Donaldson on Wednesday: "At the moment goods are flowing effectively and in normal volumes between Great Britain and Northern Ireland and so far no lorries have been turned back. Yes, of course there are teething problems."
Mr Poots's remarks have been condemned as scaremongering.
"There are people who want to paint it as black, and then the prime minister is saying it's absolutely fine," says Aodhán Connolly, chief executive of the Northern Ireland Retail Consortium. 
"It's somewhere in between. We don't have food shortages. We have a choice issue. There are 40,000 product lines in a large supermarket and there are a few hundred missing. Northern Ireland is not going to starve. We need pragmatism in how we fix the problem."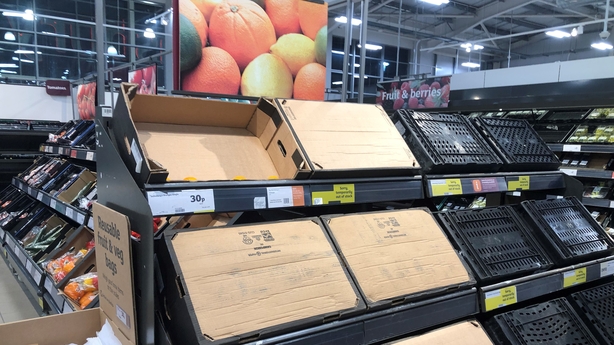 But where will the pragmatism come from?
Those bewailing the terrible bureaucracy wrought by Brexit are clamouring for "easements", faciliations, pragmatism, and UK operators like to think it would be in the EU's interests.
"We need the EU to move to a more digitalised service that allows for trusted traders," Andrew Opie, head of the British Retail Consortium, told the Future Relationship with the EU Committee, "that recognises that companies are auditing their own supply chains rigorously and robustly, and therefore to ease the friction [for] every time you move a product".
However, the myriad problems facing traders in and out of the UK to Ireland, to the rest of the EU, and to Northern Ireland will have to live with an arrangement that is enshrined in two international and legally-binding treaties: the Withdrawal Agreement and the Trade and Cooperation Agreement (TCA).
Quick fixes and the turning of blind eyes are not part of that reality. This week, the Dutch government very graphically illustrated how they viewed the new reality when they permitted footage showing customs officials on the Hook of Holland confiscating ham sandwiches from UK drivers who had arrived by ferry.
On Wednesday, the Dutch Ambassador to the EU is understood to have reinforced the point to colleagues that the rules would be strictly enforced, and that all member states would have to do the same. 
"This is the result of the UK's decision to drop out of the single market and the customs union," says one source present, "and we now have to protect our internal market. There was no sense from the Netherlands that this was all ludicrous and we're going to have to relax a bit. That wasn't the approach at all."
The EU and UK will be locked in ongoing management of both the Withdrawal Agreement, including the Northern Ireland Protocol, via the Joint Committee, and the Trade and Cooperation Agreement, via a Joint Partnership Council.
European Commission officials will draw up an overview of all the problems articulated so far, whether they relate to Northern Ireland, rules of origin, customs formalities, and present them to member states next week. 
Much of the insights will have been provided by the EU customs and veterinary officials who are already operating on the ground at Northern Ireland ports under the Protocol.
"If there are further difficulties we'll see in the Joint Committee and other bodies what needs to be done," says one EU source. "But we're not going to be finding various flexibilities for the next 20 years every three months. A lot of these things are the changes that happen."
---
Listen: Brexit Republic Podcast - Seals of the Apocalypse
---
Under an agreement reached in December, the EU and UK agreed a three-month grace period during which supermarkets would be exempted from having to secure Export Health Certificates (EHCs) for products of animal origin, and a six-month grace period for chilled, prepared meats, including mince and sausages.
There is a clamour for those grace periods to be extended. However, as part of the December agreement in the Joint Committee between Michael Gove on the UK side and Maros Sefcovic, his EU counterpart, the EU specifically required the UK to issue a unilateral declaration on EHCs as a safeguard that food safety standards would be protected.
That unilateral declaration specifically prohibits the UK from seeking an extension of the EHC grace period: "During the above-mentioned period of time, the UK authorities will take all necessary measures to ensure compliance with the Protocol and relevant [European] Union law as of 1 April 2021. The UK accepts this solution is not renewable."
At a lunch with EU ambassadors on Wednesday, the President of the European Commission Ursula von der Leyen is understood to have given a frosty response to the volley of complaints from UK businesses about how difficult it all is, especially the rules of origin issue.
"She referred very briefly to some of the problems that had arisen and she took an extremely hostile, frosty line," says one source, "basically, that the EU will have to remain calm and the UK will have to adapt. The UK has chosen to put itself in this position because it dropped out of the customs union and single market."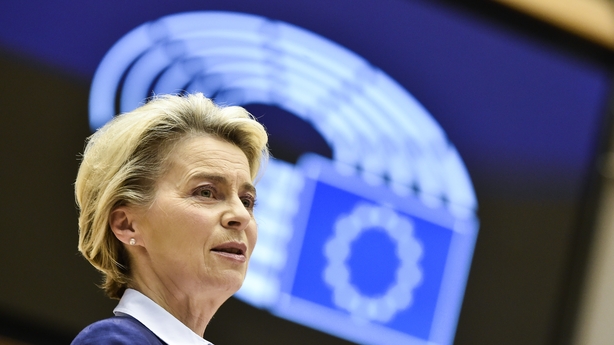 There is a view in Brussels that the market - and the UK (and Ireland) - will have to adapt to new realities.
"The UK has been a considerable hub for distribution into the EU," says one EU diplomat.
"You had all these products going from the EU to the UK, being repackaged and processed in a light way, and then coming back. The general view is that can't continue. Or, it's going to have to continue in a way that is compatible with the rules."
That leaves the political fallout from the Northern Ireland Protocol.
Already a number of senior DUP figures have called on London to invoke Article 16 of the Protocol.
The Article allows either side to take "safeguard measures" if the operation of the Protocol causes "economic, societal or environmental difficulties" which are both "serious" and "liable to persist".
Ian Paisley Jr MP called for it to be invoked within a few days of the Protocol taking effect. However, Boris Johnson has also flirted with the idea.
In response to that question from Jeffrey Donaldson in the House of Commons about the impact of the Protocol, the prime minister said: "What I can say, what I can confirm to him, is that if there are problems that we believe are disproportionate, then we will have no hesitation in invoking Article 16."
Mr Johnson's threat is met with scorn in Brussels, but some alarm in Dublin.
"Up until that moment we thought this was people attaching importance to something for political reasons that were extremely dubious," says one source, "but when you start getting the PM referring to it, it's something more serious."
Dublin is adamant that Article 16 is a standard trade deal clause that permits one party to apply tariffs if there is a serious surge in trade distorting imports.
"The safeguard arrangements are not a means of disapplying the protocol," says the source. "If the UK, under pressure, started going down that road you would be in a very difficult situation. Everybody knows that was never the intention of that Article."
The weeks ahead will be challenging, both in the Republic, the North, and all across the UK's manufacturing, freight and export sector.
The upheaval so far may be a genuine case of teething troubles. In Northern Ireland, the Protocol is a live, political issue that will be simmering for the next four years, until the point at which the Assembly takes a vote on the issue.
If it is mere teething, there is very little appetite in the EU to apply anything more than a little soothing gel to the gums. If the effects so far are a harbinger of long term and painful disruption across the UK, the impacts are less predictable.
"Unless the deal changes in some material way we're going to see the re-engineering of almost all the EU-UK and GB-NI supply chains over the next 6-9 months," Ian Wright, the head of the UK Food and Drink Federation told the House of Commons Future Relationship Committee. 
"There will be easements, there will be fixes, there will be work-arounds, but essentially if nothing changes in the composition of the deal we will have to see a significant re-engineering, which in the short terms means there will be costs and time wasted for supply to reach the shelves and in the long term will be costs and changes and fairly significant changes to the way in which manufactures in the UK and EU interact."
---