Talks will continue next week about the reopening of schools for students with special educational needs on Thursday after the union representing Special Needs Assistants said an agreement on the issue has not been finalised.
The statement from Fórsa came after the Department of Education published interim arrangements last night and said an agreement on reopening for these students had been reached with unions.
Disability and family carer groups described the uncertainty about the reopening as cruel and detrimental.
AsIAm, Down Syndrome Ireland, Family Carers Ireland and Inclusion Ireland all expressed deep concern about what they described as "mixed messages" on the issue and they said the lack of clarity had left many families deeply upset and worried.
The Head of Education at the Forsa Trade Union, Andy Pike, said the union had not finished discussion with the Department but he said the outstanding issues were not insurmountable "the issues are not so severe that we would necessarily expect schools not to open, that's not what we're saying".
But he said that the union want further talks on the issue of SNAs with underlying health conditions and those with school-going children who have childcare issues.
The union said that while it hoped to be able to advise SNAs that it was safe to co-operate, a final decision would not be reached until Tuesday.
Linda O'Sullivan, a Special Needs Assistant at St Fergal's Boys National School in Finglas in Dublin said as a single parent she does not have childcare and therefore cannot return to work on Thursday.
She also said there is a lot of fear among SNAs about a return to the classroom.
"There's many staff in the same position I'm in. The major anxieties among staff are the high levels of the virus, the number of hospitalisations. We've no idea when we might get the vaccine. We are nervous and afraid," said Ms O'Sullivan.
Anne Sheehan from Kilbrittan in west Cork said the uncertainty has been difficult for families of children with special educational needs. Her son Reece O'Mahony is 12 and attends a special school in Glanmire.
She said routine is important for children like Reece and that the uncertainty is "generally something children with special needs could do without".
The Department of Education said an agreement was reached on the issuing of guidelines about the reopening of schools for children with special educational needs.
It said engagement will continue throughout the week to achieve what it described as the "shared aim of reopening schools" for these students on Thursday.
Yesterday evening, a letter was sent to schools outlining procedures for reopening.
The letter stated that all primary school children who have significant additional needs would return to the classroom next Thursday.
It said the interim arrangements applied to children attending special schools and to all primary school children with significant special needs.
The letter stated that all special needs assistants and special education teachers should return to school on Thursday, unless they are on approved leave, or health-related absence.
---
---
It stated that while students attending special schools will attend on alternate days, in order to reduce the number of children in attendance at any one time, all other pupils will return to education five days a week.
The letter stated that pupils with significant special educational needs who are usually in a mainstream classroom should be grouped into temporary special education groups.
It said: "Schools should also have regard to the requirement to comply with the public health guidelines for a safe school environment as set out in the School Covid-19 Response Plans, including the use of social distancing, respiratory and hand hygiene measures and creation of bubbles and pods as appropriate."
Fórsa has now stated that agreement on reopening has not been reached & that a final decision will be taken on Tuesday. However it has confirmed that the letter sent to school was sent with its agreement. Enhanced safety is among outstanding issues.

— emma o kelly (@emma_okelly) January 16, 2021
It said that the full reopening of schools is planned for 1 February.
It stated that the new temporary arrangements cover all special classes in primary schools, including early intervention special classes for children with autism or hearing impairment.
The letter stated that the provisions also apply to "pupils with the most significant additional needs in mainstream classes".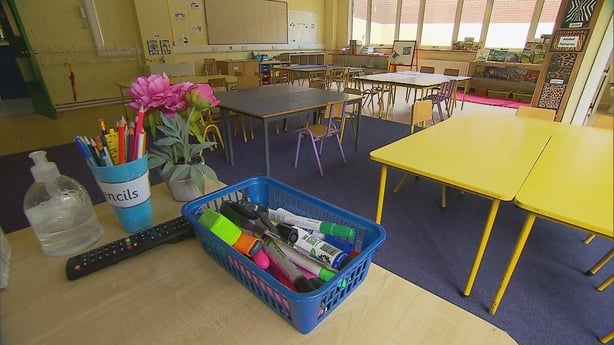 These will include pupils who may have conditions such as autism, Down syndrome, or sensory impairments and other disabilities.
It states that small schools, who may not have a full-time special education teacher should work collaboratively with other schools to provide as much in-school provision as possible.
Schools will also be allowed to reopen for other vulnerable pupils where capacity allows, the department says. This may include children from disadvantaged backgrounds.
It said: "Schools can only do so where they are satisfied that they have provided appropriately for the children with significant additional needs, but where there remains capacity to support other pupils, schools have the flexibility to consider vulnerable pupils."
Schools have been asked to ensure that risk mitigation measures introduced in September remain in place along with additional requirements, such as the provision of medical-grade masks to all SNAs and other school staff who are working within 2m of a pupil to whom they are delivering personal care or attention.
Opposition parties have criticised the Government's handling of the announcement.
Sinn Féin's Kathleen Funchion said it was a cruel situation and the parents of these children were let down very badly during the last lockdown.
Speaking on RTÉ's Saturday with Katie Hannon, she said: "The people suffering in all of this are the children with special needs.
"Ministers need to ensure they have all their ducks in a row before making announcements and not give false hope to families."
Labour's Aodhán Ó Ríordáin said: "It is deeply irresponsible for the Government, the Minister for Education and her department to use pre-emptive announcements to reopen classes for special needs children and this mishandling threatens the entire process again.
"The issuing of guidelines was conflated with reopening. The Government, by trying to announce their way to reopening SEN schools without showing due respect to partnership and the genuine concerns of SNAs and teachers, is once again causing unnecessary anxiety for parents, children, and staff."
Minister of State Hildegarde Naughton said that Fórsa was continuing to engage with the department about reopening schools for children with special needs.
"We are trying to progress this and iron out any difficulties. The work is ongoing. I would hope by early next week, all of the issues will be ironed out," she said.
Additional reporting Emma O Kelly