Yesterday's call-out to a major fire at the R&H Hall facility in Ringaskiddy, Co Cork, was the third call to the site since September.
The County Fire Service responded to two calls within a day of each other.
Both call-outs were in response to a incident relating to a conveyor belt system on site where the wheels were rubbing up against the housing.
The first fire was described as significant and was quickly contained by firefighters.
The second incident was described as minor.
The Health and Safety Authority has been notified about yesterday's fire which extensively damaged storage warehouses on the site at the deepwater berth in Ringaskiddy.
Two units of the fire service, from Carrigaline and Crosshaven, remain on site today where there is still a number of small fires burning within the buildings.
These have been described as awkward to reach in the storage bays but the fire has been contained and is under control.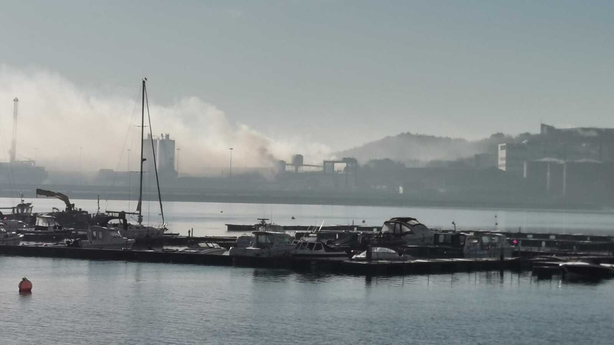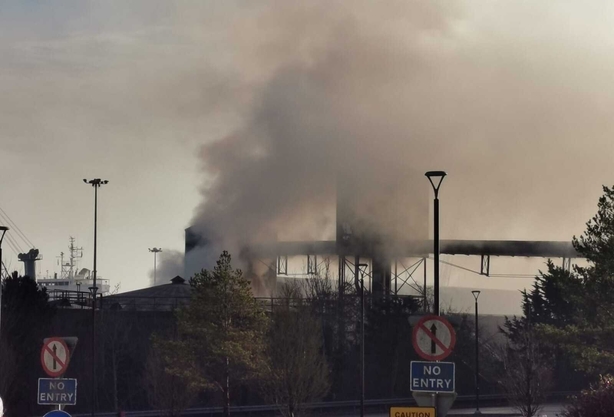 Large clouds of smoke and steam can still be seen about the facility in Ringaskiddy.
Shipping operations in Cork harbour resumed this morning following the fire and unloading of the large container ship Independent Quest got under way at the berth.
There were no casualties in the incident.
Local residents are calling for a proper notification system and an emergency plan for their village, which is located in a highly industrialised area, and the site for a proposed controversial waste incinerator plant.
R&H Hall, who employs seven people at the site, apologised to local residents, neighbouring businesses and their customers for any inconvenience caused by the incident.
Gardaí have ruled out arson.
Shipping operations have restarted in #Ringaskiddy this morning with ICL container ship being unloaded. A lot of smoke still lingers from yesterday's fire and fire crew continue to monitor the site. #keepingtheshowontheroad pic.twitter.com/NCRxyHeWUa

— Port of Cork #Keepingtheshowontheroad (@PortofCork) January 10, 2021