Looking back over my work diary for 2 021, it's all Covid and mica, then mica and Covid, every other week, with a few other stories thrown in, and, on a personal level, it's been horrible, to put it politely.
2021 is a year I want to forget for many reasons and I know I'm not alone in feeling like I've been kicked about the place by a horse from one end of the year to the other, while living under the general cloud of seemingly never-ending Covid fatigue.
The last thing I want to do though, is add to anyone's misery, including my own, so when looking back on a year to forget, I had to find something uplifting to talk about.
Skimming through the diary I could see the pickings were slim. I even looked back on previous diaries to compare 2021 with other years and the contrast was stark in terms of the volume and the type of stories covered.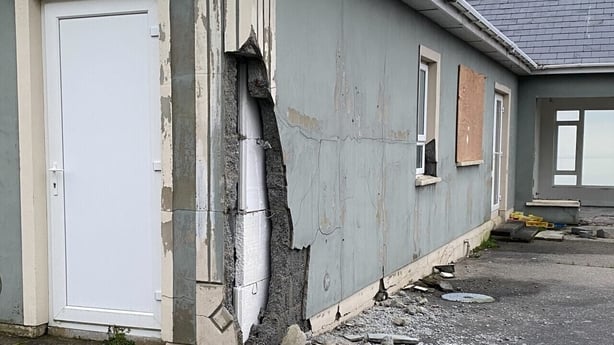 This year the daily entries were populated by interviews on different aspects of Covid-19, visits to families whose homes in Donegal were crumbling because of mica, and a few other stories in between.
As I read, the overwhelming images of 2021 for me were of the tears shed on and off camera by men and women carrying horrific personal burdens because of their mica-affected homes.
I trawled through the diary for stories that sparked good memories, they were few and far between, but two gems jumped out.
Coincidentally - or maybe not - both stories are connected to Árainn Mhór off the coast of Donegal.
I've come to know some of the islanders over three decades and am always struck by their resilience, their spirit, and their determination to sustain fulfilling lives on their beautiful island.
The first story was back in May when the islanders really opened the eyes of Ireland to the fantastic UNICEF campaign "Get a Vaccine, Give a Vaccine".
I got a call from Elaine Barney Grady telling me that the island doctor had told them about the campaign and they were so grateful that at that stage, almost half of the island population had been jabbed, that they were collecting money to help less fortunate communities get vaccinated and they wanted to encourage others to do the same.
Over we went on the ferry and had a lovely day chatting to appreciative islanders whose thoughts were with others, there was a sense of solidarity and kinship reaching out across the ocean to vulnerable communities very far away from Árainn Mhór.
A simple story in some ways you might say, but it had far-reaching effects.
The islanders' generosity prompted people all across Ireland to go online and tens of thousands of euro were donated to the UNICEF campaign from right after the report went out on television, "blowing away" representatives of the organisation in Ireland.
The second story is one that continues to inspire me and lots of people around Ireland.
It's the story of 80-year-old Paddy Conaghan, an islander who worked hard all his life.
Like many of his generation on Árainn Mhór, he was a "tunnel tiger", working underground in England, Scotland and farther afield, and fishing whenever he got back home.
Paddy set off from Árainn Mhór in a "banger" of a van in early December on a challenge he calls "Ducking and Driving around Ireland for Gemma's Legacy of Hope".
He's a hardy, quiet-spoken man who wants to do something for others before he "kicks the bucket", as he says himself.
He's challenging himself to drive around the full coastline of Ireland, swimming at as many piers and beaches as he can before moving on to the next county while raising money for a Donegal counselling service, Gemma's Legacy of Hope.
We met up with Paddy part-way into his challenge in Enniscrone, Co Sligo and Killala, Co Mayo, and since then he has attracted quite a following as well as thousands of euro for the charity; within a few days of his story airing, Paddy had raised enough money through his online fund-raising page to keep the service going for six months.
As he makes his way around the coast people are drawn to Paddy, individuals and groups are joining him in his dips, offering some comforts like a hot meal, and donating money online (he's not taking cash and is funding the journey himself).
He's been doing anything from three to eight swims a day in very cold conditions - not for him the soft challenge of dipping around the coast in summertime - he trained for this in a barrel of ice on Árainn Mhór!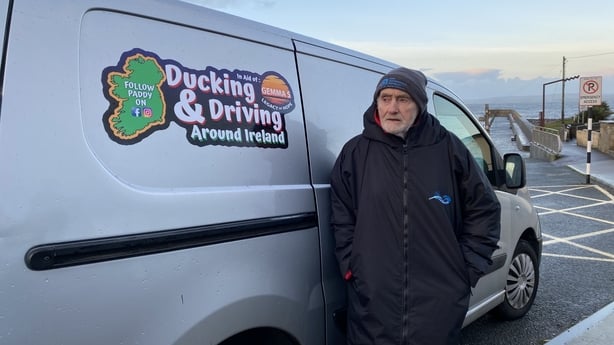 All going well, Paddy will spend his 81st birthday in January "ducking and driving around Ireland", hopefully completing his challenge back on Árainn Mhór some time in February.
There's something about Paddy's story that for me, and I think many others, just makes you feel good - humbled even.
I've been thinking about him a lot since leaving him on the pier in Killala, following his Facebook and other social media, and hearing from Elaine on the island about the overwhelming amount of messages she's getting on his behalf from all over Ireland and from as far away as Doha and Qatar.
There's no big campaign around Paddy, he's an un-assuming man on a tough journey to help others, with a bit of help from his island community.
He has struck a chord though, something I don't think he expected, but for many of us living under the Covid cloud and dealing with other heart-breaks and troubles, Paddy is a spark of light in the darkness.
His story gives us a much-needed lift - his age, his fitness, his determination and selflessness - a gentle nudge towards a more positive outlook, a push towards making the most of life.
As 2021 draws to a close, Paddy is the person who is inspiring me to pick up the pieces of a brutal year and look ahead to 2022 with something approaching hope or happiness.
He reminds me of someone very dear whom I lost this year and a phrase I always used in relation to her, I'll now use about Paddy: "I want to be like Paddy when I grow up."