A critic of Jeffrey Donaldson took to Twitter shortly after he was elected DUP leader and likened him to Oliver Twist, the character in the Charles Dickens classic.
He compared the MP for Lagan Valley's repeated demands for compromise from the EU on the Northern Ireland protocol to Oliver holding out his bowl and begging for more.
The keyboard critic got the right book, but not the character: Jeffrey Donaldson is The Artful Dodger, leader of the gang of pickpockets. At least he was in 1976, when he played the character on the stage of Kilkeel High School.
He laughed when I reminded him recently about a story about that performance by BBC Northern Ireland's political correspondent Gareth Gordon shortly after his election.
"You've got to pick a pocket or two" he sang, remembering his signature line from the award-winning musical.
Having opted for a career in politics rather than on stage, Jeffrey Donaldson has to pick a few political pockets in the weeks ahead.
One of his major tasks is to attempt to unite a once monolithic party that appears as unruly as Fagin's gang of thieves in the Dickens novel.
The DUP had three leaders in the past calendar year, the same as in its first 50 years. Jeffrey Donaldson wasn't the first choice to replace Arlene Foster, narrowly losing out to Edwin Poots, whom he then replaced just a few weeks later, after Stormont's agriculture minister made a colossal political miscalculation by agreeing to go back into power sharing with Sinn Féin in a deal that saw the British government agree to introduce Irish language legislation.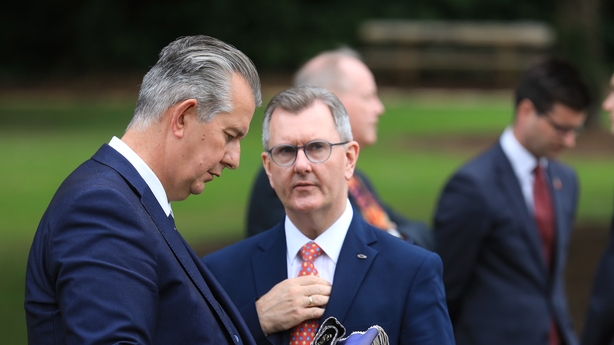 Those weeks saw tensions within the party surfacing in an unprecedented way, with rival factions briefing against each other – and it's clear that internal tensions remain.
Donaldson has sought to focus minds on the Northern Ireland Protocol, repeatedly demanding its demise, and urging the UK to trigger Article 16 if the EU refuses to budge.
In January 2021, Arlene Foster described the UK-EU trade deal, which included the Protocol, as "a gateway of opportunity" for Northern Ireland. She was not alone; a number of members of the DUP believed that the deal offered the best of both worlds, with Northern Ireland remaining in the EU single market as well as having access to the UK internal market.
A number of senior DUP figures and loyalists also, quietly, opposed Brexit, forecasting potential constitutional peril, as well as economic concerns. With the debate settled, Donaldson has focused on the former, characterising the protocol as the problem, rather than Brexit itself, which his party endorsed.
Running out of time
He appeared to have the swagger of the aforementioned Artful Dodger when he warned back in September that his party would withdraw from the Stormont Assembly "within weeks" unless sufficient progress was made.
His words in a speech in Belfast left no room for ambiguity: "I say not as a threat, but as a matter of political reality, that our political institutions will not survive a failure to resolve the problems that the protocol has created."
Regarded as a shrewd political tactician, there was a sense that Donaldson expected an early victory, that he would only have issued what everyone else interpreted as a threat if he believed an acceptable compromise deal was close, or that the British government was ready to trigger Article 16.
the Article 16 gun appears to have been holstered with the safety on
By November, briefings to the British media on behalf of the UK's chief Brexit negotiator, the now departed David Frost, suggested that the finger was firmly on the trigger, and that its firing was imminent.
Nearly four months since that warning about the need for action "within weeks", the Article 16 gun appears to have been holstered with the safety on.
The DUP leader repeated his warning that the power-sharing institutions at Stormont could collapse in a letter to party members shortly before Christmas. He criticised British prime minister Boris Johnson for his lack of action, which he again described as "not sustainable".
The problem for Jeffrey Donaldson is that he is now running out of time. The Stormont Assembly is due to be dissolved in March in preparation for a new election in May, so if he intends following through on his threat, in the hope of making himself look tough in a bid to galvanise support at the polls, it has to happen quickly.
"Going beyond January, threatening to bring down Stormont in February, when it's going to be dissolved in March anyway, doesn't make a lot of sense," says one well-placed party source. "In terms of credibility if we are going to walk away from Stormont on a point of principle it has to come within the next few weeks, otherwise it looks like we're doing it for the sake of doing it."
Jeffrey Donaldson and his key advisors will also be aware that the protocol is not an issue for many business owners from a unionist background. Quite a few have gone on record in recent months to speak about its benefits, while many others privately say it is not a concern, and that they think political unionism has got it wrong.
Allister ready to pounce
A complicating factor for Jeffrey Donaldson is Omicron. If the latest Covid variant leads to the kind of case numbers that health officials have been warning about, the DUP would face fierce criticism from health unions, as well as political opponents, for collapsing the institutions.
Just imagine the scenario: DUP canvassers knocking on doors to talk about the protocol while would-be voters are asking questions about packed emergency departments and hospitals operating beyond capacity.
If Omicron turns out to be less serious and impactful on the health service than was originally feared, it could make it easier for Donaldson to trigger his threat and go to the polls as the defender of the Union by once again declaring war on the protocol.
But danger also lurks if that is not the case. Even if the case numbers are high and the health service is under severe strain, having played the role of the Artful Dodger, he'll be wary of the danger of being likened to another famous fictional character: The Boy Who Cried Wolf in Aesop's fable.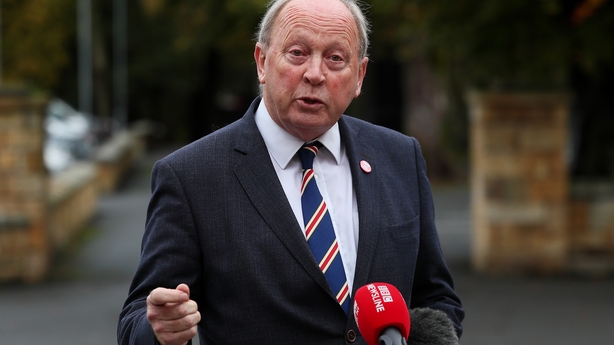 Jim Allister, a barrister and former senior DUP member, leads the Traditional Unionist Voice and stands ready to pounce. He is effectively only a one-man party, but has proven to be a formidable thorn in the side of his former colleagues, many of whom live in constant fear that he can take sufficient votes away from the party to win a number of seats.
There are other complicating factors at play, other items in political pockets that Donaldson will be wary of.
The promised Irish language legislation, the British government's unilateral move that caused the spectacular downfall of Edwin Poots, still has to be delivered. Having given a commitment to do so by the Autumn, Northern Secretary Brandon Lewis will come under intense pressure from Sinn Féin and the Irish Government to deliver on the promise that paved the way for the resumption of power-sharing following Arlene Foster's resignation as First Minister.
---
Read more Year in Review:
Wider policy response needed to tragic deaths in Cork and Kerry
Mounting political troubles cap divisive 2021 for Biden
Great uncertainty over virus spread as year ends
---
The British government's promised and hugely controversial legislation on legacy, which would ban prosecutions for all Troubles killings, was also due to be introduced before the end of 2021, but once again Brandon Lewis delayed.
While the DUP opposes both plans, neither is likely to cause serious damage at the polls if the party can mount a credible argument that it has removed the Irish Sea border – or at least made it practically meaningless, or forced the British government into action.
However, a combination of their introduction in the absence of a deal on the protocol that Jeffrey Donaldson can sell as a victory could prove damaging to his credibility and cause harm at the polls.
DUP hopes for protocol progress
DUP strategists have concluded that if the party gets progress on the protocol, even if it remains in name but the vast majority of the checks on the goods coming into Northern Ireland are removed, it can claw back much of the electoral ground that a number of recent opinion polls suggest it has lost.
If it fails to get progress, and the British government fails to trigger Article 16, they know that opponents within unionism and loyalism will seize upon it as a sign of weakness and characterise it as a lack of leadership.
Ulster Unionist leader Doug Beattie, a former British army officer who was awarded the Military Cross, is part of Donaldson's problem, as his party appears to be enjoying a renaissance. While opposed to the Protocol, he quickly distanced his party from the threats to collapse Stormont, saying it would be counter-productive.
Beattie believes Donaldson's stark threat to collapse Stormont has left him no options
The former soldier often uses military language while discussing politics. In a recent conversation he told me that he believes Jeffrey Donaldson, a former member of the Ulster Defence Regiment – a locally recruited regiment of the British army – and a military historian, has made a strategic mistake.
He refers to the military necessity to always leave room for manoeuvre, whether in defence or attack, to maximise your options while restricting your opponents.
Beattie believes Donaldson's stark threat to collapse Stormont has left him no options: if he does so, he will be strongly criticised for plunging Northern Ireland and its health service into a political crisis during a pandemic, and could be punished at the polls; while if he doesn't, opponents, internal and external, will characterise him as weak and indecisive, in which case he could also be punished at the polls.
He is, to borrow another oft used literary phrase, between the Devil and the Deep Blue Sea.
The court of public opinion
Donaldson will be mindful of the fact that his party was punished at the polls in the last Westminster election in December 2019, with voters demonstrating anger at the fact that the devolved administration at Stormont had not been functioning for almost three years at that time, and perhaps also because of the DUP's backing for Brexit.
Sinn Féin was also punished, with SDLP leader Colum Eastwood retaking the Foyle seat with a huge majority, but the DUP were the biggest casualties with two losses – including deputy leader Nigel Dodds, whose seat was taken by Sinn Féin's John Finucane.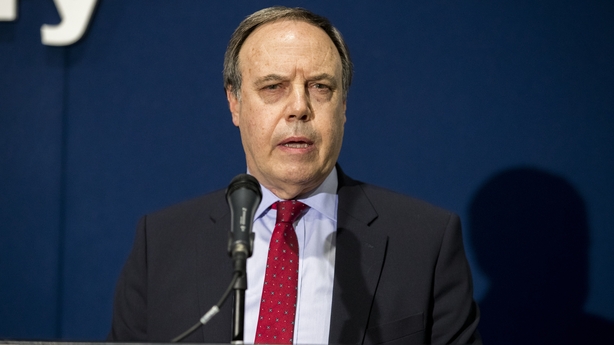 As expected, Jeffrey Donaldson was re-elected as MP for Lagan Valley, a seat he's held since 1997. But he also suffered, with his majority cut from more than 19,000 to just 6,500.
The looming Assembly election in May will be dominating the thoughts of many within the DUP this festive period. There is a real possibility that Sinn Féin will emerge as the largest party, and therefore, for the first time, be entitled to the position of First Minister.
The very thought is anathema to many unionists, and it's known that many within the electoral ranks of the DUP, as well as its supporters, would struggle to go back into power-sharing at Stormont with it, in their view, playing second fiddle.
Jeffrey Donaldson is a canny operator. Between 1982 and 1984 he worked as Enoch Powell's election agent, helping plan election campaigns that saw him retain the South Down seat for the Ulster Unionist Party, despite the constituency having an inbuilt nationalist majority.
finishing runner-up and being nominated as Deputy First Minister would be a personal and political disaster
In 1985, aged 22, standing as an Ulster Unionist, he was the youngest person elected to the Stormont Assembly. He has made it clear that he intends standing as a candidate in the Assembly election in the Lagan Valley constituency and that, if elected, he will lead the DUP from Stormont rather than Westminister.
The party currently holds two of the five seats in the constituency, with Edwin Poots and Paul Givan, the current First Minister, the incumbents. The current electoral arithmetic suggests the party is unlikely to win three, so one of that pair would have to agree to step aside, or possibly be forced aside, to guarantee Donaldson a seat.
If elected, Jeffrey Donaldson would expect to be in a position to be installed as First Minister after the election; finishing runner-up and being nominated as Deputy First Minister would be a personal and political disaster.
While there will be much more talk about the protocol and the Irish Sea border in the coming weeks, that election is what it is really all about.
At the end of Oliver Twist, the Artful Dodger finds himself on trial in court. Jeffrey Donaldson's trial will be in the court of public opinion. His next performance is shaping up to be the most important of his life.