People still talk about Elizabeth Taylor riding The Pie to 'win' the Grand National at Aintree, more than 75 years after the feat was first witnessed on screens. And that was a work of cinematic fiction.
So when the race was eventually won by a female jockey, in real life, it was always going to be a big deal. So, it proved.
But Liz Taylor's character in National Velvet came out of nowhere, aged 12 and all that she was.
The same could not be said in 2021 of Rachael Blackmore, the first woman jockey to win the English Grand National, when she urged Minella Times to cross the line first on the tenth day of April to put the tin-hat on a remarkable few weeks, and a highly successful few years, for the jockey who grew up in the heart of national hunt racing country in south Tipperary.
When covering news, we come across stories all the time that are only too quickly forgotten. Tomorrow's fish and chip wrapping, to put it in newspaper terms.
But when Rachael Blackmore was making not just back page but also front page headlines, and for happy reasons, back in the spring, it was obvious at the time that we were witnessing history in the making.
When we were in her home town of Killenaule in March on Gold Cup day, which turned out to be the day when she became the first woman to be leading jockey at the Cheltenham Festival, it was hard not to have a look around at suitable locations for a statue.
Let's face it, south Tipperary is littered with statues to sporting heroes, and specifically horseracing legends both human and equine, so why shouldn't Killenaule get a piece of the marble action at some stage in the near future?
It would join Rosegreen, where Vincent O'Brien is immortally honoured barely a kilometre from the entrance to the Ballydoyle establishment where he made his home and his name all those years ago; and Coolmore outside Fethard where there are statues to the likes of Yeats (the horse, not the poet); Galileo (the horse, not the scientist) and Danehill.
That's for another day. Back to March, and as that week unfolded at the Cheltenham Festival when the eyeballs of the racing world and the casual sports fan are on those four days of premium jump racing, this was going to be historic. And a welcome relief, too, for the sport after the controversy surrounding Gordon Elliott, while recent weeks have also brought more damaging headlines.
That Tuesday brought an historic first when Rachael became the first woman jockey to win the Champion Hurdle as she rode Honeysuckle, herself a bit special, to an easy victory.
On Wednesday she won two more when guiding Bob Olinger in the Ballymore novice hurdle and Sir Gerhard in the Champion Bumper. Irish-trained horses continued to tightened their grip on the big races and the Thursday yielded success for Allaho in the Ryanair Chase and Telmesomethinggirl in the mares' novice hurdle to bring her tally to five.
So by the time racing started on Friday, the Killenaule star was a strong favourite to take that top jockey title for the week, and so we arrived en masse in the town. The media, that is, to hopefully witness a first for the sport. It proved to be a memorable day.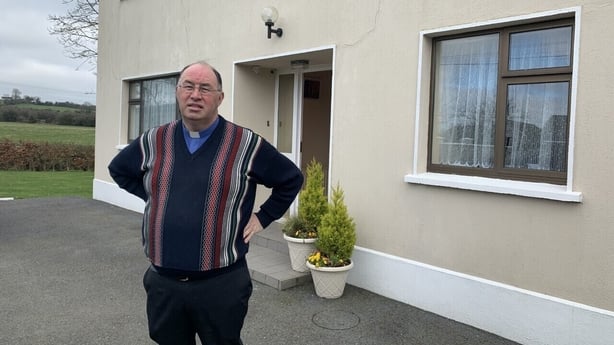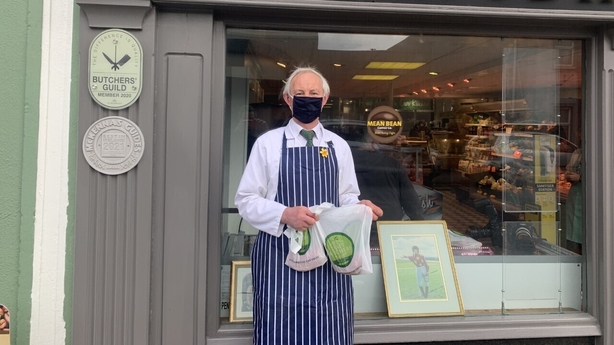 Fr Jimmy O'Donnell, the parish priest who conveniently enough is a big racing fan, regaled us with tales of betting syndicates having a few bob on Rachael's horses over the years; Mary and John O'Dwyer in their butcher shop had a TV on full blast showing the afternoon's races for the convenience of customers choosing their Friday evening steaks and Sunday roasts; while out on Main Street locals chatted about their pride in their neighbour's achievements.
In truth, the title of Leading Jockey was wrapped up as soon as the first race, when Rachael sent Quilixios past the winning post in the Triumph Hurdle and after that it was all bonus territory. Although, perfectionist as she is, the fact that she chose A Plus Tard in the Gold Cup and that ended up finishing a narrow second to stablemate Minella Indo will probably rankle for a long time.
The only other negative was that Covid-19 restrictions meant the public couldn't be there to cheer on the winners. But that won't affect the record books.
Afterwards, parents Eimir and Charles spoke not just of their joy in the achievements, but also the relief felt every time she gets back safely after a round of jumping.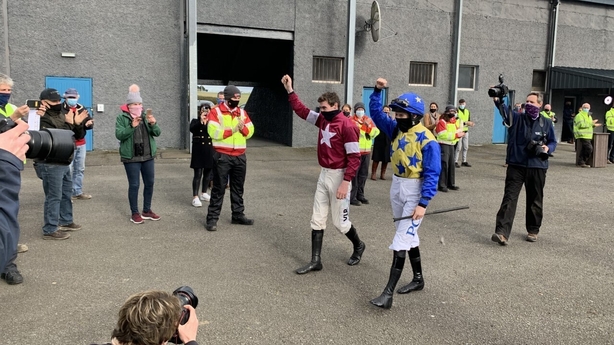 This being horseracing, there was little time for Rachael Blackmore, or Henry de Bromhead, or Willie Mullins, or anyone else with success during that week to celebrate, as - with no disrespect to a great and much-loved track - it was back to the bread-and-butter of the sport less than 24 hours later, and an afternoon in Thurles racecourse.
Both herself and Jack Kennedy who, let's not forget, actually won that Gold Cup on Minella Indo, were cheered into the parade ring by their colleagues and the likes of Riona Molony from the family who own the Thurles layout recalled how she rode her first winner at the same venue, for Shark Hanlon, many years ago, so it was fitting she was back after one of her greatest weeks.
"I've barely drawn breath after the last four days," the jockey said herself before her first mount in Thurles. "The whole thing is crazy."
Of course she couldn't let the day pass without a winner and Myth Buster proved too good for the others in the Horse and Jockey Beginners' Chase, trained, appropriately, by Henry De Bromhead.
Since then it's been a whirlwind at times for Rachael Blackmore, the Grand National win on board Minella Times coming just a few weeks later and there have been honours and accolades galore, with the end of 2021 no doubt bringing more in what's been a hugely successful year for Irish women in sport thanks to Blackmore, Leona Maguire, Kellie Harrington and others, and the jockey herself has just got on with things.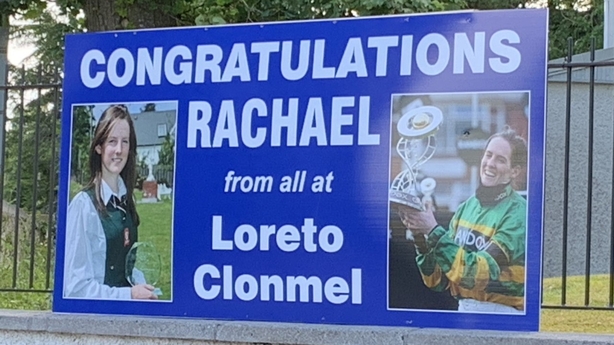 A civic reception from the county council, a euphoric greeting back at her old school the Loreto in Clonmel when she was guest of honour at graduation day, and where large 'then and now' photos were admired by passers-by over the summer.
And when that statue is unveiled? We'll be there, and honoured to be there, just like it was an honour to see her home town in celebration mode in March and her nearest racecourse in similar mood the following day.
National Velvet may have been a good yarn but that's what it was, a yarn. This was real.