In January, I had an idea of what I thought 2020 would look like.
It was an election year and with Donald Trump on the ballot there was always going to be plenty of drama.
It all started as planned with Democratic debates, primaries and caucuses but in March the election campaign, and normal life, was completely upended.
The then-Taoiseach Leo Varadkar was in the US for the annual St Patrick's Day celebrations.
The night before he was due to meet Donald Trump in the Oval Office, the US President announced a ban on travel from Europe into the US because of the coronavirus.
The Taoiseach called a press conference for early the following morning from the steps of Blair House, a mansion across the street from the White House where visiting foreign leaders stay.
We assumed that the media briefing would involve Mr Varadkar giving his reaction to President Trump's travel restriction announcement but that was not the case.
He was holding the press conference to confirm that Ireland would be going into the first of its lockdowns with the closure of schools.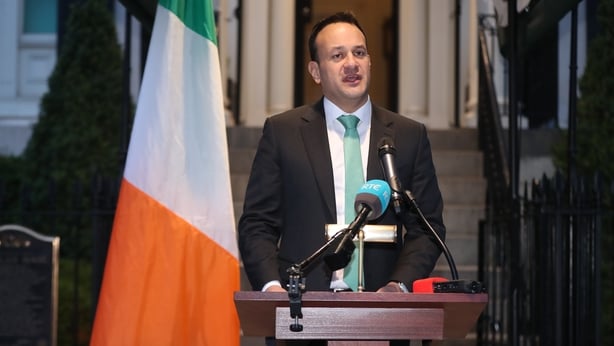 The weeks that followed were busy.
While coronavirus was, and still is, a global news story, the high number of cases and deaths in America, and the response of the Trump administration, meant there was always a huge focus on the US.
The killing of George Floyd by police in late May, followed by massive protests in June, would become another major news story.
My cameraman and I had to take precautions while covering the 'Black Lives Matter' demonstrations and interviewing protesters. We wore face masks and used a long boom pole for our microphone in order to maintain social distancing.
But threats to our safety would not just come from Covid-19, authorities policing the protests outside the White House were heavy-handed with everyone, including reporters and camera crews.
We were there on the evening of 1 June, when police cleared protesters so Donald Trump could walk across the street and hold a bible aloft for a photo opportunity outside a vandalised church close to the White House.
We were getting ready to leave the area as a curfew was about to begin when suddenly there were loud bangs, screams and smoke. People started running. It was chaos.
We spoke to passengers with many of them telling us they would be voting for Joe Biden even though they felt he was far from perfect. They would back him, nonetheless, to remove Donald Trump.
In the weeks that followed, the racial unrest started to ease and the election campaign started to ramp up again.
The Democratic and Republican conventions were mainly virtual. There were no packed arenas, cheering crowds or balloons dropping from the ceiling.
The presidential campaigns had to get creative and so did we.
We filmed a report on the train from Washington to Wilmington, Delaware, the route travelled by Joe Biden every day for 40 years. On board, we spoke to passengers with many of them telling us they would be voting for Joe Biden even though they felt he was far from perfect.
They would back him, nonetheless, to remove Donald Trump.
When we arrived in Wilmington the train station was, appropriately enough, named after Joe Biden.
His presence looms large in his home city so it was no surprise that he decided to deliver his convention acceptance speech from there.
The following week, a scaled-down Republican convention got underway in Charlotte, North Carolina.
We covered a Donald Trump rally at a food packaging facility outside Charlotte. Supporters waited hours in the August sunshine to see the president speak for 20 minutes but they didn't mind, they love him.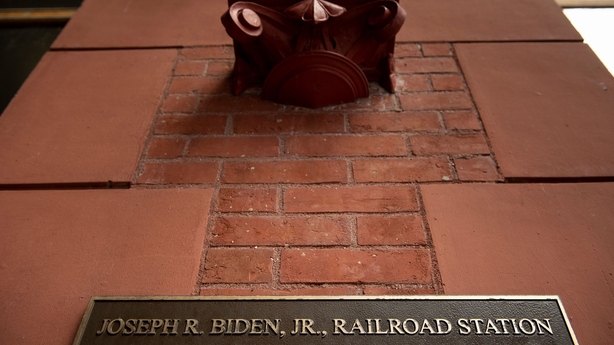 With the conventions out of the way, Donald Trump and Joe Biden ramped up their campaigns with rallies and events in key swing states.
The first presidential debate was a chaotic affair with the US president aggressively interrupting and insults being hurled from both sides.
It was a significant moment in the campaign - but days later there would be an even more dramatic twist.
Having spent months downplaying the coronavirus, Donald Trump announced that he had tested positive for Covid-19. His condition quickly worsened and he was taken to hospital.
I was outside the White House as the presidential helicopter, Marine One, took off from the South Lawn transferring Mr Trump to the Walter Reed Medical Centre.
The year had been filled with historic and monumental news stories but witnessing the US president being taken to hospital was definitely one of those "Reeling in the Years" moments.
Even while in hospital, the president managed to generate controversy, briefly leaving the medical centre at one point to drive by supporters at the hospital gates to wave at them.
Those gathered there were delighted and cheered loudly.
A virus that had dominated the news agenda for months was once again making headlines around the world as it spread through the White House.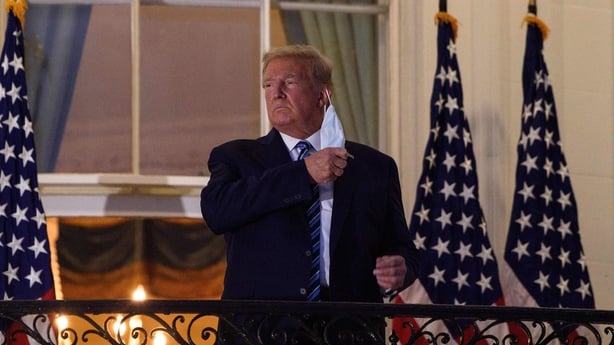 Donald Trump bounced back quickly and, in true Donald Trump fashion, he used his recovery as an asset on the campaign trail - telling cheering supporters at rallies that he felt like Superman and that they shouldn't be afraid of the virus.
As expected, there was no clear winner on election night due to the huge numbers of mail-in ballots and it would be another four days before the TV networks projected that Joe Biden would be the next US president.
I was outside the White House as the news was announced. The streets filled with cheering Biden supporters carrying signs and banging pots and pans. There was a party atmosphere.
A week later, crowds gathered again in Washington, this time they were Donald Trump voters.
They came in their tens of thousands to show their support for the president and to echo his baseless claims that the election was rigged and stolen by Joe Biden.
The most worrying part of these unfounded allegations is that millions of Americans believe them, even though officials at state and federal level have found no evidence of widespread voter and dozens of legal challenges have failed.
While Donald Trump was fighting the election results, Joe Biden was getting on with the business of his transition.
Every day he would meet with advisers and deliver speeches from a theatre in downtown Wilmington, Delaware called 'The Queen'.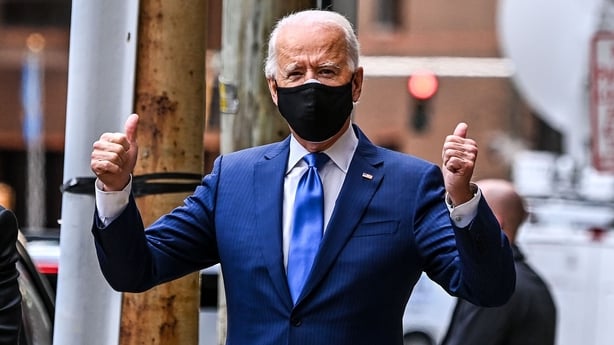 I was there in late November when Joe Biden unveiled his foreign policy team. After he delivered his speech, he left the theatre.
At first, the president-elect seemed to be veering away from the waiting media and was about to get into his car when a shouted question about Ireland caught his attention and he approached the group of journalists.
"Can I ask you a question about Ireland?" I repeated.
"You can ask about Ireland any time you want", Mr Biden told me.
I asked him what message he had for the Brexit negotiators when it comes to Northern Ireland and he said that too much hard work had been done to see the return of a hard border between north and south, adding that this would be "just not right".
Brexit and subsequent trade deals with the UK and the EU will be major foreign policy issues for Joe Biden over the coming months but there is also no shortage of domestic problems he will have to face.
Whether it was mask-wearing, racial unrest or bitter election battles, 2020 was a year of divisions in the US.
The challenge for a new president in 2021 will be to unite a fractured country.