Negotiations on finalising a Brexit trade deal are completed, with European Commission President Ursula von der Leyen describing the agreement as fair, balanced and right.
Following ten months of tortuous negotiations, Ms von der Leyen told a press conference: "We have finally found an agreement.
"It was a long and winding road, but we have a good deal at the end of it. The single market will be fair and remain so."
Shortly afterwards, speaking from Downing Street, British Prime Minister Boris Johnson said the deal will enable the UK to "take back control".
Mr Johnson said: "We have taken back control of our laws and our destiny. We have taken back control of every jot and tittle of our regulation in a way that is complete and unfettered."
Taoiseach Micheál Martin said the Government will "consider the detail of the text very carefully".
Mr Martin said: "From what we have heard today, I believe that it represents a good compromise and a balanced outcome."
Taoiseach @MichealMartinTD gives the Irish Government's reaction to news that a #Brexit deal has been reached between the UK and the EU. @rtenews pic.twitter.com/3F82n4uXxk

— Paschal Sheehy (@PaschalSheehy) December 24, 2020
The final 2,000-page agreement was held up by last-minute wrangling over fishing as both sides haggled over the access EU fisherman will get to Britain's waters after the end of the year. 
Following the announcement of the political accord, Ms von der Leyen's Commission will send the text to the EU member states.
They are expected to take two or three days to analyse the agreement and decide whether to approve its provisional implementation.
The UK parliament will reconvene next Wednesday to try to ratify the deal, less than 48 hours before the agreement will come into effect, officials have said.
"The Speaker has granted a request from the Government to recall the House at 9.30am on 30 December 2020 for MPs to debate legislation to give effect to the Agreement with the EU in UK law," the House of Commons said in a statement.
Once it is signed off and the text published in the EU's official journal it will go into effect on 1 January.
The European Parliament will then have a chance to retrospectively approve the deal, at some point in 2021, EU officials said. 
With Britain outside the EU single market and customs area, traders will still face a battery of new regulations and delays.
Economists expect both economies, already weakened by the coronavirus epidemic, to take a hit as supply chains are disrupted and costs mount.
But the threat of a return to tariffs will have been removed, and relations between the former partners will rest on a surer footing.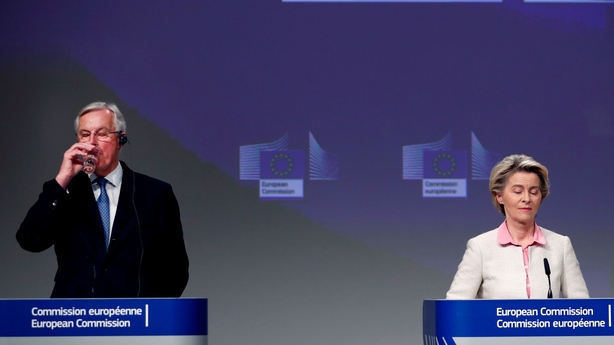 It is also a success for Ms von der Leyen and her chief negotiator Michel Barnier, who led almost ten months of intense talks with Britain's David Frost.
EU countries were concerned that if such a large rival on their doorstep were to deregulate its industry their firms would face unfair competition.
And members balked at giving up access to Britain's rich fishing waters, which support fleets in France, Belgium, Denmark, Ireland and the Netherlands.
European Union fishing fleets will have to give up a quarter of their current catch in British waters over the next five-and-a-half years, officials have said. 
Earlier in the negotiations Britain was pushing for an 80 or 60% cut in the EU's share, phased in over only three years.
Mr Johnson said the deal meant Britain would be able to "catch and eat quite prodigious quantities of extra fish".
Making a statement after negotiations were completed, Ms von der Leyen said with so much at stake it was a deal worth fighting for.
She said: "First of all, competition in our single market will be fair and remain so.
"The EU rules and standards will be respected. We have effective tools to react if fair competition is distorted and impacts our trade.
We need your consent to load this rte-player contentWe use rte-player to manage extra content that can set cookies on your device and collect data about your activity. Please review their details and accept them to load the content.Manage Preferences

"Secondly, we will continue cooperating with the UK in all areas of mutual interest, for example in the field of climate change, energy, security and transport.
"Together, we still achieve more than we do apart.
"And thirdly we have secured five and a half years of predictability for our fishing communities."
A Downing Street source said: "Deal is done. "We have taken back control of our money, borders, laws, trade and our fishing waters."
"The deal is fantastic news for families and businesses in every part of the UK. We have signed the first free trade agreement based on zero tariffs and zero quotas that has ever been achieved with the EU."
"We have delivered this great deal for the entire United Kingdom in record time, and under extremely challenging conditions, which protects the integrity of our internal market and Northern Ireland's place within it," the source said. 
---
Read more:
EU-UK Relations: A new relationship, with big changes 
Latest Brexit stories
---