Among the most profound changes to have occurred in 2020 is the way in which we grieve our dead.
So many of the time-honoured rituals and processes associated with marking the passing of a loved one have had to be set aside because of the public health measures in place.
Funeral companies have had to adapt to unparalleled circumstances, facing new pressures and introducing new work practices.
As part of our series of reports looking at sectors of the workforce which have kept us going during the pandemic, we spoke to four people who work at Fanagans, one of the longest established funeral companies in Ireland.
The company, which includes Kirwans, Nichols and Carnegies funeral homes, organises an estimated one out of every four funerals in Dublin.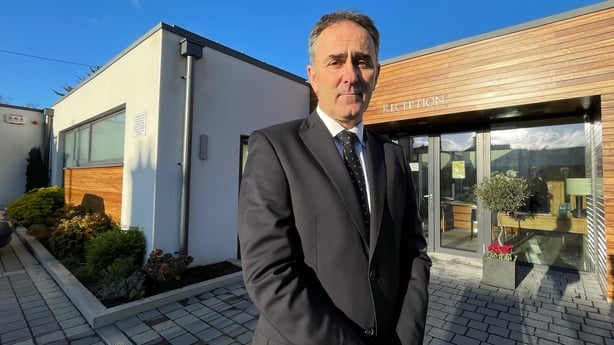 Managing director Jody Fanagan said: "We celebrated 200 years as a firm in 2019. But we could never have forecast what we would have encountered in 2020.
"The traditional Irish funeral changed overnight. When Covid hit Ireland, it hit quickly and it hit hard. We just had to react as best we could.
"There were a tough two or three weeks in March when we didn't have all the guidelines. During that time there were some harrowing stories.
"However, it became obvious very quickly that we were an essential service, so we had to keep going.
"We had to make sure that our staff and their families were safe. But we also had to balance that with our service to our client families. They have been amazing and so understanding." 
Up to 25 mourners can currently attend funerals, but that number will be reduced to ten with the return to Level 5 restrictions.
"Early on, you could have a hearse going to a cemetery and ten family members with no service. You knew then that you were into something different that you had never seen before.
"At another funeral, the hearse and the coffin were outside the church. The family were in cars watching the mass on livestream and then we went to the cemetery. You knew then that this was something that we had never seen before," Mr Fanagan said.
With the requirement that social distancing must be practiced at all times at funerals, people have had to find new ways to grieve or share memories of loved ones.
David Wade, a driver, said both mourners and funeral workers have missed the rituals associated with the occasion.
"The handshake is gone. The hugs too. With a closed coffin, people don't get that moment of being able to hold a hand or leave a little memento. All that was taken from us and it was taken from the families. 
"As far as I was concerned, every funeral since March has been a Covid funeral, whether someone has passed away from the virus or not.
"That's because of the limitations and restrictions. We went through it with my own family, when my mum died in April. We were only allowed ten people, so I know what the low numbers were like.
"It was tough but later on I came to think that it meant we could concentrate on each other. I know a lot of other people felt that too."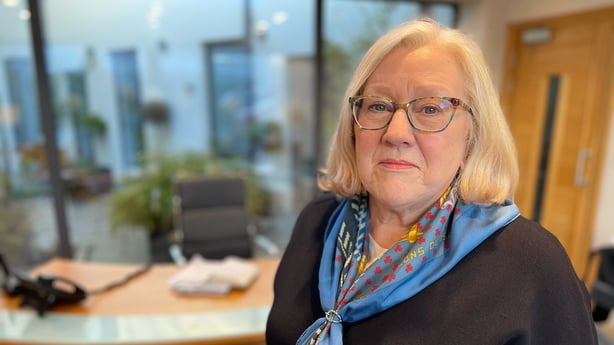 Orla Nolan has worked on the front desk at the company's Aungier Street branch for almost 22 years. 
Due to an underlying health condition, she was reassigned to the company's night roster in mid-March.
Since then, she has often been the first point of contact for families who have suffered a Covid-related bereavement. 
"There was a terrible rawness in the early stages. People were upset at what they could or couldn't do.
"Travel was a big thing. They would ask if they could ring a daughter in Germany, a son in America or if they could hold the funeral back until someone else got back from Australia.
"You would have to tell them that if that person did come back, they were meant to self-isolate. And that they might not then be able to get back to where they came from.
"However, I find that as the months have passed, people now understand more about what's going on. It has become part of the new normality."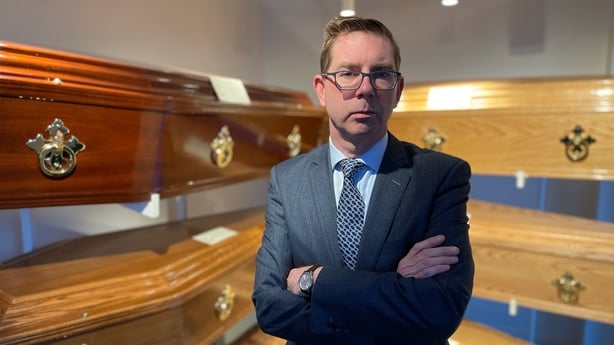 Of course, no-one really knows how long that "new normality" will last.
Fintan Cooney, who manages the Dundrum branch, believes some of the changes brought about by the pandemic may be integrated into traditional funeral rituals in the future.
"I think, like everything with Covid, there will be some lessons to be learned. I think we have come up with some really useful initiatives.
"Really good ideas like the popularity of being able to watch funerals via livestream. The passing of the funeral cortege outside a house - I think people like that and I don't see that changing. Using photographs in the death notices has become a nice new tradition too. 
"However, funerals are such an important thing in Irish life that I think that if anything is likely to go back to 'normal' after Covid, funerals will be one of them.
"The vast majority of Irish people want lots of mourners to be able to attend a funeral and hopefully, when this over, we'll see the traditional Irish funeral go back to the way it used to be."