It has been a year of lockdowns and different levels of restrictions. Closures and reopenings. Stops and starts.
But throughout it all, various sectors of the country's workforce, many of whom are not always prominent in the public eye, have kept us going.
Among these unsung heroes are the delivery drivers who have responded to the huge increase in online shopping as a result of the pandemic.
DPD Ireland, the country's largest courier company, says it has delivered more than 35 million parcels in 2020, up from 22 million in 2019.
Michelle Halpin is one of the company's 1,700 drivers, delivering parcels to homes and businesses in the Terenure area of Dublin.
She said: "2020 has been such a busy year for us drivers. The number of parcels has been mad. During the lockdown, people wanted packages that they just couldn't get, without us delivering them. They couldn't go outside the door.
"They were so happy to see us, because often we were the only familiar face that they were seeing. Some people wanted to chat, because they literally weren't seeing anyone else. We were at some doors every single day, so you became friends with those people.
"At one stage, you would see those customers more often than you would see members of your own family. But it was well worth it when you delivered something which had come from one of their relatives and you would see their eyes light up."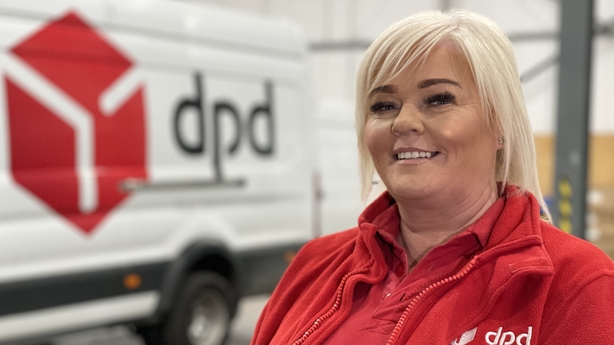 DPD Ireland has described 2020 as "the year with two peaks". It says the first peak occurred in May during the first lockdown, with the second peak occurring now at Christmas. It says parcel volumes continued to be very high throughout the summer, traditionally a quieter period, as the country went in and out of different phases of restrictions. The company noted strong growth in deliveries of electronics, sports goods, cosmetics and baking accessories.
Commenting on the contactless delivery process, Des Culleton, who delivers parcels in the Finglas area of Dublin, said: "I knew what precautions to take and it didn't phase me. You knew you had to keep your distance. When you go anywhere, you wear a mask. You walk to a door, you leave the parcel at the door and you step back. There's no close interaction with anybody. That's what we had to do."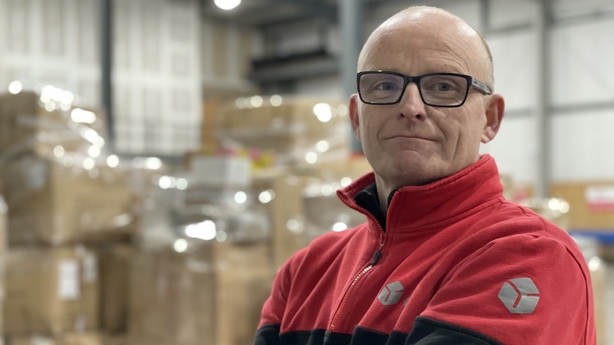 One unexpected trend which many drivers have noted is the appreciation they now receive at the doorstep when delivering.
Sonny Singh, a delivery driver in the Castleknock area of Dublin, said: "At the beginning of lockdown, I was delivering parcels to the same house for four or five days in a row. And the customer came to the door and gave me a mug with the words 'Sonny: World's Greatest Delivery Driver' on it. I was delighted. Now, wherever I go, people greet me with smiles and kind words. They show such respect and that's a great reward for what we do."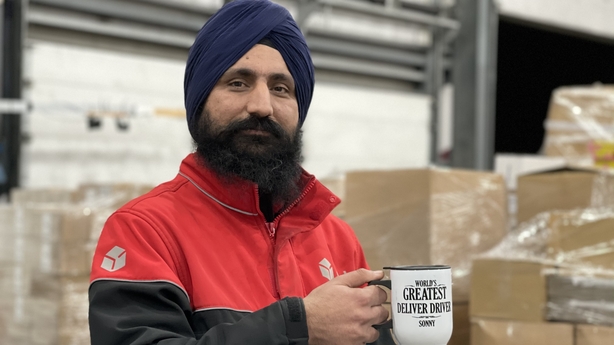 Tomorrow we will shine a light on some more unsung heroes of the pandemic, as we hear from supermarket workers in Co Galway.