The Department of Health has been notified of one further coronavirus-related death and 306 new cases.
A total of 2,053 people have died with Covid-19 in Ireland with 72,544 cases of the disease. This includes the denotification of three previously confirmed cases.
The number of people in ICU is up one from yesterday at 31. There are 244 patients with Covid-19 in hospitals with three additional hospitalisations in the past 24 hours.
Of the cases notified today 156 are men, 148 are women and 67% are under 45 years of age.
There were 108 cases in Dublin, 30 in Limerick, 22 in Galway, 17 in Donegal, 15 in Wicklow, 14 in Cork and the remaining 100 cases were spread across 18 other counties.
The 14-day incidence rate per 100,000 is 89.2. Counties with the highest rates include Donegal (233.6), Louth (179.2) and Limerick (142.6).
Counties with the lowest rates are Leitrim (12.5), Wexford (24.7) and Westmeath (40.6).
There are 61 outbreaks spread across 25 hospitals with 910 cases linked to these outbreaks.
Chief Medical Officer Dr Tony Holohan said the current rate of positive results from tests is 2.8%. The R (reproductive) rate is between 0.7 and 1.
He told a National Public Health Emergency Team press briefing that the death toll for November is 119 compared to 119 in October and 37 in September.
---
---
Dr Holohan warned that office Christmas parties "should not be happening". If there is an increase in socialising, and we "don't do everything we can to drive down our number of contacts" then case numbers will rise.
He said alcohol has been "a very significant common factor in a lot of the kinds of social experiences in which transmission has occurred".
Asked about festive shopping and the increase in capacity on public transport to 50%, the CMO said nobody is "compelled" to go into a crowded shop or get on a crowded bus.
Retail environments in general have shown "significant commitment" to providing safe arrangements for their staff and customers, he said, often at their own initiative.
Deputy Chief Medical Officer Dr Ronan Glynn said that any indoor setting where people come together in numbers "can lead to what's been termed a super-spreader event".
A "key determinant" in whether or not we can keep on top of infection numbers in the coming weeks "is the extent to which people come together," he said.
Dr Glynn added that it is not "inevitable" that there will be a greater level of socialisation over the coming weeks.
CMO Dr Tony Holohan says since the early days of October to now, there has been a "significant reduction" in the incidence of Covid-19 in Ireland compared to Europe which continued to rise exponentially up until a fortnight ago | https://t.co/A9ml1O0WYg pic.twitter.com/prIAKDkU7Y

— RTÉ News (@rtenews) November 30, 2020
Compared to the European average, there has been a significant reduction of infections in Ireland since early October to now.
Dr Holohan said the European average of mortality in recent weeks, is roughly equivalent to 40 deaths per day in this country, whereas our actual number is about six per day.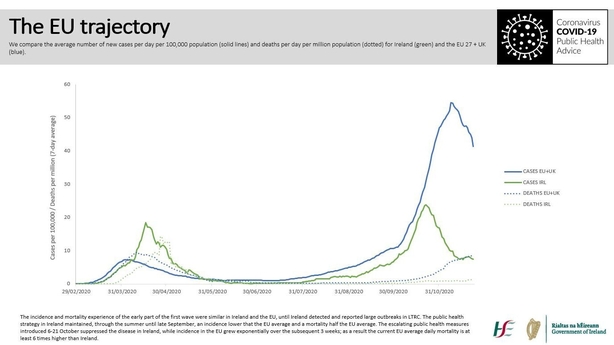 Latest research from Amárach shows around 80% of people are staying at home, showing a high degree of compliance with public health measures, Dr Holohan told the briefing.
He said 61% of people believed that the current restrictions are appropriate with 13% regarding them as being too extreme. Almost one in four (23%) think they are not enough.
Dr Holohan said we have managed to protect hospital services and other services such as education and childcare as a result of the "high level of adherence" by the public to the restrictions.
Dr Tony Holohan says if there's an increase in socialisation, then there will be a rise in the number of cases. "The growth rate [of the virus] correlates really closely with the change in the number of contacts" | https://t.co/A9ml1O0WYg pic.twitter.com/QT3KhITcIp

— RTÉ News (@rtenews) November 30, 2020
The CMO said it is up to everybody, individually, to accept responsibility for their own adherence to guidelines in the coming weeks, as restrictions are eased.
"We can each influence our own individual risk," Dr Holohan said, adding that hand hygiene and respiratory etiquette remain important, as well as people with symptoms staying away from work or school, contacting their GP and avoiding others.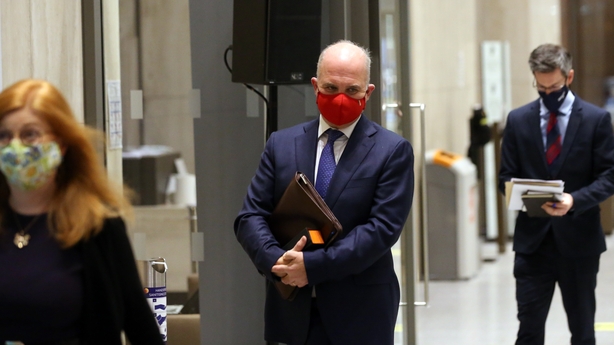 A further 10 people have died with Covid-19 in Northern Ireland, taking the death toll there to 996. There were 290 new cases reported, with the cumulative number of infections now standing at 52,465.
Earlier today, Professor Philip Nolan said Covid-19 would be claiming "around 40 deaths a day" if Ireland had not taken "early intervention" to prevent us following the European trajectory.
He said we suppressed the virus while it was mainly spreading among young people, before it overwhelmed the older generation. "We were just in time."
In a post on Twitter, he said the "decision in October to adopt very strict public health measures, and our collective response, stopped a surge of infections and saved lives".
The chair of NPHET's epidemiology modelling advisory group added: "If we compare our incidence and mortality with the average across the EU 27 and the UK, we see the difference.
"If Ireland had followed the average European trajectory, we would have peaked at 2,600 cases per day, and would now be seeing about 40 deaths per day. We, collectively, prevented this, at very significant cost; let's work from here to maintain a low level of infection."
Prof Nolan also warned against thinking that the second wave of Covid-19 was less deadly than the first. "The second wave was not 'less deadly'. Fewer deaths, yes, but that's not the same as less deadly.
"We suppressed the virus while it was largely spreading among the young and healthy, before it overwhelmed the older and vulnerable. We were just in time."
Meanwhile updated guidance on Nursing Home visits will come into effect on 7 December. One visit by one person will be allowed per week at Levels 3 and 4.
Updated guidance on Nursing Home visits from Dec 7th via @hpscireland

🟣 1 visit by 1 person per week at Levels 3 & 4

🟣 1 visit by 1 person every 2 weeks at Level 5

🟣 No requirement that visits facilitated on compassionate grounds should always be by the same person

— Ailbhe Conneely (@AilbheConneely) November 30, 2020
One visit by one person every two weeks is permitted at Level 5. There is no requirement that visits facilitated on compassionate grounds should always be by the same person.