The Queen Theatre in downtown Wilmington, Delaware has an old-world feel.
Its front entrance and box offices are topped by an ornate marquee with back-lit signage that would normally carry details of the current show or upcoming performances.
These days, the black letters have been arranged to spell out a public health message; telling people to stay safe amid the pandemic.
The Queen, like almost every other theatre around the world, has been forced to close because of Covid-19.
But in recent weeks this particular venue has a new star attraction.
There are no tickets or audience members but what plays out on stage is being watched by millions.
The Queen Theatre has become US President-elect Joe Biden's base as he prepares for his transition to the White House.
Every day his motorcade leaves his lakeside mansion on the outskirts of Wilmington and makes the short 15-minute journey to the downtown venue.
It is from there that he holds virtual Zoom meetings with advisers and delivers his addresses to the nation.
On Tuesday, Joe Biden took to the theatre stage alongside a cast made up of his new foreign policy and national security teams.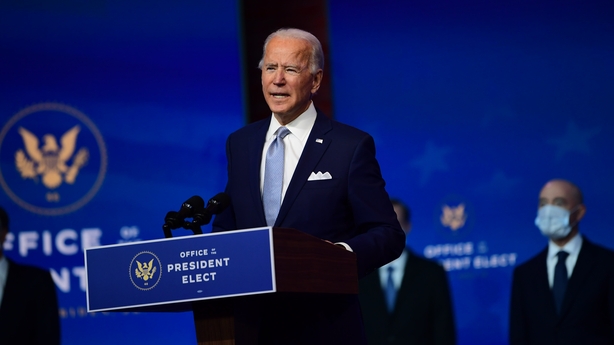 He unveiled some of his key cabinet nominees, many of whom come from the Obama-era and have plenty of government experience.
They vowed to be loyal to the country rather than the president and to be led by facts and the truth.
Among them are the first female Director of National Intelligence and the first Latino Secretary of Homeland Security.
Joe Biden said his team would once again restore the US as a leader on the international stage and move the country away from Donald Trump's isolationist policies of "America first", which Joe Biden said amounted to "America alone".
They'll be tasked with healing divisions with international allies and re-joining multilateral groups and agreements.
Naturally, there was criticism from the Trump administration with the current Secretary of State Mike Pompeo saying some of the new cabinet had lived in a fantasy land and had led from behind on issues such as Iran.
After unveiling his foreign policy team, Joe Biden exited stage left and walked out of the Queen Theatre.
At first, he seemed to be veering away from the waiting media and was about to get into his car when a shouted question about Ireland caught his attention and he approached the group of journalists.
"Can I ask you a question about Ireland?" I repeated.
Speaking to @BrianOD_News US President-elect Joe Biden says the Irish border must be kept open and adds 'we've worked too long to get Ireland worked out' pic.twitter.com/wHsq6xV7oX

— RTÉ News (@rtenews) November 24, 2020
"You can ask about Ireland anytime you want," the president-elect told me before going on to stress the importance of avoiding the return of a hard border after Brexit.
It was the first time that Joe Biden had spoken about the issue since becoming president-elect but he did express similar sentiments during the election campaign.
In September, amid concerns over the Internal Market Bill, he tweeted that the Good Friday Agreement could not become a casualty of Brexit and that any trade deal between the US and UK must be contingent upon respect for the agreement.
Joe Biden is a staunch defender of the Northern Ireland peace process and is proud of his Irish roots.
The Irish government is no doubt hopeful that those connections will remain strong as he prepares to move from a theatre in downtown Wilmington to the biggest stage in the world in downtown Washington.
But right now, there's another show wrapping up its final run at that particular venue and the lead character isn't quite ready to leave the stage just yet.
On Monday, Donald Trump instructed government officials to begin cooperating with Joe Biden's transition, the closest the US president had come to acknowledging his election defeat, but he has also vowed to continuing fighting the results and insisted he was not conceding.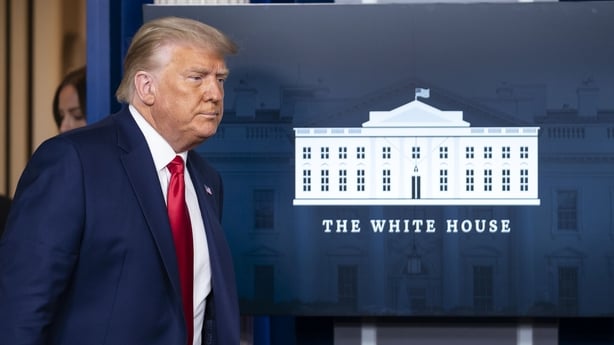 He has repeatedly claimed, without evidence, that was voter fraud, that the election was stolen from him and that he is the rightful winner.
Despite countless allegations, the Trump campaign is continuing to lose its legal challenges and states are continuing to certify their election results confirming Joe Biden's victory.
On Thursday Donald Trump said he would leave the White House if the Electoral College votes for Joe Biden.
A candidate needs to secure 270 electoral college votes to claim the presidency.
Joe Biden has surpassed that number, winning 306 electoral votes as opposed to Donald Trump's 232.
The Electoral College will meet on 14 December to formally cast their votes.
In theory, they are supposed to follow the will of the voters in their individual states and cast their ballots for the candidate chosen by the electorates they represent.
But you can have "faithless electors" who rebel and vote for someone else.
While it is highly unlikely Donald Trump could use his claims of voter fraud to convince enough electors to switch sides or abstain, it is an outside possibility.
Now that would be a plot-twist worthy of any theatre performance in Wilmington, Washington or beyond.