There have been seven more deaths associated with Covid-19 reported by the Department of Health.
There have also been 243 new cases of the virus reported.
It brings the total number of cases since the outbreak began to 71,942, while there have been 2,050 deaths.
There are 254 people in hospital with Covid-19, with 31 of these currently receiving treatment in intensive care units.
91 of the cases reported today are in Dublin, with 26 in Donegal, 18 in Cork, 16 in Waterford and 15 in Limerick.
The remaining 77 cases are spread across another 18 counties. There were no new cases reported in counties Cavan, Longford or Leitrim.
The national 14-day incidence rate per 100,000 people now stands at 93.7. Donegal has the highest incidence rate at 215.5, followed by Louth at 191.6, while the rate is lowest in Wexford at 30.7.
Meanwhile, the wearing of face coverings outdoors on busy streets is the "next step" in tackling Covid-19 and should be made mandatory, rather than a suggestion, according to one Irish immunologist.
Professor Kingston Mills, Professor of Experimental Immunology in Trinity College, said there is "no doubt" that face coverings can help stop the spread of the virus.
It follows last night's announcement by Taoiseach Micheál Martin that Ireland will move to Level 3 from 1 December.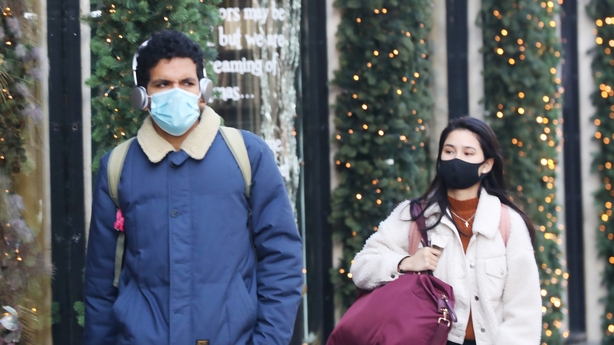 Under the latest Government guidelines on Covid-19, people are advised to wear face masks in crowded workplaces, places of worship and busy outdoor areas.
Prof Mills said he believed this should be mandatory, rather than a suggestion. "We saw that with public transport and in supermarkets, initially people didn't buy into it. Then it was made mandatory and there was almost 100% compliance."
---
Read more:
Task force working on Irish vaccination programme
All you need to know about the easing of restrictions
Explained: What will a Covid-19 Christmas look like?
---
He said a lot of people will be coming into close contact in crowded outdoor areas like busy shopping streets coming up to Christmas.
In that context, face coverings may be beneficial in preventing the spread of the virus.
Prof Mills said the new guidance is "really about Dublin and the bigger cities" and that the risk is lower in rural settings or where people are going for a walk in the park.
Dr Gabriel Scally said he would recommend wearing face coverings "certainly in workplaces and places of worship".
But the president of epidemiology at Britain's Royal Society of Medicine does not think they need to be mandatory in outdoor settings.
Speaking on RTÉ's Today With Katie Hannon, Dr Scally warned people not "to take their foot off the brake" as the virus could accelerate rapidly again.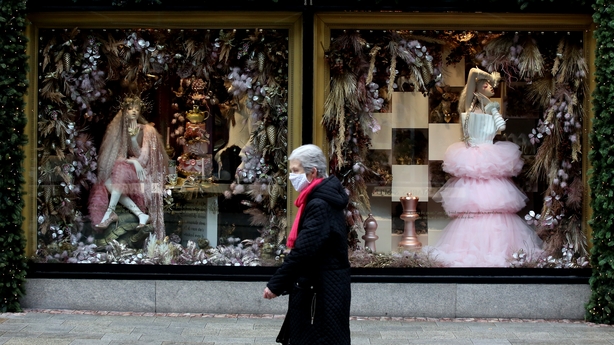 He said he would be more cautious than the Government about easing restrictions.
"If we have a very merry Christmas and meet lots of friends and relations, I fear in January and February we may be burying some of those friends and relations. That is the cruel truth of that virus and we must not let it surge again."
Professor Sam McConkey is also worried about "we will end up in a third wave" of Covid-19 in January.
The consultant in infectious diseases at Beaumont Hospital, Dublin, said: "I think we need to ease restrictions gradually and cautiously and keep the good gains we have made under our belt rather than letting it slip."
Prof McConkey said people should "not do too much socialising" in the two weeks before travelling to visit family at Christmas time, especially in the homes of older relatives.
"It is almost like pre-isolation," he advised. "There is a much lower chance of us bringing Covid-19 into the households where there are very elderly or vulnerable people."
Minister of State for Public Procurement Ossian Smyth defended the Government's plans to ease restrictions in December saying it was necessary to "release a little bit".
The Green party TD described a "breaking point" for people and said there was also a cost to being in Level 5, not just financially but for mental health.
He said at this stage people "have a grasp" of what is safe and what is not.
Sinn Féin TD Matt Carthy believes the "overwhelming feeling among the public was one of relief" when they heard the Taoiseach's announcement that they can now plan for Christmas.
He said we "have to assume the Government has taken all the scientific evidence and extrapolated what is the best way of coming out of Level 5 restrictions in a manner that protects as many people as possible".
It comes after the Government called on the public to take personal responsibility as Covid-19 restrictions are eased.
Non-essential retail and services will be allowed to resume from 1 December. Places of worship will reopen, as will museums, galleries, cinemas, gyms and swimming pools.
Restaurants, hotels and pubs with their own kitchen and meals prepared on site can reopen for indoor dining from 4 December with additional restrictions. Wet pubs will not be allowed to reopen.
However, some business groups have expressed disappointment that the measures did not go far enough.
The Vintners' Federation of Ireland said not allowing wet pubs to reopen was a "stunning act of Government hypocrisy".
Fianna Fáil TD Barry Cowen said he felt disappointed and disheartened for publicans.
"They understand their huge responsibility, they wanted to be trusted but are not, it appears," he said and called for statistical evidence behind the ban on wet pubs.
The Irish Hotels' Federation described the decision not to allow inter-county travel until 18 December as "short-sighted".
IHF chief executive Tim Fenn said: "We are calling on the Government to reconsider this decision."
While people will be permitted to travel around the country from 18 December until 6 January, it is not clear what the advice will be regarding travel to Northern Ireland during Christmas.
Micheál Martin said the Government will monitor the effect of restrictions in the North over the next few weeks and will examine the matter again.
Level 3 comes into effect next Tuesday.
A key message from Government during the month of December will be that "every contact counts". Up to three households can gather together between 18 December and 6 January.
Sinn Féin called for a ramping up of testing and tracing to ensure Ireland avoids falling back into heavy restrictions.