Heartbroken fans of Argentine football star Diego Maradona gathered on the streets of Buenos Aires and Naples, Italy to mourn their hero following news of his sudden death.
Argentinian President Alberto Fernandez declared three days of national mourning after the 60-year-old footballer died at home of a heart attack after battling a series of health problems.
In Buenos Aires, fans laid bouquets of flowers near Maradona's former club, Boca Juniors. Others gathered in the San Andres neighborhood where he lived and in the nearby city of La Plata where he had lately been technical director for local team Gimnasia y Esgrima.
Digital signs used for public transportation updates were illuminated around the city with the message "Thank you, Diego."
"Diego is the greatest there is, the best. I met my wife in 1986 when Diego scored the goal with his hand," said 53-year-old Buenos Aires resident Jose Luis Shokiva, referring to a goal Maradona scored with his hand against England in the 1986 World Cup in Mexico.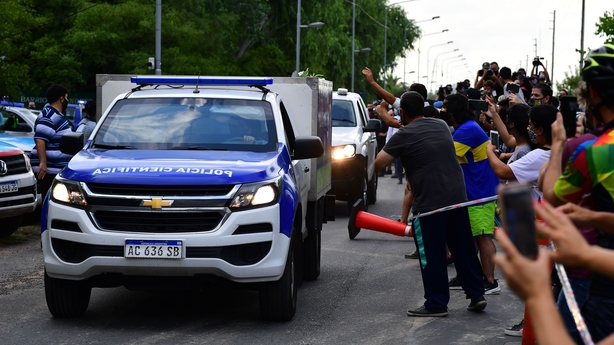 Maradona was globally famed as one of the greatest soccer players of all time, but at home was idolised as a god. Fans have long referred to him as 'El Dios' - which means 'The God', but is also a play on words on his number 10 shirt, 'El Diez.'
Soccer supporters in Naples also gathered to bid farewell to Maradona, who won the hearts of the southern Italian city by leading the club Napoli to its only two league titles in 1987 and 1990.
Hundreds of fans flooded into the streets of the city's Spanish Quarters, many of them lighting a candle beneath a huge mural of the legendary Argentine in his sky-blue jersey.
"Ciao, God of Football," read paper signs affixed to the walls of the working class neighbourhood by fans, while others left flowers and messages.
All the lights and spotlights were turned on at the Stadio San Paolo in memory of Maradona, a shining beacon in a city otherwise subdued by a curfew and closures imposed in the face of coronavirus.
---
Maradona - Tributes to a diminutive football colossus
---
Naples Mayor Luigi De Magistris called for the stadiukm to be renamed in honour of "the greatest footballer of all time".
"Diego made our people dream, he redeemed Naples with his genius," he tweeted. "Diego, Neapolitan and Argentine, you gave us joy and happiness! Naples loves you!"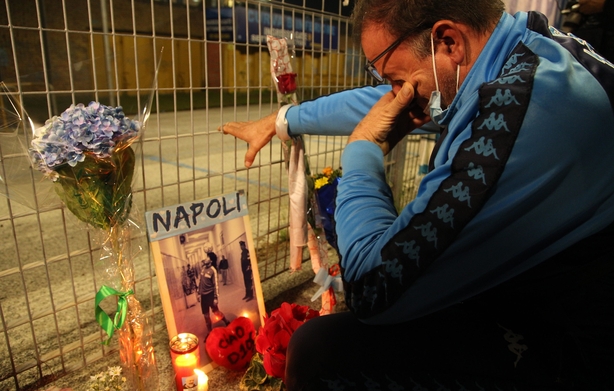 Prayers for Maradona were forthcoming not only from Italy's south, but from the Vatican as well.
The Argentine Pope Francis, said a Vatican spokesman, "thinks back with affection to the encounters in recent years and remembers him in prayer, as he has done in recent days since he learned of his health condition".
Diego Maradona's body will lie in state at the Casa Rosada presidential palace in Buenos Aires during three days of national mourning.
This will allow the public to pay homage to the sporting hero "from Thursday until Saturday," a presidency spokesman told AFP.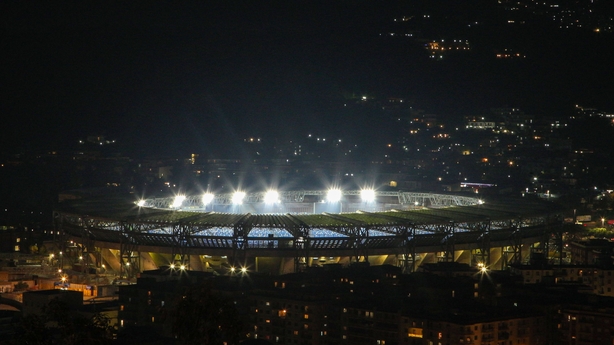 It was also revealed that Maradona's remains will undergo an autopsy "to establish the cause of death," public prosecutor John Broyard said.
"The autopsy will be performed to establish the cause of death, which has only natural characteristics," the prosecutor told reporters outside the house where the soccer idol died earlier in the day.
Mr Broyard said the football legend died "at 12 noon".