EU and UK officials are in last-minute talks to avoid a potential two-way ban on a wide range of foods including sausages, mince and prepared meals moving between Great Britain and the island of Ireland next year, RTÉ News has learned.
Under EU rules, there are restrictions of certain meat products from outside the European Union.
Such products would therefore be prohibited from entering Northern Ireland from Great Britain, as it will still be operating EU food safety rules from 1 January under the Northern Ireland Protocol. 
However, the UK has indicated it will, in turn, apply reciprocal restrictions on such foods coming from Ireland.
This is because the UK has said it will replicate the EU's food safety regime, including the EU's range of restrictions on certain meat products.
In response to the reports, a UK government spokesperson has said: "We will ensure that there is no ban on trade in sausages from Great Britain into Northern Ireland.  We are working to find an appropriate solution through the Joint Committee process".
We need your consent to load this rte-player contentWe use rte-player to manage extra content that can set cookies on your device and collect data about your activity. Please review their details and accept them to load the content.Manage Preferences
---
Latest Brexit stories
Two-way food ban 'reflection of many issues of Brexit'
---
EU and UK officials are engaged in technical talks to find a way around the issue, which has come to light in recent weeks. It is understood no solution has yet been found.
Industry sources have warned that the problem could pose a major disruption to existing meat supply chains between the island of Ireland and Great Britain.
Under EU food safety rules, animal-based products coming from outside the EU must be frozen, meaning that certain meat products, which are fresh or chilled, are not permitted.
Such products would, under the Northern Ireland Protocol, be prohibited from entering Northern Ireland from Great Britain.
The list of banned foods includes chilled minced beef, minced pork or sausages and also poultry that is either frozen or chilled (poultry attracts stricter rules).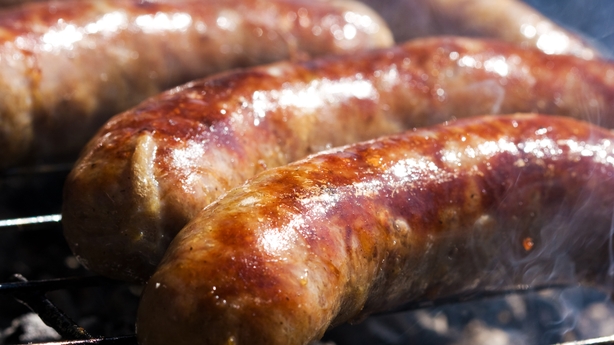 Any fresh meat products, including minced meat and meat preparations, which source meat from the EU - and then export to Great Britain where they are cut or minced and re-exported to Northern Ireland - would also be banned.
The latter prohibition is because only the country in which the animals are slaughtered can provide the animal health guarantees to certify the product.
There are further restrictions on chilled, unprocessed and uncooked sausages.
Chilled prepared meals, such as meat lasagna, will be banned if they include uncooked meat and are chilled but not frozen. 
Industry sources say broader restrictions could extend to a range of foods including seed potatoes, seeds, breaded poultry, sausages, fresh mince, pork stuffing, marinated meat, barbeque products, meatballs, turkey meatballs, lamb mince, kebabs and flour with fortified additives.
Officials have confirmed to RTÉ News that because the UK has said it would mirror the EU's food safety rules, then reciprocal restrictions could apply on such products moving from Ireland to Great Britain.
In general, any meat products entering the EU must be accompanied by an export health certificate, which is signed off by a designated veterinary official in the exporting country.
No such certificates are available for prepared meat products which are not frozen, while other products are subject to an outright ban.
EU officials say the ban on such goods remains even if a third country is listed as a safe country from which to import food. They insist the EU's food safety regime is there to protect consumers.
The Department of Agriculture, Food and the Marine has confirmed the problem.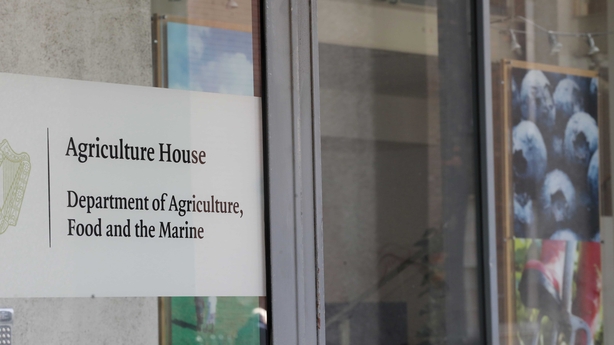 In a statement to RTÉ News, the department said: "EU Regulations set down the model health certificates for meat preparations which must accompany all imports of such products into the EU. 
"The relevant Regulation requires these meat preparations to be frozen, and currently does not provide for a certificate to allow for the import of fresh or chilled meat preparations into the EU," the statement said.
The CEO of Bord Bia has said that as of yet, not enough clarity has emerged from the negotiations to establish the potential impact or the number of producers that could be affected by the ban.
Speaking on RTÉ's Six One News, Tara McCarthy said Irish food companies cannot control what is happening in Brussels, and Bord Bia's message would be for Irish producers to look at their preparation and engagement with customers, as well as diversification.
She said 37% of Irish food exports - worth €4.5bn annually - goes to the UK.
The UK has said it will start applying its own food safety and animal health regime from 1 April, 2021.
However, London has indicated that from that moment it will effectively copy the EU's food safety rulebook, including the use of export health certificates modelled on EU certificates.
The Irish Department of Agriculture said: "Whilst the UK have not yet published their import health certificates, they have said that they intend on using EU import certificates as the basis of the certificates they will use for EU [ie; Irish] exports to Great Britain."
The effect of copying the EU's rulebook would mean that any ban on sausages, mince, and chilled prepared meals entering Northern Ireland would be reciprocated by a similar ban on such foods sold by Irish meat producers entering Great Britain.
Sources have said that, whether or not there is a ban, there could be a capacity problem given that Irish vets would have to sign off on huge volumes of export health certificates for Irish meat consignments going to the UK from 1 April.
In 2018, Ireland exported 335,000 tonnes of beef, pig, sheep and poultry meat worth €1.3 billion to the UK, according to the Central Statistics Office (CSO).
EU and UK officials have been in discussion about the issue for a number of weeks.
According to a Government statement: "The Department of Agriculture, Food and the Marine is monitoring these discussions very closely given their potential impact on the agri-food sector."
One official familiar with the issue said: "It's becoming clearer that this would be a two-way thing.
"If the ban [on such foods entering Northern Ireland] is a consequence of EU law, and the Brits are going to say, we're going to apply the same rules in the opposite direction - which people would say was reasonable.
"Then the effect of that [means] the very acute issue of these raw, chilled meats - there would be restrictions there."
The issue is one of a range of challenges which retailers north and south will face once Brexit takes effect on 1 January.
There is a general problem of how Northern Ireland supermarkets will cope with large volumes of mixed food consignments, many of which will require export health certificates and customs declarations, coming from Great Britain.
The issue is being dealt with through the EU-UK Joint Committee, which is tasked with implementing the Withdrawal Agreement, including the Northern Ireland Protocol.
London has sought broad exemptions from EU food safety and animal health rules so that food consignments going to Northern Irish supermarkets would not face full-blown physical checks and require costly export health certificates.
British officials have suggested that the internal stock monitoring systems used by supermarkets should provide a degree of reassurance for the EU when it comes to food safety and tracing any food products which cause problems. 
They are also pressing the European Commission to utilise a World Trade Organisation (WTO) mechanism which, officials say, could also provide reassurance. 
British sources say the UK has agreed that it will maintain EU food safety and animal health rules from 1 January.
They say that if London decides to diverge from any of those rules, then the EU could alert the WTO and trigger a consultation period, during which nothing would change. 
UK sources say such a period could last between six and nine months.
Combined with a self-audit by supermarket and retail chains, officials say, this should mean that the strict spectrum of EU controls should not be required for supermarkets in Northern Ireland.
The European Commission has declined to comment.