Last Friday, for anyone who had the time or inclination to check the Seanad schedule, it listed a motion on young people tabled by the Fine Gael senators, which was due to be debated tonight.
At what is an incredibly tough time for young people, there would have been plenty to discuss in what was an extensive motion which covered employment, social issues and commended the youth for being "stoic" in the face of the pandemic.
But that motion "got the shove" as Labour Senator Marie Sherlock put it, when Fine Gael altered its plans.
In a revised schedule, distributed on Monday, Fine Gael's private members' time was to be used to debate a motion on what it describes as a loophole in the law on political donations which, in particular, sought to shine a light on €4 million which had been left to Sinn Féin in the will of an Englishman, William Hampton.
There was no suggestion that Fine Gael's change in direction had anything to do with Sinn Féin's motion of no-confidence in the Tánaiste and Fine Gael leader, Leo Varadkar, announced on Friday and debated on Tuesday night.
Barry Ward, the Fine Gael Senator and barrister who tabled the motion, said he did so because the €4 million – the largest donation ever made to an Irish political party - was causing concern and was something that needed to be aired.
But it certainly gave Fine Gael the opportunity to turn the focus back on Sinn Féin, and to fight another round in the increasingly intense boxing match between the two parties.
Both debates – held on Tuesday and tonight – went to the heart of concerns around transparency, accountability and ethics in public life. Valid points were made in both discussions by all sides of both Houses.
To observers around Leinster House, though, these motions were every bit as much about politics – and in particular where those two parties are positioning themselves on the changing political landscape.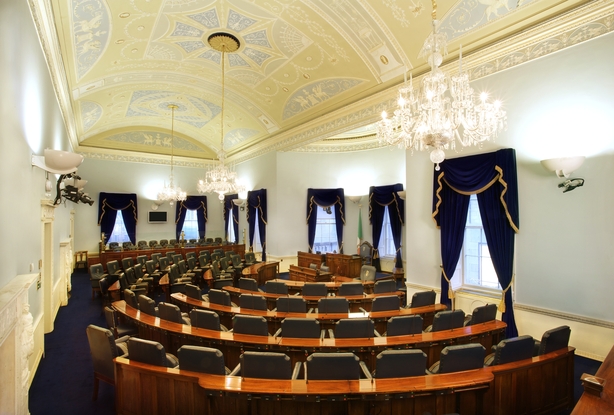 In a competitive political field, with more parties and groups than ever before, there is a theory that it suits both to present Irish politics as a binary choice between their opposing views, or – as Labour's Aodhán O Ríordáin put it "between the Varadkar conservatives and populist nationalism".
Sinn Féin did not manage to bring any new revelations, or indeed arguments to the table when they debated the no-confidence motion on Tuesday night.
Mary Lou McDonald said the Tánaiste's actions in leaking a document relating to a GP contract were part of "insider cosy club politics" involving "favours for friends, connections to pals" while Debenhams workers and survivors of Mother and Baby Homes were "frozen out".
In round two in the Seanad, Fine Gael sought to expose what it sees as a hypocrisy at the heart of this argument .
Senator Sean Kyne made the comparison between big-money US politics and what we have here which is a "low cost, low spend, transparent and accountable system of politics".
He said anyone who puts their name on the ballot paper should not have to compete with anyone who is not following the same guidelines. "How can we know that that €4 million will not be spent in the Republic? That is the issue at stake here," he said.
His party colleague, Senator John McGahon spoke of a "deep, dark and corrupt pit of money that the Sinn Féin party uses," saying that the motion was being brought forward to "shine a light on those dark corners of our democracy".
Among the provisions in the proposal by Senator Ward is a requirement that political parties would have to make an annual declaration that they are not spending funds raised in other jurisdictions.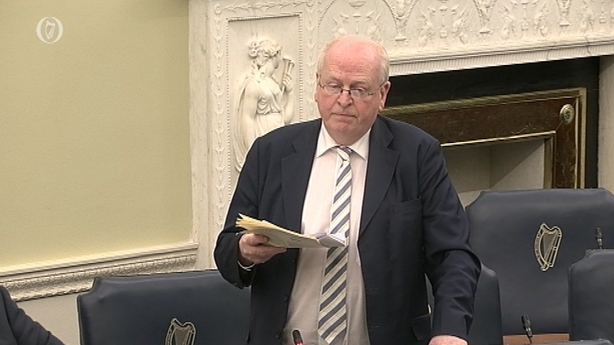 In other words, that they should have to state that the €4 million bequeathed by Mr Hampton, would not be spent South of the border.
He said the most notable thing about it was that it "came with conditions" that it was for the political party in the Republic of Ireland.
"Either they are disagreeing with the conditions of the bequest of Mr Hampton, or they are proposing to spend it other than solely in the North of Ireland," Mr Ward said. "And the difficulty is, we cannot be sure."
Other parties agreed on the substantive issue of the need to reform this particular aspect of the SIPO rules and all parties, bar Sinn Féin, supported the motion.
Labour's Rebecca Moynihan said it is a much bigger issue than just Sinn Féin, and made a comparison to how money was funnelled to the DUP for the Brexit referendum to get around campaigning spending limits.
Senator Michael McDowell suggested that a blind eye was turned to Sinn Fein's fundraising in America in the past, at a time when the Government was trying to get the Good Friday Agreement across the line, but that now is the time to legislate "to ensure that the legacy of distorting the democratic process ends now."
I worry if our political debate becomes polarised between Sinn Féin on the one side and Fine Gael on the other side, said Fianna Fáil's Malcolm Byrne.
But other parties were critical too of what they saw as a use of the Seanad schedule for what is an escalating battle between Sinn Féin and Fine Gael, in which both seek to play to their base to mutually benefit from their strident opposition to one another.
"I think it is very unfortunate that we take up two hours of what is a precious schedule to debate these issues," said Senator Marie Sherlock.
She said while there are serious issues around donations, they should be dealt with through legislation brought forward by Government parties instead of motions that have no effect. (Senator Ward said the proposed legislation is being worked on.)
"I worry if our political debate becomes polarised between Sinn Féin on the one side and Fine Gael on the other side," said Fianna Fáil's Malcolm Byrne.
"We can hear all the slogans and all the fighting between Sinn Féin and Fine Gael. But I am not going to allow the polarisation in politics to develop. For a party in the political centre, we will respond with policies."
It is a polarisation, he said, which is being driven by "fancy memes and hashtags".
And that is something there was no shortage of as both sides got their messages out about their motions questioning each other.