SIPTU has called on the Government to amend the Employment Wage Subsidy Scheme to pay aviation workers 85% of their pre-pandemic earnings in order to maintain employment in the industry.
In a submission to the Oireachtas Committee on Transport and Communications Networks ahead of a meeting tomorrow, SIPTU aviation sector official Neil McGowan said the EWSS should become a short-time working scheme based on the German model, which delivers 85% of pre-Covid-19 wages.
However, the union insisted that firms availing of the EWSS should be subject to conditions, including not being allowed to implement compulsory redundancies.
SIPTU also said no worker should suffer a permanent reduction in any condition of employment "unless by collective agreement" while an employer is benefiting from the EWSS.
Mr McGowan's submission also reiterates a previous call for Shannon Airport to be reintegrated into the management of the daa, and that all recommendations of the Aviation Task Force should be implemented without delay.
In a separate submission to the Oireachtas Committee, the deputy general secretary of the Fórsa trade union Matt Staunton will also demand that ongoing Government support to business should be on "strict conditions" that they will not implement compulsory redundancies or offshore services.
Fórsa represents several thousand aviation sector workers in companies including Ryanair, Aer Lingus, airports, air traffic control and regulatory bodies.
He cites research by the Department of Business Enterprise and Innovation which established that the Irish aviation sector has experienced a larger decline than anywhere else in Europe.
Mr Staunton will tell the committee that Irish aviation is at risk of being left behind while the rest of the world moves on, "...with potentially very serious implications for the national economy and 140,000 quality aviation jobs, in addition to industries and local economies that rely directly on the industry".
He warns of the need to guard against the offshoring of work currently delivered by Irish workers.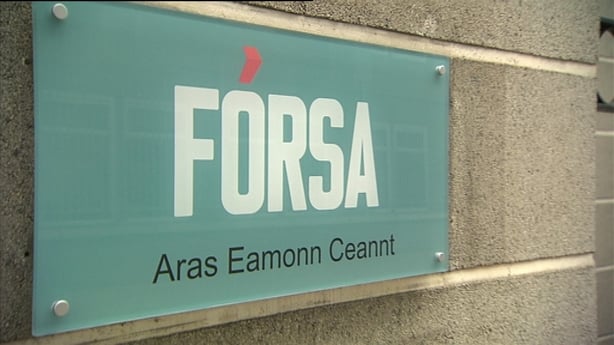 The Fórsa official acknowledges the crucial importance of the €80m State funding package for the aviation sector along with ongoing wage supports, and describes Ireland's integration into the EU traffic-light system for international travel as a "first step".
However, he warns of the need for further supports, saying "the importance of the aviation industry to Ireland's economy demands that a great deal more intervention is probably going to be necessary for the next number of years.
"The situation for aviation is getting worse, not better, during this latest phase of tackling the pandemic. We are all stakeholders in this industry and we cannot afford not to act."
Meanwhile, the submission from Limerick Chamber calls for reforms in aviation policy to address serious regional imbalances between Dublin and the regions.
Limerick Chamber chief economist Catriona Cahill cautions against promoting regional imbalances by focusing mainly on the capital, saying this could have serious implications for the timeline for restoration of routes in regional airports.
She notes that this could have consequences for the speed of the economic recovery.
Ms Cahill advocates "low hanging fruit" measures to address regional imbalance, including allowing Cork and Shannon airports official access to funding via the regional airports programme, implementing a fund to support route development from regional airports, and ensuring that Project Ireland 2040 and enterprise policy aligns with aviation policy.
"This is not a regional versus Dublin argument. For Ireland to thrive, Dublin needs to thrive but so do the regions. These do not need to be competing interests, " she says in the submission.
Ms Cahill also argues that there is no level playing field between State and private airports, with Cork and Shannon airports historically excluded from accessing capital supports under the Regional Airports Programme "despite meeting EU criteria for such desperately needed aid".