A teenager from Co Offaly has been "inundated" with orders for his handmade reindeer decorations after his mother put up a post in a popular Facebook group.
15-year-old Anthony Gorman makes the €20 decorations in his father's shed at home in Killeigh, near Tullamore.
His mother's post about his endeavours has been viewed almost 100,000 times in the rapidly-expanding 'Shop in Ireland' Facebook group.
The group, which began last month and already has more than 140,000 members, aims to encourage people to "buy Irish" and "shop local".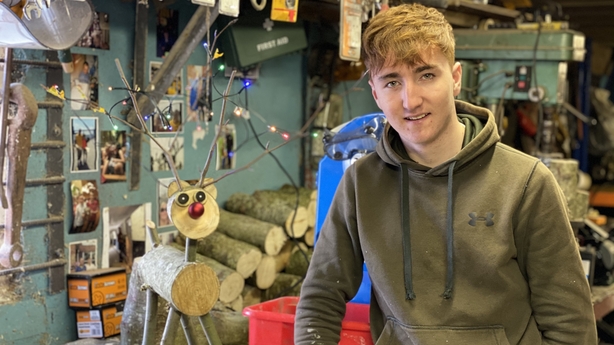 "I started making the reindeers last Christmas, as I was saving up to buy a phone. I brought one into school to show my business teacher. She thought it was brilliant and took it into the staff room. I think I came home that day with around 20 orders from teachers! Every day after that I was going into school with about eight reindeer. It was brilliant," Anthony explained.
After selling 150 reindeer last Christmas, the Offaly Student Enterprise Award winner set his sights on increasing his sales this year.
"Last year I started making them in December. But this year I started much earlier, at the beginning of October. I want to sell 1,000 reindeer, but I realised I needed to start moving them. So I asked my mother to put them up on Facebook. I thought I would maybe get around ten orders from Facebook, which would be brilliant to start me off."
"That morning my dad and I went cutting legs for the reindeer. I came back an hour later and checked my phone. And I had over 200 orders on my phone! I thought that was mad, but it has just got better and better."
We need your consent to load this rte-player contentWe use rte-player to manage extra content that can set cookies on your device and collect data about your activity. Please review their details and accept them to load the content.Manage Preferences
Anthony says he is now aiming to distribute all 1,000 reindeer, which are made from locally-sourced ash, once Level 5 restrictions are lifted. 
"Orders have come in from all over Ireland, from Donegal to Cork. There have been a huge amount of orders from Dublin and Meath. I think people like them because I am so young. They are just so surprised that a 15-year-old can produce all of this."
Anthony's mother, Martina, said: "It's been phenomenal. As parents, we are just flabbergasted at all the kind comments that have come in. We are trying to get back to all of them, because it means so much. Anthony has worked so hard on this, while still at school. It's just fantastic."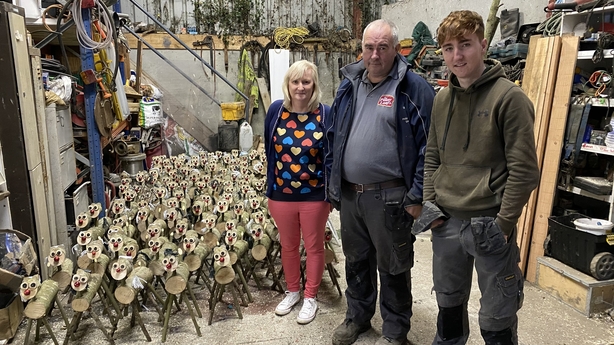 Commenting on his success, Teresa Venables from the 'Shop in Ireland' Facebook group said: "Anthony with the reindeers is our top post, with over 8,000 likes, and nearly 800 comments or enquiries.
"The group has a lot of active members and is growing very quickly. I started the page, then two of my sisters came on board to help, followed by two other friends. It's all voluntary and it is hard work, but we love it."