Chief Medical Officer Dr Tony Holohan said it was a "concern" that the Covid-19 infection rate in Dublin is not dropping "in the way we would like it to" as the Department of Health reported 767 new cases of the disease across the country.
There were two further coronavirus-related deaths, bringing the total to 1,917.
The cumulative number of cases now stands at 62,750. This includes the denotification of 19 previously confirmed cases.
The number of people in ICU with the disease is 44, down three from yesterday. The number of confirmed cases of Covid-19 in hospitals is 322 with 16 new admissions over the past 24 hours.
Dr Holohan told a press briefing this evening that the National Public Health Emergency Team has not seen as big a reduction of virus cases in Dublin as it would like.
"We have not seen the drop there that we have seen across the rest of the country."
Cases were averaging out at between 200 and 300 cases per day in the capital in the seven-day moving average.
Asked about the reasons for this, Dr Holohan said Dublin is a large city with a concentrated population.
The extra restrictions in place in the capital - with Level 3 plus commencing on 19 September - had not been having the desired effect in slowing the infection.
The CMO said he would like to think the effects of Level 5 in the capital will be seen over the course of the next week.
Deputy Chief Medical Officer Dr Heather Burns announces an additional 767 cases of Covid-19, as well as two further deaths. There are also currently 44 people with the virus in intensive care | More: https://t.co/AaIAprtZJZ pic.twitter.com/CQbprtJdJv

— RTÉ News (@rtenews) November 2, 2020
The national 14-day incidence rate now stands at 248 cases per 100,000. The five-day average is 671 cases per day, confirmed Deputy Chief Medical Officer Heather Burns.
Cavan remains the county with the highest incidence rate (563.2), followed by Meath (482.5), Sligo (332.6) and Westmeath (309.8).
Counties with the lowest rates of infection include Leitrim (96.7), Wicklow (115.1), Tipperary (130.4) and Kilkenny (142.1).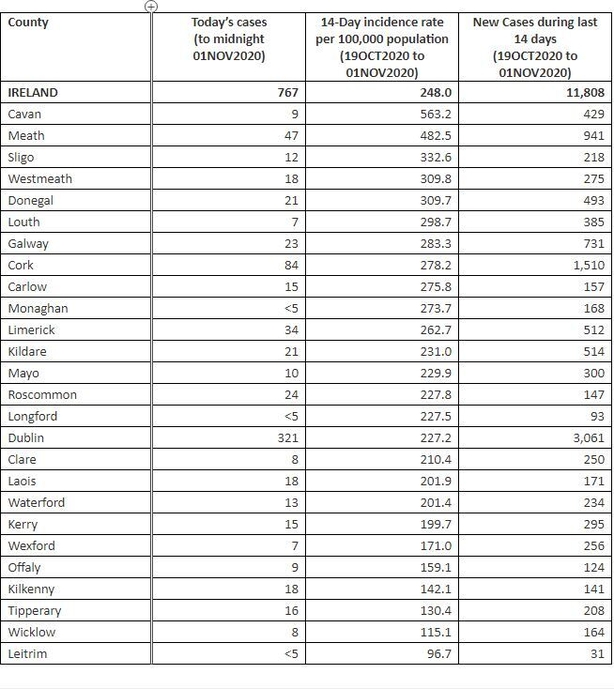 The Covid-19 cases reported today include 321 in Dublin, 84 in Cork, 47 in Meath, 34 in Limerick, 24 in Roscommon and the remaining 257 cases are spread across all other counties.
In total there were 103 Covid-19 related deaths confirmed in October of which 39 were in nursing homes. This compares to 36 deaths in September and five in August.
The HSE has reiterated that it is too early to say recent positive signs are an ongoing trend and GPs have warned people not to let their guard down.
Chief Medical Officer Dr Tony Holohan told a press briefing it was "far too early to say" if NPHET is satisfied with "where we are and where we have to keep going" as regards the current restrictions.
He said they are seeing continued reduction in the positivity rate in terms of testing and a high level of testing activity across the population.
There had been a decrease in the incidence of the infection across all parameters but "we still have a long way to go".
---
Interactive map: Covid-19 cases in your area
---
GPs are noticing a downward trend in numbers coming forward for requests and referral for testing.
However, Dr Holohan was concerned about the number of infections among the over 65s.
Asked about Christmas and people coming home from abroad to visit families here, he said NPHET would be considering advice on travel in the coming weeks.
But he warned that if we reduce the scale of infection in this population, then the importance of international travel as a source of infection increases.
"We haven't seen the drop in the way that we've seen across the rest of the country in the way we would like to"

.@CMOIreland says restrictions are having an impact in suppressing the virus, but Dublin has not seen the same drop other counties have|More: https://t.co/AaIAprtZJZ pic.twitter.com/2unB1nomYV

— RTÉ News (@rtenews) November 2, 2020
Dr Holohan said he does not think NPHET advised the country to move too early to Level 5.
He said it was clear from the data that the level of worry and concern was increasing throughout the month of October.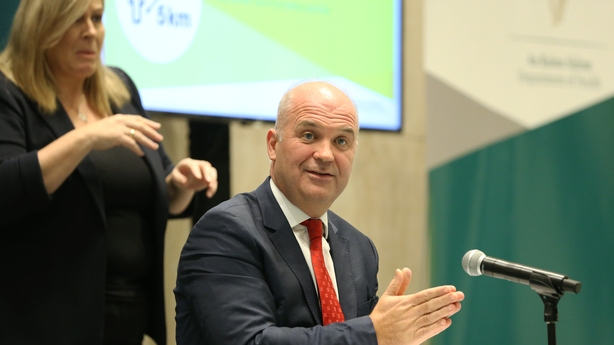 The CMO said he would not rule out reducing Level 5 restrictions earlier than planned but added: "I do not envisage, at this stage, being in a position to recommend that."
He knows these are very hard measures that are having an impact on people's day-to-day lives.
NPHET's concern is that people will start thinking things have got better and drop some of the important public health actions. "There is no basis at all for that."
"We would be concerned that people would get ahead and feel that things have gotten better to the extent that they can drop some important actions"

.@CMOIreland says people need to maintain the high standard of compliance with public health measures | https://t.co/AaIAprtZJZ pic.twitter.com/PPyJUA8oNt

— RTÉ News (@rtenews) November 2, 2020
Asked about to what he attributed the reduction in cases, Dr Holohan said it was as a result of the "hard work Irish people are doing in taking on public health advice and taking measures to protect themselves and families".
He said NPHET wanted people to keep up this standard of behaviour.
On the subject of a potential Covid-19 vaccine, the CMO said the "big challenge" for every developed country will be to distribute vaccines as quickly as possible, starting with the various priority groups.
"We're increasingly optimistic as an international community that we'll see developments, hopefully in the early part of 2021"

.@CMOIreland says there is optimism on a vaccine in the months ahead, but it will be a logistical challenge to roll them out | https://t.co/AaIAprtZJZ pic.twitter.com/zf2uvas4s0

— RTÉ News (@rtenews) November 2, 2020
HSE Integrated Care Lead Dr Siobhán Ni Bhriain told the press briefing there was a commitment to speeding up testing and tracing in schools.
She said decisions will be made where certain schools or certain subsets of the schools will be tested and these will be red-flagged when they go to the lab for testing to ensure as fast a turnaround as possible.
Deputy Chief Medical Officer Dr Heather Burns said the amount of effort that is going into schools is proportionate in terms of maintaining education safely for our children, the impact on their overall health and well-being and making sure that teachers and staff are safe.
The data on schools to date is very reassuring and 85% of schools have not required public health assistance, she told reporters.
In Northern Ireland, a further eight coronavirus-related deaths were recorded in the past 24 hours, taking the death toll to 724, along with 493 additional cases of the virus.
There are currently 379 patients with Covid-19 being treated in hospitals there, with 52 of these in intensive care.
Meanwhile 200 trainees and 60 instructors from the Garda college in Templemore are being deployed to frontline duties today to help their colleagues during Covid-19.
Justice Minister Helen McEntee said on Twitter: "We owe them, and all the men and women of An Garda Síochána, our thanks for the work they do to help suppress the virus."
"We've seen a decrease in the incidence across the various parameters... but we still have a long way to go"

.@CMOIreland attributes the lower number of new cases to the hard work people are doing in adhering to the public health advice | More: https://t.co/AaIAprtZJZ pic.twitter.com/FmVotmsfEc

— RTÉ News (@rtenews) November 2, 2020
Earlier today the Central Statistics Office said excess mortality for the period March to September this year is estimated at between 876 and 1,192.
Dr Holohan said 1,900 cases of Covid-19 have been reported in this country. NPHET had known for some time that the estimated number of excess deaths was lower than this.
He said there had been an increase in mortality, relative to what would have been expected, mostly in March and April and a little in May.
Then there had been a slightly lower mortality rate in the months after that compared to the previous five years. He agreed that excess deaths so far in 2020 were in the region of 900 or so.
He said there are other jurisdictions in the EU where the excess mortality rate is greater than can be explained by reference to positive Covid tests.
Also today, the World Health Organization chief said he is self-quarantining after someone he had been in contact with tested positive for Covid-19, but stressed he has no symptoms.
"I have been identified as a contact of someone who has tested positive for #COVID19," Dr Tedros Adhanom Ghebreyesus said in a tweet.