Mourners attending the funerals of Tadg and Diarmuid O'Sullivan - two of the three family members found shot dead at their family farm in a suspected murder-suicide - have been told that the life and death of the father and son had changed them all and they will never be the same again.
Parish Priest Fr Toby Bluitt said people were gathering "to make sense of the senseless", carrying a burden that not only seems to be, but is, overwhelming.
Anne O'Sullivan was joined by family members and friends at St Mary's Church in Castlemagner in Cork for the funeral mass.
Fr Bluitt said: "Grief is never an easy burden to bear and never more so when it comes in an untimely, shocking and tragic way."
With numbers restricted inside the church to 25 because of Covid-19, upwards of 40 people gathered outside, some lining the entrance, others in cars nearby.
Concelebrating the mass was Fr John Magner, who ministered to the O'Sullivan family this week as details of the suspected murder-suicide at the family farm at Assolas near Kanturk emerged.
In his homily, Fr Bluitt said it seems like the darkest hour of creation enveloped the O'Sullivan family and the community in recent days.
He said today's gospel speaks of a darkness coming over the whole world.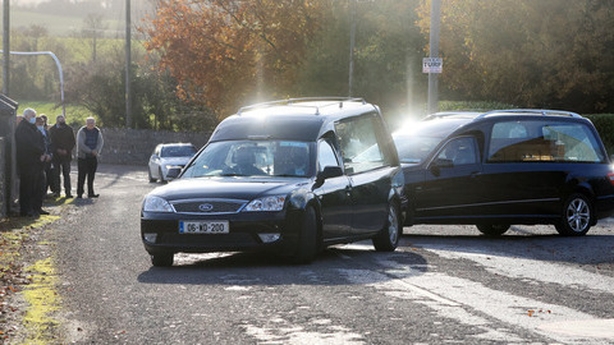 Fr Bluitt said: "Indeed it seems like the same darkness, the darkest hour of creation, enveloped the O'Sullivan family and the local community here in Castlemagner over the past number of days."
He said the shock, the numbness, the devastation, was impossible to imagine and the loss of the three lives was incomprehensible.
Fr Bluitt said Tadg and Diarmuid had touched many people's lives along the way "as they journeyed through life".
"Their lives and deaths have changed you all and you will never be the same again."
He said: "So today, gathered in our grief, we do not minimise the loss of their lives by trying to provide easy answers. Because there are no answers."
The coffins bearing the two men were taken by hearse to nearby St Bridget's Cemetery for burial.
As they travelled through Castlemagner, some people stood outside their homes and near the village pub to pay their respects.
Hearses bearing the bodies of Tadg O'Sullivan and his youngest son Diarmuid, bringing their coffins for burial at nearby St. Bridget's Cemetery following Requiem Mass in their parish church. @rtenews pic.twitter.com/uEHGVUPLHj

— JennïeØSullivân (@OSullivanJennie) October 30, 2020