A triathlete who contracted Covid-19 has described the "immense pain" and anxiety she suffered due to the virus.
Gráinne Kelly's symptoms included rib and back pain that "felt like someone had stuck a needle in my spine."
"I've never felt back pain like it ever in my life. And I would have a high pain threshold. I can hurt," explained the 31-year-old.
Fourteen days after testing positive for Covid-19, the Dubliner was admitted to hospital for tests to ensure she did not have blood clots.
"Thankfully I didn't but I was in immense pain and there was no explanation for the pain I was in," said Gráinne.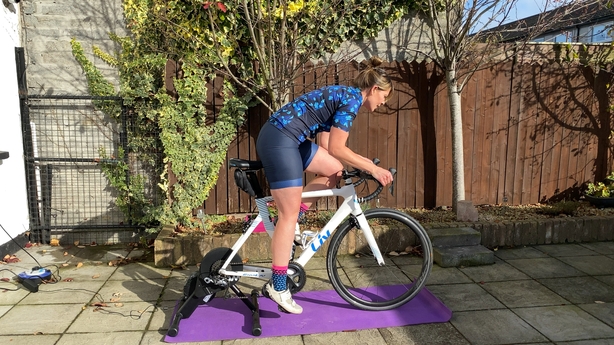 As an athlete, who only a month ago trained three times a day and easily cycled 100km at the weekend, Gráinne was surprised at the potency of the virus' symptoms.
"I'm the fittest I've ever been in my life. And the older I've got, the fitter I've got. I really look after my health. I really look after my sleep and my diet.
"At first I was just really cold. I had no breathlessness. I had no coughing. I had my sense as in I could smell and I could taste. Then it just progressed. I was bedridden. I just felt like sleeping the whole time.
"And then the back pain progressed. I could just feel it going up my spine the whole time like as if you could feel it travel up your body," explained Gráinne.
For Gráinne, it is not just the physical symptoms of Covid-19 that she found difficult.
She also had unsettling bouts of anxiety and stress.
"I was reliant on my mam to drop off food and I hated that because it really turned the tables. It's actually my mam who is the vulnerable person. She had a heart attack last year. She was cocooning and I was doing the shopping for her.
"I think that's what I found upsetting because I had to rely on her and she had to come to the house and I was terrified. I was like, 'just leave it at the door. Don't come near me.'
"And it makes you feel so vulnerable. You feel so withdrawn from people. You feel so withdrawn from the people that you need at the time you are so vulnerable. And I hated having to rely on someone I was trying to protect for the whole time," said Gráinne.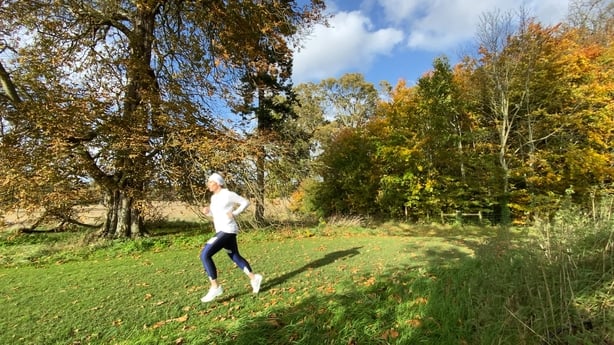 Gráinne is now focused on her recovery and getting her fitness back.
Her ambition is to be the number one female triathlete in Ireland with a view to going on the international circuit.
Gráinne has a training bicycle in her back garden and she runs at Sport Campus Ireland which is less than 5km from her home in Dublin.
Under Level 5 restrictions however, she is unable to do her swim training.
She is frustrated that gyms and swimming pools have closed as she believes fitness and exercise "could not be more important right now" for mental health.
"The pool is amazing. I can just focus on my stroke. I can focus on my times or I can focus on nothing. I can just swim. And just not be up here or be stressed or be upset. Or if I'm upset, I'm upset. I don't think anyone can tell you're crying in the water unless your goggles fill up.
"I just can't emphasise the place sport has for me. I've had hard times, as I've said, like anybody else. And I've had difficult times but sport has always been the one place where I find my happy place."