A manuscript dating from the late 15th century, containing material both from the Irish tradition and contemporary European texts, has been donated to University College Cork.
The Book of Lismore consists of 198 large vellum folios and was created at Kilbrittain, Co Cork for Fínghin Mac Carthaigh, Lord of Carbery (1478–1505). It became known as Leabhar Mhic Cárthaigh Riabhaigh.
The book begins with religious-themed material, mainly outlining the lives of the Irish saints and apocryphal tales associated with them, before passing on to material in translation: the History of the Lombards and the Conquests of Charlemagne.
The book also contains the only surviving translation in Irish of the travels of Marco Polo as well as tales of Fionn MacCumhaill and the Fianna, as told in the lengthy saga known as Agallamh na Seanórach.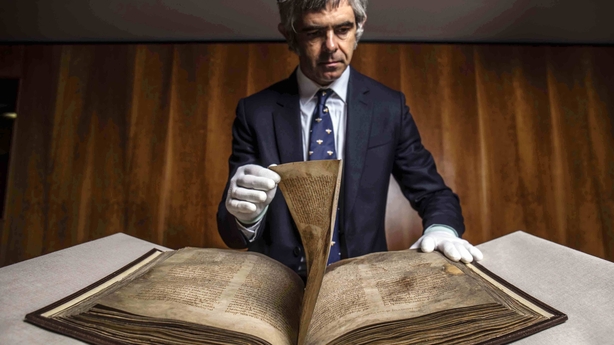 ---
Read more: Why the Book of Lismore is so important
---
The Book of Lismore itself also has a fascinating history.
According to UCC, evidence suggests it was kept at Kilbrittain Castle in west Cork until the 1640s when, after capture in a siege it was given to the Earl of Cork at Lismore Castle.
Walled up in the following century, possibly for safe-keeping, it was rediscovered, along with an 11th century crozier, during renovation work on the castle in 1814.
By the 1860s it had been restored to its present state and remained at Lismore until 1914 when it was transferred to Devonshire House in London and from there to Chatsworth in Derbyshire, ancestral seat of the Dukes of Devonshire.
The manuscript has been the property of the trustees of the Chatsworth Settlement since 1946.
In a statement, the Duke of Devonshire said his family hopes the book will benefit many generations of students, scholars and visitors to the university. The Book of Lismore will join over 200 other Gaelic manuscripts in the UCC collection.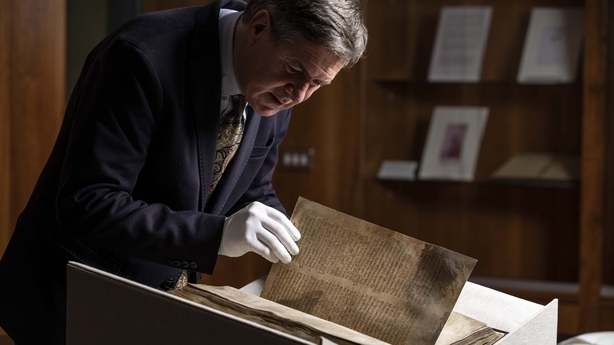 UCC will welcome the book back to Cork with a special virtual event at 11am today on its website.
The Book of Lismore will eventually be displayed in a Treasures Gallery that UCC plans to develop in its Boole Library. 
Taoiseach Micheál Martin said he was very pleased to welcome one of the great books of Ireland back to its county of origin, and he described it as a cultural resource which will be cherished and studied at Cork. 
Speaking on RTÉ's Morning Ireland, Professor of Modern Irish at UCC Pádraig Ó Macháin said the book "opens the door to us" on the intellectual activity in that part of Cork at the time and gives a "new angle" on scholarly lives and what was considered as entertainment to a noble lord of the Gaelic tradition.
"A lot of people feel that Irish manuscripts are the Book of Kells and nothing else", Prof Ó Macháin said.
"But actually we had a very strong and very rich scholarly tradition in Ireland in the middle ages, and this book exemplifies that."