There have been 720 new cases of coronavirus and five further Covid-related deaths reported to the Department of Health.
This brings the total number of cases here to 58,767. This includes the denotification of 20 previously confirmed cases.
There has been a total of 1,890 Covid-19 related deaths in Ireland.
At present, there are 341 people in hospital with the virus and 38 of these are in ICU. There were 29 additional hospitalisations in the past 24 hours.
There have been 79 coronavirus-related deaths so far this month, with 32 of these taking place in nursing homes.
This compares to 35 deaths in the entire month of September and five deaths in August.
Chief Medical Officer Dr Tony Holohan told a press briefing that "we are not at a stage that we can draw any conclusion that there is a trend from the fewer number of cases".
Although there have been fewer than 1,000 cases a day over the past four days, we "definitely cannot say that we have turned that particular corner".
Asked if the Government should consider introducing fines for people who refuse to self-isolate after contracting Covid-19 or developing symptoms, Dr Holohan said he feared this would only discourage people from coming forward.
He did not envisage advising the Government not to reopen schools after mid-term in terms of the data that the National Public Health Emergency Team was seeing on school transmission.
We need your consent to load this rte-player contentWe use rte-player to manage extra content that can set cookies on your device and collect data about your activity. Please review their details and accept them to load the content.Manage Preferences
Deputy Chief Medical Officer Dr Heather Burns told the press briefing that there are dedicated pathways in terms of contract tracing in schools.
She said they were controlled environments and there has been considerable "buy in" when it comes to keeping schools open.
In relation to Halloween, Dr Holohan said the kind of mixing between households that would normally happen during the celebrations "are just not going to be possible this year, I am afraid".
Covid-19 briefing hears 14,648 virus cases have been notified over past 14 days, the national 14-day incidence rate is now 308 cases per 100,000 population | https://t.co/JHZaHYoFYg pic.twitter.com/jmoKGNDfHQ

— RTÉ News (@rtenews) October 27, 2020
Of the cases notified today, 228 are in Dublin, 130 in Cork, 47 in Galway, 31 in Meath, 27 in Limerick and the
remaining 257 cases are spread across another 20 counties.
The latest cases include 348 men and 371 women and 65% are under 45 years of age. The median age of people contracting the virus is 32 years old.
The 14-day incidence rate per 100,000 of population for the country as is 307.6. The areas with the highest Covid rates include Cavan (962.2), Meath (662.2) and Sligo (439.5).
The counties with the lowest rates include Tipperary (133.5), Wicklow (142.5) and Kilkenny (175.3).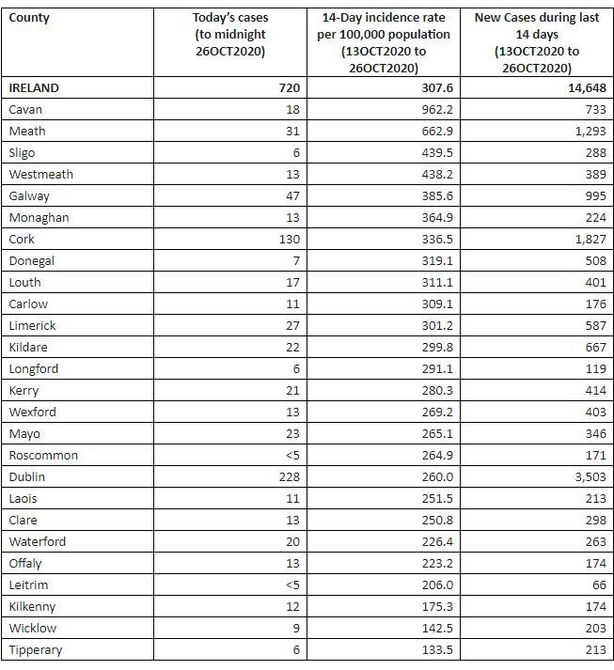 The positivity rate for Covid-19 tests in Ireland has fallen below 6%.
In the last seven days, 111,660 tests for the virus were completed and 5.7% of these tests were positive.
Dr Tony Holohan says there's a reduction in the reported total positivity rate of lab tests which needs to be looked into further. He says that while these are better signs, we are not at a point of concluding that Level 5 measures are having an impact | https://t.co/JHZaHYoFYg pic.twitter.com/eur2vH97dO

— RTÉ News (@rtenews) October 27, 2020
Dr Holohan described the testing and tracing system as "very robust". He was confident they will see "a significant suppression of this virus over the coming weeks. We just hope it will be as much as we need."
He would not anticipate what will happen after the end of Level 5 but he is "hopeful and optimistic". He hopes current levels of transmission will be "much much lower" by the beginning of December.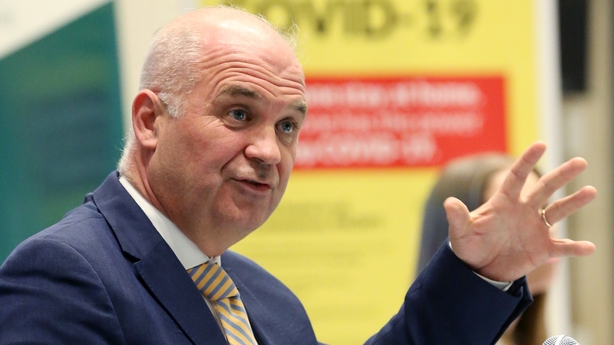 Dr Siobhán Ni Bhriain, HSE's Integrated Care Lead, said contact tracing staff have "very difficult calls to make".
At the NPHET press briefing, she said people can be very distressed on those calls and sometimes they are resistant to going in for Covid-19 testing.
It can be quite a tough experience for staff and they need to be supported. However, there was a rapid turnaround of around three days in dealing with most reported cases.
Asked about the Health Service Executive's promise that in eight weeks' time it will have 800 contact tracers recruited to deal with Covid-19, she said that was the aim.
Dr Ni Bhriain said the new employees will need to be trained in carefully so they are robust and resilient in dealing with the work.
She said the HSE had 3,500 applications for swabbers, over 800 of whom have been interviewed and they are gradually being rolled into the system.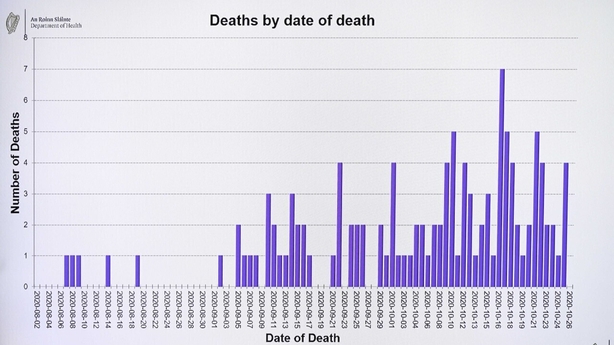 The Chief Medical Officer said the risk of picking up the coronavirus infection in this country without travelling anywhere is "very high".
Dr Holohan said he would reject any criticism that he was being alarmist, saying the risks around travel are very substantial.
In relation to plans for people to travel home to Ireland for Christmas, he said there was no express consideration about that from NPHET at the moment.
Dr Holohan said the group's weekly survey into people's behaviour, with 2,000 participants, has found a high compliance with social distancing and handwashing.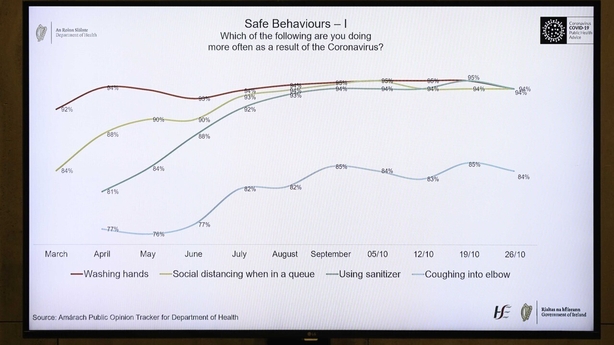 In relation to staying at home, 90% of people back in April said they were staying at home rather than going out, this dropped to 65% from July through to September.
Since the beginning of October, there has been a significant trend upwards in that metric with 81% of respondents now saying they are staying at home rather than going out.
Dr Holohan said 75% of people say they are sitting further apart from each other.
CMO Dr Tony Holohan says the testing and contact tracing system is 'very robust'. He also says he is confident they will see a 'significant suppression of this virus' over the coming weeks | https://t.co/JHZaHYoFYg pic.twitter.com/m6oy9OwsY4

— RTÉ News (@rtenews) October 27, 2020
He said the HSE, NPHET and other organisations are working on plans for when a vaccine becomes available.
There is increased confidence around the potential provision of some vaccines, but they also have to prepare for a situation where there are no vaccines available.
Asked about a recent survey showing just 55% of Irish people would take a Covid vaccine, Dr Holohan said if a vaccine becomes available, it would be a concern if a percentage of the vulnerable population did not get inoculated.
The health service would want to provide the vaccine to those in important positions, such as healthcare workers, as this would help protect everyone else.
Professor Luke O'Neill, an immunologist from Trinity College, told RTÉ's Prime Time that an effective coronavirus vaccine will come eventually.
But he said we will have to keep wearing masks and socially distancing for "some time yet".
Prof O'Neill said there are eight vaccines "out on front" at the moment which "will make a big difference".
The better the vaccine is, the more restrictions can be lifted, he added.
Prof Kirsten Schaffer, consultant microbiologist St Vincent's Hospital, told Prime Time that Level 3 restrictions - introduced in Dublin on 18 September - have "possibly worked" as the coronavirus case numbers have started to come down over the past few days.
Prof Schaffer said she is very worried about Christmas and the public needs to be told that it will not be a normal one.
Prof. Kirsten Schaffer, Consultant Microbiologist in St. Vincent's Hospital, was reassured by the slight decrease in cases this week and offered her thoughts on the prospects of a normal Christmas. #rtept #COVID19 pic.twitter.com/vWvJiRVB4u

— RTÉ Prime Time (@RTE_PrimeTime) October 27, 2020
When older and younger generations mix together "it's a much higher risk situation for the elderly".
She said social distancing and ventilation will need to be taken into account among households during the festive period.
Meanwhile, a new indoor drive-through Covid-19 testing centre with the ability to cater for up to 1,000 tests a day has opened in Limerick.
The HSE said the new testing facility on the old Wickes site at East Point Retail park on the Ballysimon Road is part of its drive to improve accessibility for testing in local communities.
In Northern Ireland, 722 people tested positive for Covid-19 in the past 24 hours. It recorded a further 13 deaths, taking the overall death toll to 671.
Also today, the Antrim Area Hospital warned it is operating beyond capacity due to the rise in the number of coronavirus patients.
Europe continues to experience a surge in coronavirus cases with Sweden becoming the latest country to advise people to take stronger precautions against the risk of infection.