The introduction of Level 5 restrictions has been greeted with dismay by many small business owners, a sector which will see closures across the country when the tighter rules kick in from Wednesday night.
Closing non-essential retail outlets and services for six weeks will mean darkness falls on many shops and other premises until the beginning of December, and some will fear they won't be in a position to re-open by then after long periods of closure already this year.
At Lisduggan Shopping Centre on the western side of Waterford city today, the mood was one of resignation mixed with worry.
The shutters are already down on some of the centre's berths following challenging times for business and more are set to go down tomorrow.
"The unthinkable is happening again, if you had said to be a couple of months ago that we'd be closing again for a second time I would have said you're mad," Anna-Marie Bardon of Anna-Marie's Hair and Beauty Salon said.
"It is hard but we all have families and we all have lovely clients, we're open here 17 years now this October and we have to keep them all safe and make sure we're doing what we should be doing. I definitely hope that we'll get back for Christmas."
Asked if she thinks they will be open again before then, she replied: "I don't know, I don't know… Look I hope that we will get back and there will be a bit of festive cheer and a nice time for the kids and everybody, please God. Hopefully there will."
She said the phone has been "hopping" since the announcement was made with extended opening hours expected until tomorrow night.
We need your consent to load this rte-player contentWe use rte-player to manage extra content that can set cookies on your device and collect data about your activity. Please review their details and accept them to load the content.Manage Preferences
Elsewhere in the Lisduggan Centre, Christine O'Brien at the 40 Degrees Slic Chic boutique said the new restrictions are "unfair" on such businesses.
"Very very disappointed that we have to close for six weeks," she said. "We should have been left open like everyone else, but what can we do?
"I wasn't really expecting it but there were talks about it all along so we kind of knew something was going to happen, but we didn't think it would be for six weeks.
"People were saying they'd close for three to four weeks, but it's a disaster with the six weeks. I don't really know what will hold after this, but hopefully it will sort itself and we'll see what happens after that."
Maria Taheny in Phelan's Shoes said the development is "very sad" for all involved. "We were only starting to get back on track and getting busy, and it's all falling asunder now."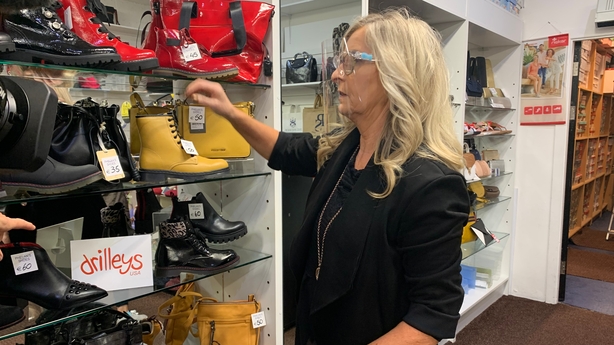 She appealed to everyone to shop local, when possible. "It's kind of overwhelming, you know?"
Pubs too are facing months of uncertainty, with warnings that unless the country goes to Level 2 in December, they will not be able to open in time for Christmas, apart from those who can do business based on 15 customers sitting outdoors.
"It's probably the right thing to do based on the way the numbers have been going," Martin Colbert in Norris's Bar in Waterford said today, in relation to the overall Level 5 decision.
"Everyone in the country felt something had to happen. We were already on Level 3, which meant we were closed for the last few weeks, and now with the further restrictions we're going to be closed until at least the 1st of December.
"The problem for us and other pubs is, on the 1st of December what happens? They're talking in terms of maybe going back to Level 3, that would mean we're still closed. What do they do then, give it three weeks at Level 3 and then tell us on maybe the 21st of December, it's okay to open your pub? NPHET and the Government don't seem to trust pubs, or publicans."
He said it's "very disappointing and very worrying times" for him and his counterparts.