There have been two Covid-19-related deaths and 814 new cases of the disease notified to the Department of Health in the past 24 hours.
This brings the cumulative number of cases here to 42,528 while the death toll stands at 1,826. 
Of the cases notified today 432 are men and 381 are women, 70% are under 45 years of age.
The median age of today's cases is 32 years old.
The breakdown of today's cases is: 226 in Dublin, 77 in Cork, 64 in Galway, 56 in Donegal, 48 in Meath and the remaining 343 cases are spread across all remaining counties.
Chief Medical Officer Dr Tony Holohan said: "It is vital that the entire population consistently implement public health advice into their daily lives; keep your social contacts to an absolute minimum and keep physical distance when you need to be out of your home.
"22 out of 26 counties have seven-day incidence rates as a percentage of 14-day incidence rates above 50%. This shows rapidly increasing growth rates across the country."
In Northern Ireland, another 1,066 cases of Covid-19 have been recorded over the past 24 hours. One further death was also recorded, taking the official Department of Health toll to 588.
There has been a further increase in the number of people in hospital in the Republic with Covid-19.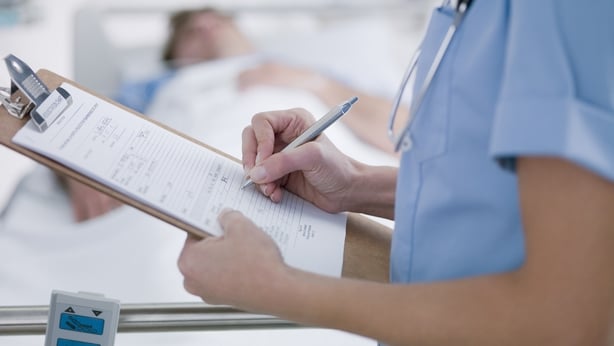 The latest figures show that 204 Covid-19 patients are hospitalised as of 2pm today, of which 30 are in ICU. There has been 16 additional hospitalisations in the past 24 hours.
Health Service Executive CEO Paul Reid said the situation in ICU care was being closely monitored but the system was not overwhelmed at this point.
Speaking in Athlone this afternoon, he said that in the event of a serious escalation of Covid-19 cases, there was a surge plan in place which would take effect immediately, but this would impact other services like cancer and cardiac care.
Mr Reid said 5,000 extra staff had been brought into the HSE including 152 consultants, 850 doctors and 1,500 nurses and midwives.  
He said there was a drive to recruit more staff but hiring was a difficult challenge right now with an ongoing urgent recruitment drive globally.
However he said the current Winter Plan was addressing the need for more staff and beds.
In a tweet this morning, Mr Reid said Covid-19 is "worsening at a pace" and urged people to "turn this around quickly by doing the right thing today". 
#COVID19 is worsening at pace.We all need to get real & play our part to protect patients & our healthcare workers.Increased hospital cases leads to more people in ICU & cancelling heart, cancer & other care.Let's turn this around quickly by doing the right thing today.@HSELive

— Paul Reid (@paulreiddublin) October 11, 2020
A research team at King's College London, which includes a Dublin doctor, has been looking into the effects of Covid-19 on older adults. 
The key finding was that new-onset confusion or 'delirium' was an important symptom of Covid in those who were frail.
Of the hospital patients studied, almost one-fifth had confusion as the only presenting feature of the disease, highlighting the importance of public awareness of this symptom.
TCD graduate, Dr Mary Ní Lochlainn, a Specialist Registrar in Geriatric Medicine and a Doctoral Fellow, undertaking a PhD at King's College London was involved in this work.
"This finding will be of particular importance in nursing homes where the staff can look out for confusion or changes in behaviour amongst residents," Dr Ní Lochlainn said.
CEO of Restaurants Association calling for 'circuit break'
Meanwhile, the CEO of the Restaurants Association of Ireland has called for a "circuit break" to be introduced by the Government to curb the spread of Covid-19. 
However Adrian Cummins said that restaurants should continue to be allowed to serve food to customers outdoors.
Speaking earlier on RTÉ Radio One to Brendan O'Connor, Mr Cummins said that he was asking for restaurants to be shut down for the next month in order to "save Christmas" which is when they generate 30% of their annual income.
However Mr Cummins told RTÉ News that he believed that restaurants and hospitality are "effectively shut down" at the moment.
"What I'm saying is the Government needs to bring in the short circuit [breaker] and bring the rest of the economy, the non-essential services down to the same level as us for a short space of time, for three to four weeks, so we can re-open the economy and save Christmas for retailers, for hospitality and for the general public," Mr Cummins said.
He said that he was not calling for a Level 5 shutdown, which would see bars and restaurants closed to diners altogether.
He said he thought that outdoor dining should continue for those businesses that can manage it, however he said that only 20% of restaurants have outdoor dining capacity at the moment.
"I think there has to be some sort of outlet for people. What restaurants are providing is some sort of social outlet under severe economic sanctions for our industry. It is very limited, with just 15 people (allowed), it's not viable."
Mr Cummins said restaurants are effectively at Level 4 at the moment.