A 32-year-old man has been found guilty of the murder of his former flatmate by stabbing him over 60 times before dumping his body in the gateway of a country lane in north Co Dublin.
Sebastian Barczuk, with an address at Briarwood Lawn, Mulhuddart, Dublin 15, had pleaded not guilty to murdering his friend Michal Kurek, 33, at a place unknown within the State between 3 and 4 August 2017.
He was convicted after CCTV, DNA and phone evidence was presented in the Central Criminal Court.
Mr Kurek, 33, was a homeless man from Poland who had addiction difficulties, was found lying face down in the gateway of a country lane in Ballyboughal with 62 stab wounds to his body, including 25 knife wounds to his back on the morning of 4 August.
There were multiple stab wounds on his upper limbs, which the State Pathologist told the court could be regarded as defensive type injuries,
A Nokia 105 mobile phone was located in the right hand pocket of his jeans and the handset was still powered on.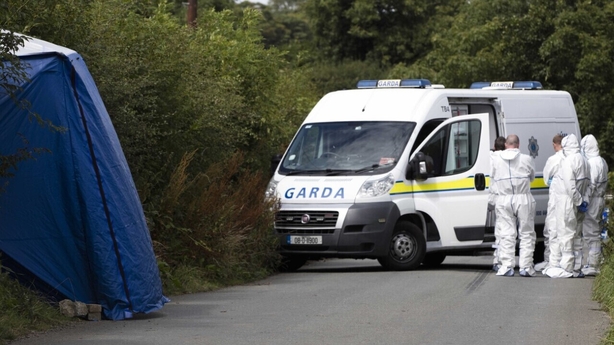 Sebastian Barczuk told the Gardai he did not know who had killed his friend, "probably some psychopath". He also said he had "no idea" why his friend was killed saying, "maybe he had debts".
However, he admitted that his phone had been in contact with Mr Kurek's phone six times the day before with the final contact between them at 9.45pm when Mr Kurek texted Barczuk.
The phone was inactive for the next three hours but both men's phones were then found to be in the Ballyboughal area where the body was found just before 1am the following morning. The last text that Mr Kurek had sent to his friend had been erased from his phone.
The trial also heard that the lower amount of DNA in a mixed profile taken from Mr Kurek's Nokia phone matched the DNA of the accused man.
CCTV was shown to the jury of a blue Fiat Punto car travelling from Clonsilla the evening before and into north Co Dublin in the early hours of the morning on the day Mr Kurek's body was found.
A witness gave evidence that she had sold Barczuk a Fiat Punto two days before his friends body was found.
After deliberating for nearly 13 hours over the last four days the 12 jurors found Sebastian Barczuk guilty of murder by a majority verdict of 11-1.
The 32-year-old will be sentenced to the mandatory term of life in prison next month.