A garda drowned in a diving accident off the Wexford coast last year after his oxygen spiked while he was underwater, an inquest has heard.
This caused convulsions which led to his mouthpiece falling out and water entering his airways.
Dave Hearne, 47, was originally from Fethard-on-Sea in Co Wexford but living at Upper Grange Road in Waterford city with his wife Barbara and children Dylan, Toby, Noah, and Libby.
An experienced and accomplished technical diver, he was a former member of the Garda Water Unit and rescued many people over the years during the course of his job.
He was a member of the Hook Sub Aqua Club and organised a dive on 25 May last year from Slade Harbour to a shipwreck about 20km off the coast.
It took place during the morning, with sea and weather conditions quite calm.
An inquest heard today that, after diving to the wreck from the dive boat, he was found on his back near the bottom of the sea - without his mouthpiece in place - by colleague Colin Brennan.
"I tried to get the mouthpiece of his breathing loop back in his mouth, but could not," Mr Brennan told the inquest, adding that there was blood coming from Mr Hearne's mouth.
The other diver said that Dave Hearne's teeth were clenched shut and he wasn't able to prise them open. There was no response from the garda.
Mr Brennan told another diver, Jerry Campion, that "Dave is dead".
Jerry Campion told the inquest in Waterford courthouse that, when he reached the place where Dave Hearne was: "I knew by looking at him I wasn't going to be able to do anything for him".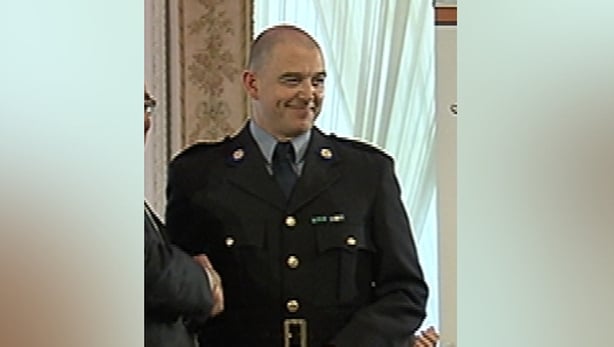 He turned on the inflation on his colleague's equipment and allowed him to rise to the surface, where he was placed in a body bag and removed by the Coast Guard R117 helicopter personnel.
The naval vessel LE Orla was also sent to the scene along with navy personnel.
The deceased's body was brought to University Hospital Waterford where consultant pathologist Dr Fergus McSweeney performed a post-mortem.
He said there were no signs of any external trauma and that he assumed "in the broadest sense" that death was due to drowning.
UK-based dive technician and instructor Dave Gration said he examined all of the equipment used in the dive that morning, including Dave Hearne's rebreathing equipment, and found that a number of alarms had gone off to alert Mr Hearne to a spike in oxygen levels in his tanks.
"Unfortunately, when you're in the water, you have convulsions [from the oxygen spike] and you wouldn't have the possibility of maintaining the [breathing] loop in your mouth, water would go into your mouth, and that would lead to drowning," he said, giving evidence remotely by video link.
It was not clear how the oxygen had spiked and how this had not been corrected by the deceased following the warnings, he said, but it was possible that the equipment had become "entangled" and was being pressed without the deceased's knowledge or without him being in a position to stop the flow of excess gas into his rebreathing equipment.
The coroner, Gerard O'Herlihy, said that death was by drowning. "Something went wrong down below and it appears to have been a spike in oxygen, for whatever reason. It seems that the late Mr Hearne was not able to deal with that spike, it had caused him to go into a convulsion, the mouthpiece went out of his mouth."
The jury returned a verdict in line with the coroner's statement.
Mr O'Herlihy said it was a great tragedy and pointed out that Dave Hearne "himself saved many lives over the years". Inspector Larry Sheahan said Mr Hearne was "the consummate public servant" who is greatly missed by his family, friends and colleagues.