Ireland's economy shrank by 6.1% between April and June and earlier this month Tánaiste Leo Varadkar warned that Ireland was headed for a budget deficit ranging from €25bn-€30bn by the end of the year.
We've already heard predictions from the International Monetary Fund that the world is facing the deepest recession since the 1930s.
We've been assured that unlike the credit crisis 12 years ago, Ireland's economy is now fundamentally sound - with access to cheap borrowing, Ireland can carry the burden.
But many are already hurting during this Covid-19 recession. How bad will it get, and how should Ireland weather the storm?
We need your consent to load this rte-player contentWe use rte-player to manage extra content that can set cookies on your device and collect data about your activity. Please review their details and accept them to load the content.Manage Preferences
Buswells Hotel reduces staff to six
Following the implementation of Level 3 restrictions in the capital, Buswells Hotel on Molesworth Street has reduced its staff number to six. The city centre hotel located across from Leinster House had employed 60 full-time and part-time staff prior to the Covid-19 pandemic.
The lay-offs at the hotel have been gradual since the start of the pandemic. Twenty-one staff were let go on Monday, bringing the overall staff count now to just six.
Turnover at Buswells is down over 90% according to General Manager Paul Gallagher. Despite reopening on 29 June the hotel, like many in Dublin city centre, has not benefitted from the increase in staycations.
Speaking to RTÉ's Morning Ireland, Mr Gallagher warned that while the hotel is fortunate to have had a cash supply prior to Covid-19, it's burning through its supply quickly.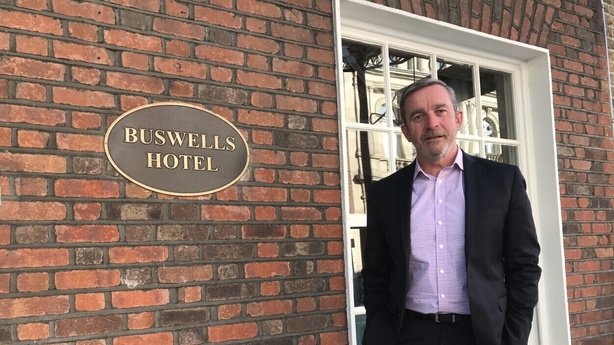 "We hope that we will reach a point where recovery comes and our business can start to build again.
"Clearly if that doesn't happen, there is a very limited road beyond March of next year, quite honestly. That's a huge concern for all of us here.
"I don't want to worry my staff any more than they're worried [already]. Clearly this is a business that is in some serious trouble".
Last week it was reported that the Shelbourne Hotel will lay off 127, or one-quarter, of its staff temporarily, due to the effect of the pandemic on its business.
'We've been able to suspend the laws of economic gravity'
The economic effects of the Covid-19 pandemic are, like the virus itself, difficult to ascertain at this point.
Professor of Economics at the University of Limerick Stephen Kinsella warns that Small/Medium Enterprises, who rely on a constant income stream, will need significant support over the coming months.
They employ around two-thirds of people. According to the ESRI, SMEs will lose between €8bn-€15bn this year.
Prof Kinsella says Government should endeavour to "meet that funding gap". However, he warned that some businesses will fail.
Star of Abbeyfealegood closes business
During the height of the pandemic in Ireland, the documentary Abbeyfealegood was broadcast on RTÉ Television. It told the heart-warming story of the 16 successful barbers and hair salons in Abbeyfeale, Co Limerick.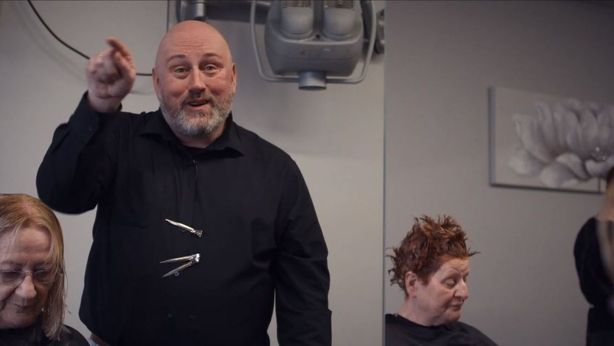 The town has the most hairdressers per head of population. One of those featured was Billy Mann of The Good Hair Company. As he sat down to watch the documentary on 20 April, he knew all was not well.
"It was quite a poignant moment because at that stage I had a feeling that the tide was turning", Billy admitted.
The longer the restrictions lasted the more he realised that his finances were depleting and maintaining the business was growing increasingly difficult.
Even after reopening, restrictions meant that turnover would be too low for The Good Hair Company to be viable.
After meeting his staff, Billy Mann decided to close after 35 years in the industry and 28 as a business owner.
Billy warned that "those of us who work in hair salons in the small towns of Ireland, we're all local. And in the likes of Abbeyfeale we're quite a substantial employer within the town. And if the likes of me and other salons start to go, suddenly now you no longer have staff earning money, so the knock-on effect is there".
Despite his love for hairdressing, Billy is venturing into life coaching, having trained in the area over the past few years.