Parents have built an outdoor classroom at a school in Co Wicklow as a response to Covid-19.
The 'Learning Lodge' at St Patrick's National School in Curtlestown, near Enniskerry, includes socially distanced tables, benches and a blackboard.
It enjoys spectacular views of the surrounding countryside, including the Sugar Loaf mountain.
"A lot of the classroom area was scrubland. All of the trees were overhanging and you couldn't see in there. So during August we cleaned all that up and levelled the ground. Then we arranged to get the benches and the blackboard," explained Mark Burton, one of the parents involved in the project.
"There is a great sense of local community up in Curtlestown. So by doing this we feel like we gave a little bit back. There were a couple of very wet nights on the job, but everybody helped out," Mr Burton added.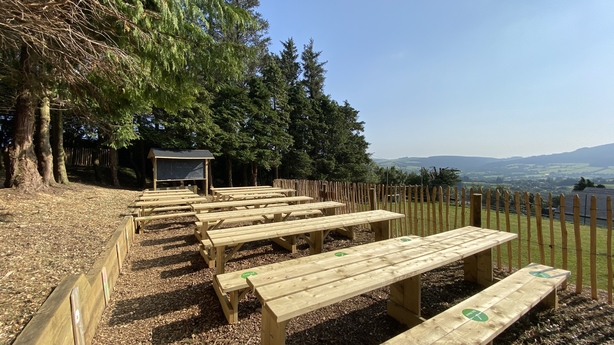 Outdoor spaces are considered less risky when it comes to the spread of Covid-19.
The school believes the outdoor classroom also provides a stimulating learning environment for its 65 pupils.
Principal Mary Conroy said: "It has been fantastic. It has been great for getting the children back into school. They have been used to so much free time and unrestricted movement. We had to bring them into a classroom with pods, where they couldn't move around. But this has given them a third of their day, potentially outdoors.
"The children are really calm when they are out here. They are very focused, apart from the odd buzzard that flies by and catches their attention."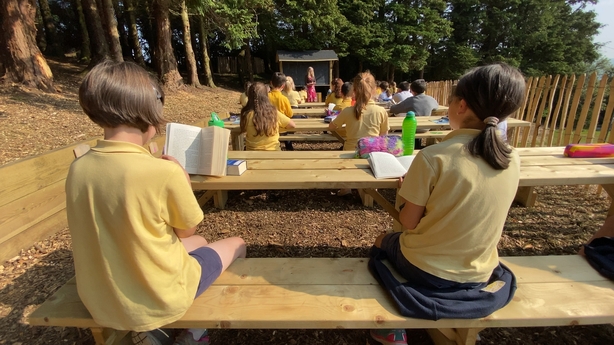 The school plans to make "full use" of the new facility and recommends that pupils bring fleeces and coats for cooler days.
As for the pupils, they say the outdoor classroom deserves top marks.
"It's just really nice to have fresh air and you can hear all the birds and sheep. I really like it," said nine-year-old Leah Gordon.
"Wow. It's absolutely amazing. I must really congratulate the parents who built it," added 12-year-old Danny O'Shea.