It has been a bittersweet week for one particular group of football fans in Dublin.
Members of the official fan club of AC Milan in Ireland are coming to terms with missing out on a rare opportunity to see their heroes play in Ireland.
The Italian giants have been drawn to play Shamrock Rovers in a blockbuster European tie in Tallaght later this month.
But in a huge disappointment to AC Milan's Dublin following, the game has to be played behind closed doors because of Covid-19 restrictions.
Fabio Parente, who founded Milan Club Dublin in 2014, said: "When I heard the news about the Europa League draw, I was both happy and upset.
"I was happy because I have dreamt about this moment for years since our club was founded, but at the same time upset because I know we won't be able to meet the players due to Covid-19 restrictions."
Fabio said that the fan club is "the home of the Rossoneri in the Republic of Ireland".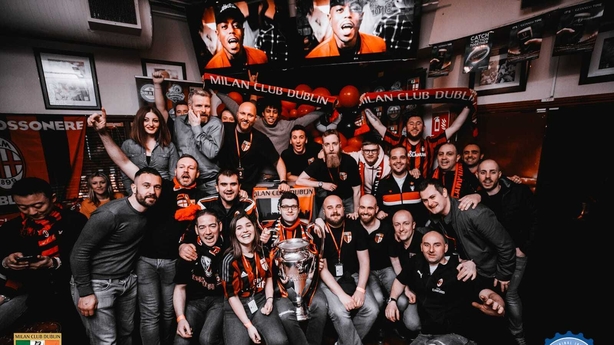 "I was missing watching the games with my friends over in Italy. I set this club up to meet with friends and watch the games together. It started off as just a few of us but now we have over 100 members," Fabio explained.
One of the Dublin members is Patrick Farisé from Veneto in Italy.
Patrick said: "When I saw the draw, it was disappointing. It's great to have Milan here but it's so annoying that it's happening during this pandemic.
"The one time it happens the stadiums are closed, we can't meet the players because of Covid-19. It's disappointing that we can't welcome our players like we would want to."
Another member is Alexander Fay from Dublin's inner city.
Alexander said: "It's disappointing but it's nice to know that the team will be here.
"It's the first time since 1975 that we played an Irish team. The last one was Athlone Town and that was 0-0 so we're due a win against an Irish team."
AC Milan will take on Shamrock Rovers at the Tallaght Stadium on Thursday 17 September.