A County Down GAA club has embraced a group of African fishermen in their community.
The men who are from Ghana have been working on fishing boats out of Ardglass Harbour for the last year. Now they're learning new skills with Ardglass Gaelic Athletic Club.
Last week the club's senior manager set up the first session for a group of the fishermen to introduce them to some gaelic football techniques.
Today, the men came to the grounds for another kickabout and some more training.
Lawrence Kwaku Yevugah has only ever played soccer before but he thinks Gaelic football is better.
"This is my first time trying to play Gaelic football. Coming from Ghana, Africa, to Ireland to learn a different game, it's heartwarming. It's great, it feels good," he said.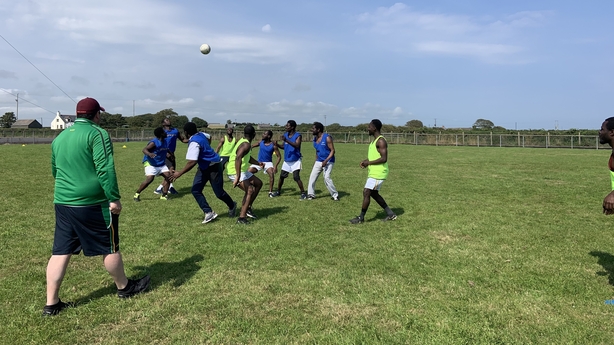 Ardglass GAA invited the men to their grounds after local social workers got in touch with them.
The club worked with Belfast based group iAssistNI who work with ethnic minorities to help with integration and inclusivity in communities.
Club Secretary Ruth Curran said they were originally contacted about using the club's facilities in January but when Covid-19 struck they tried to reach out in other ways.
"I work with a guy who works with ethnic groups in Belfast so he came on board to try and you know bridge the cultural aspect of it, and then we invited them out. It's all grown from there."
Ruth believes the interaction has been positive for both the club and the fishermen.
"It's been really, really good, really positive and the guys have loved having the space. In the harbour there's not much area for exercise and stuff so it's a good big open space and we've loved having them out and it's bringing loads of positivity.
"They've been thanking the club through the WhatsApp group and then have been chatting to some of the boys ... so it's been really good."
One of the fishermen, Benacle Ankor Jackson said he has been enjoying the new experience.
"To be frank and honest I never heard of Gaelic sport before. In Ghana, we love football, love sports, athletics. So coming here, being introduced to Gaelic. Wow, we are loving it. You just want to get used to it and learn more of it. It's been great so far."
The Covid-19 emergency meant the men were mainly confined to their fishing boats.
The charity that had provided a social room and other facilities shut during the pandemic.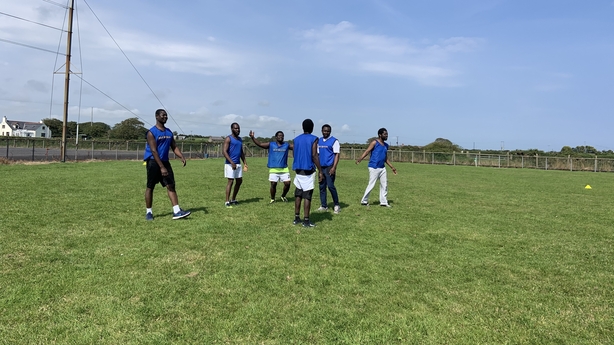 Senior Football Manager Paul O'Shea said they wanted to help out in any way they could with simple things like getting their clothes washed.
"They haven't got many facilities down on the harbour there so we are going to put in some washing machines and a tumble dryer to help them wash their clothes. And also once the GAA lifts the club house restrictions they'll be able to come up here and shower. There's only one shower between the 30 of them there in the harbour."
While the fishermen get their clothes washed, he said they'll be able to train while they wait.
"We'll be able to do a wee bit of Gaelic football coaching. Some of the boys are very, very good. Their hand-eye coordination is very good. Last week we just did some of the basic stuff, then we're adding in a wee bit of contact stuff today so hopefully just build it up."
Seafarer Edward Kweku Dzidzornu said before they were invited into the club their lives were more difficult.
Edward said it can be very stressful living on the boats especially since their facilities were closed during the pandemic.
But he said since they have been coming to Ardglass GAC they "feel at home" being able to play sports and socialise.
"When we first moved in here, when they told us about this place, it was so amazing for us. Because for a very long we've not had this exposure. Although the community sees us around but it's not given us much opportunity to explore. So when we move in here we're like 'Whoa! this is more like a home'."
The club has a history of inviting fishermen from other countries who came to live in the village to join their club and share their facilities. Previous fishermen came from the Philippines and eastern Europe.
Ardglass GAC has now secured funding through the charity Beyond Skin as part of the Peace Programme.
It is aiming to develop a proper sports programme for the fishermen from Ghana and to introduce their new African friends to all things GAA.