The National Opera House in Wexford has hosted a music event in front of a live audience.
The concert, organised by Music Network, was one of the first Irish cultural events to take place indoors since Covid-19 restrictions were imposed in March.
The performance by musicians Muireann Nic Amhlaoibh and Gerry O'Beirne was limited to just one hour in duration.
There was no interval to ensure the audience did not mix. The bar and box office were closed with tickets only available to purchase in advance.
The concert was held in the theatre's smaller auditorium, where capacity was reduced from more than 170 to just 28.
Face masks were required to be worn inside the building but did not have to be kept on during the performance because the audience was socially distant.
David McLoughlin, CEO of the National Opera House, said it took three months' preparation behind the scenes for the event.
The concert was one of five organised by Music Network throughout the country today.
Deirdre Moynihan, programme manager with Music Network, said those involved in all the events had worked "extremely hard" to ensure audiences could enjoy live music and the artist can perform n a safe environment.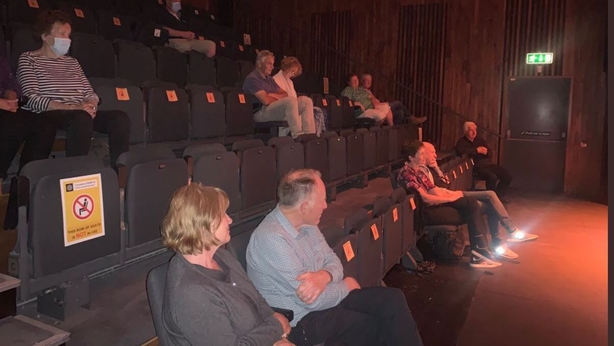 Performer Muireann Nic Amhlaoibh said she was delighted to be back in front of a live audience after months of performing into a camera or a phone.
"I'm really emotional. I'm excited, I'm nervous. I just hope I can keep it together because even being in a venue, being on stage, it feels overwhelming."
Singer-songwriter Gerry O'Beirne said he hoped this was the first of many concerts and that other artists could get to experience a live performance again.
He said the difference between performing virtually and live was that "you could feel the blood running through the audience on stage".
Audience member Mary O'Drisceoil from Kilkenny said it was great to be at a concert. "I feel I have been starved of culture for the last six months and I wanted to attend something that was live."
A little snippet of the performance @rtenews pic.twitter.com/Yj1Z21fg5m

— Samantha Libreri (@SamanthaLibreri) August 14, 2020
Richard Fitzsimons also said he needed a live music "hit" after five months of restrictions and he had no reservations about attending the concert.
"There are certain venues I would avoid until there is a vaccine but in this place, I felt safe enough."
It is hoped these intimate events will be the first of many. But with such low numbers allowed to attend, Music Network Ireland said financial support will be needed to make these kind of live performances sustainable.